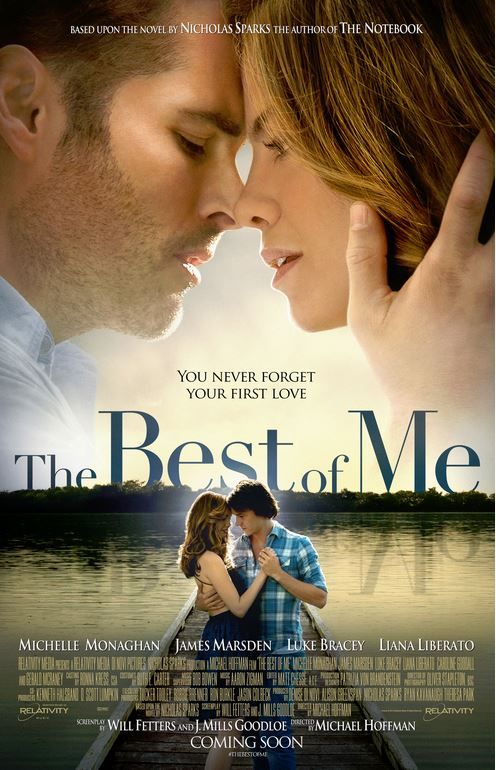 Are you excited for the upcoming film The Best of Me? There's just a couple of weeks until it hits theaters on October 17th. If you are a Nicholas Sparks fan, it's going to be a must-see!
About the movie The Best of Me
Based on the bestselling novel by acclaimed author Nicholas Sparks, The Best of Me tells the story of Dawson and Amanda, two former high school sweethearts who find themselves reunited after 20 years apart, when they return to their small town for the funeral of a beloved friend. Their bittersweet reunion reignites the love they've never forgotten, but soon they discover the forces that drove them apart twenty years ago live on, posing even more serious threats today. Spanning decades, this epic love story captures the enduring power of our first true love, and the wrenching choices we face when confronted with elusive second chances.

To learn more about this movie, be sure to follow the hashtag #TheBestofMe, or follow on the following social media channels:
After I first shared the trailer with you, I went out and got the book so I could read it. Now I am ever more excited to see this movie! Will you be seeing The Best of Me in the theater?
To help promote this film, I am pleased to be able to give one lucky A Heart Full of Love reader a The Best of Me Movie Prize Pack. The prize includes a $25 Visa Gift Card so the winner can see the movie in the theaters, as well as a tote bag and a copy of the book. Entry is open to US residents age 18 and older. The giveaway ends October 9th at 11:59 pm EST.
Disclosure: I will be receiving a prize pack from Relativity Media as a thank you for writing about this upcoming film.