Disclosure: This is a sponsored post. I received a HoneyBaked Ham Gift Card to purchase my Thanksgiving meal. However, all opinions stated are my own.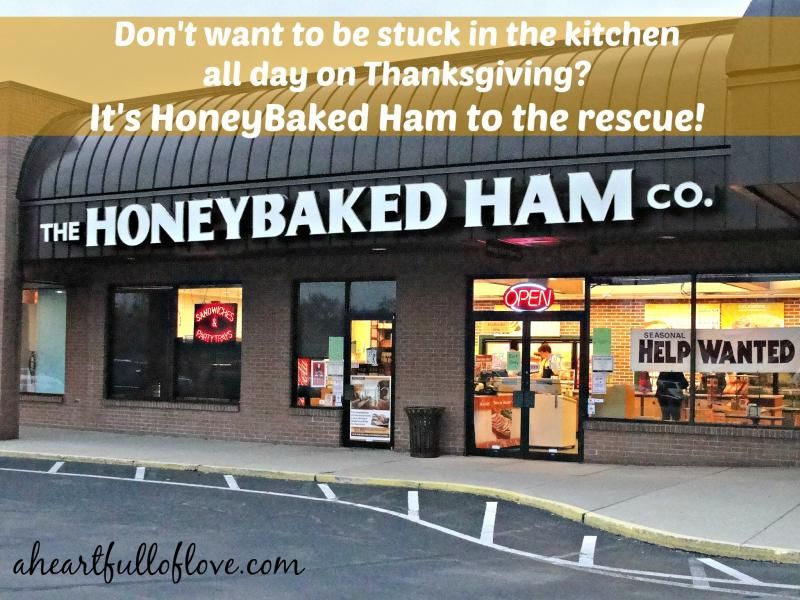 Can you believe Thanksgiving is next week?  I just love Thanksgiving – all the yummy food and spending time my loved ones.  What I don't love, however, is being stuck all day in the kitchen preparing all that food.  I always feel a bit left out.  The rest of my family is enjoying the Macy's day parade on tv, while I am basting the turkey, preparing all the sides, and whipping up a dessert.  Well this year, I have resolved to spend less time in the kitchen and more time with my family.  Fortunately HoneyBaked Ham came to my rescue!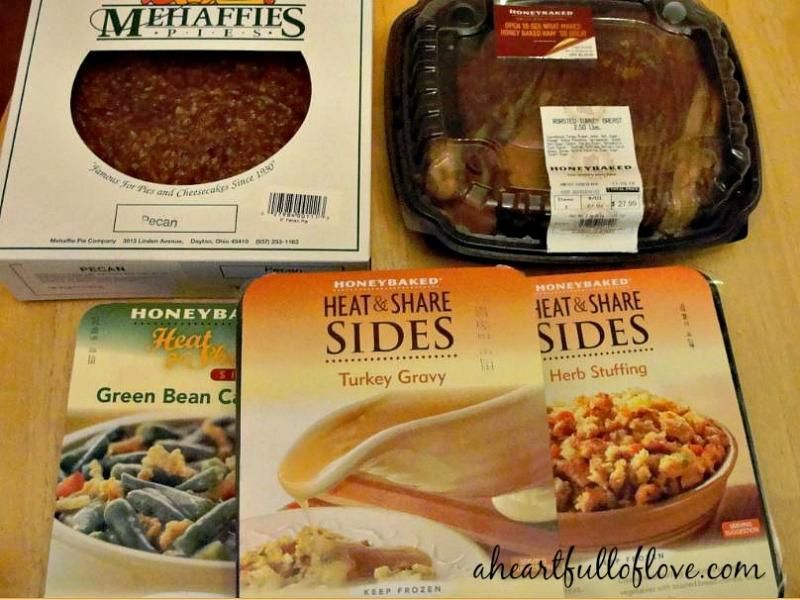 I recently visited the Centerville, Ohio HoneyBaked Ham store and was pleasantly surprised that they had everything I needed to put together the perfect Thanksgiving meal.  HoneyBaked Ham is well-known for their delectable ham, but did you know that they also sell glazed turkey breasts?   I can't imagine a Thanksgiving without a turkey and all the trimmings.   So I was excited to get to try their turkey.  Not having to roast a turkey on Thanksgiving morning frees makes my life a lot easier.
In addition to the turkey, I was able to pick up everything else I needed for the meal – gravy, side dishes, and even dessert!  It's all heat and serve, which means I don't have to spend all morning slaving away in the kitchen.  Woo-hoo!  I might get to see the parade this year 🙂
My Honeybaked Ham store had a great selection of sides for my Thanksgiving meal.
Turkey Gravy
Stuffing
Mashed Potatoes
Green Bean Casserole
Sweet Potato Souffle
Kings Hawaiian Rolls
They also had dessert covered.  You could choose from their yummy cheesecake sampler, or an assortment of locally-made pies.
I got the opportunity to try the glazed turkey breast, turkey gravy, green bean casserole, and stuffing.  It was incredibly easy to just throw it all in the oven to bake.  You don't even need to thaw it first.  About halfway through the cooking time, you will need to stir everything.  For about 5 minutes of work and an hour of baking time, I was able to serve my family a wonderful Thanksgiving meal with little fuss or effort on my part.  HoneyBaked Ham can save you hours in the kitchen on Thanksgiving morning!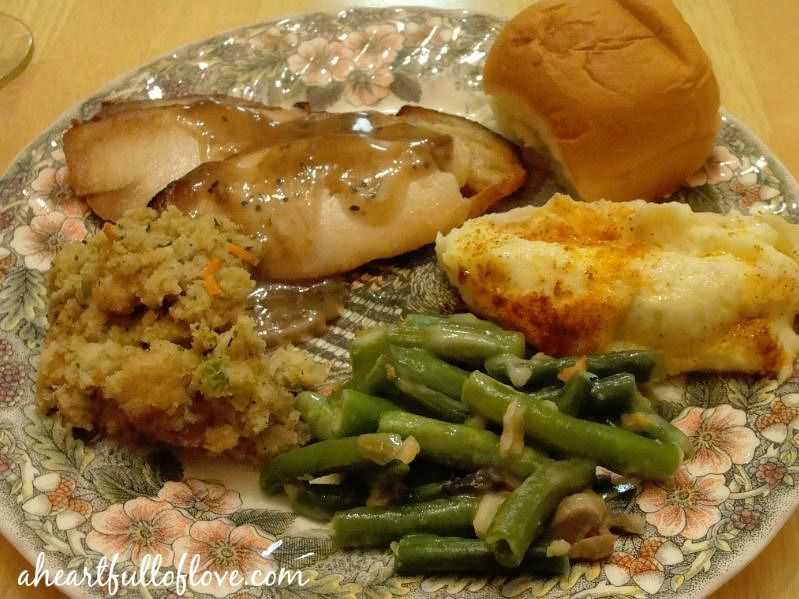 Let's start with the glazed turkey breast.  Their turkey breast has the same sweet crunchy glaze that the ham does.  It gives the turkey a delightful taste.  The turkey was moist and tender.  Even my two picky kids asked for seconds.  The gravy is rich and peppery.  My husband and I loved it, but it had a bit too much pepper for my kids' tastes.
The stuffing turned out just how I like it with just a little bit of crunch around the edges.  I wasn't sure what to expect from frozen stuffing, but it was moist and flavorful – a great compliment to the turkey.  The green bean casserole definitely had a homemade flavor to it.  It was creamy and had plenty of mushrooms.
Of course we can't forget about dessert.  In the past, I have gotten the cheesecake sampler at HoneyBaked Ham – which is just amazing.  This time though, I noticed they had a selection of pies from a local bakery.  We decided to try the pecan pie and we weren't disappointed.  Sticky and sweet, with a gooey caramel-like filling, it was the perfect end to our meal.
Had I known how easy HoneyBaked Ham could make my Thanksgiving preparations, I would have saved myself a ton of time in the kitchen.  I get to serve a delicious meal to my family and spend very little time in the kitchen.  I definitely know where I am getting our Thanksgiving meal next year!
Want to give HoneyBaked Ham a try this Thanksgiving?  Either their ham or glazed turkey breast is an excellent choice for your Thanksgiving meal!  Plus you can pick up all the sides while you are there too.  If you are going to be heading over to HoneyBaked Ham to get your Thanksgiving meal fixings,  have a great coupon offer to share with you.  Before you go, be sure to print this limited time coupon for $7.00 off any Sliced and Glazed Whole Turkey and 4lb Quarter Ham (Or Larger) from HoneyBaked Ham to help you make your holiday dinner easy and delicious! (Offer Valid at Participating Retail Locations: Forestville, Silver Spring, Alexandria, Fairfax, Falls Church, Fields Ertel, Beechmont, Kenwood, Colerain, Florence, Salem, Centerville, Sawmill Road, McNaughten, Louisville, Lexington, Fern Creek, Glendale, Paradise Valley, Superstition, Tucson East, Tucson North, Overland Park, Independence, Barry Road, Norristown, Parma, Willoughby, Rocky River, Strongsville, Maple Heights, Canton, Fairlawn and Chapel Hill.)
If you purchase one of their Ham and Turkey bundles by Jan 11, 2015, you can enter to win a $25,000 HoneyBaked Kitchen Makeover.  The sweepstakes is open to US residents age 18 and older.  You will need a special code from your receipt to enter.
Now for a fun giveaway….
HoneyBaked Ham is giving away $500 in Gift Cards to help make one reader's holidays extra special.   One lucky winner will receive a $100 HoneyBaked Ham Gift Card, a $100 Williams Sonoma Gift Card, a $100 Pottery Barn Gift Card, a $100 Amazon Gift Card, and a $100 Brookstone Gift Card.  How amazing would it be to win that!  The giveaway is open to US residents age 18 and older.  Be sure to submit your entries through the Rafflecopter widget below. You can come back and enter daily for even more chances to win this amazing prize.
So tell me… Have you tried HoneyBaked Ham's glazed turkey breast?  Would you love to spend less time in the kitchen this Thanksgiving?