I just love this time of year! I go out to the garden nearly every day to check the progress of all the little plants poking their heads up after a long winter's slumber beneath a blanket of shredded leaves.


Take a look at the effect just one week of temperatures in the 80's had on my rhubarb. Harvesting the rhubarb bounty turns my thoughts to one of my favorite desserts – Strawberry Rhubarb Meringue Pie.  Yum!
This Strawberry Rhubarb Meringue Pie recipe comes from my mother-in-law.  It features a sweet and tart custard filling topped with a heap of fluffy meringue.  It is just scrumptious with vanilla bean ice cream.  I made it last night for dessert and even my 2 picky daughters, who have never previously tried rhubarb, discovered that they loved it.  I have a feeling I am going to be making this pie a lot this summer 🙂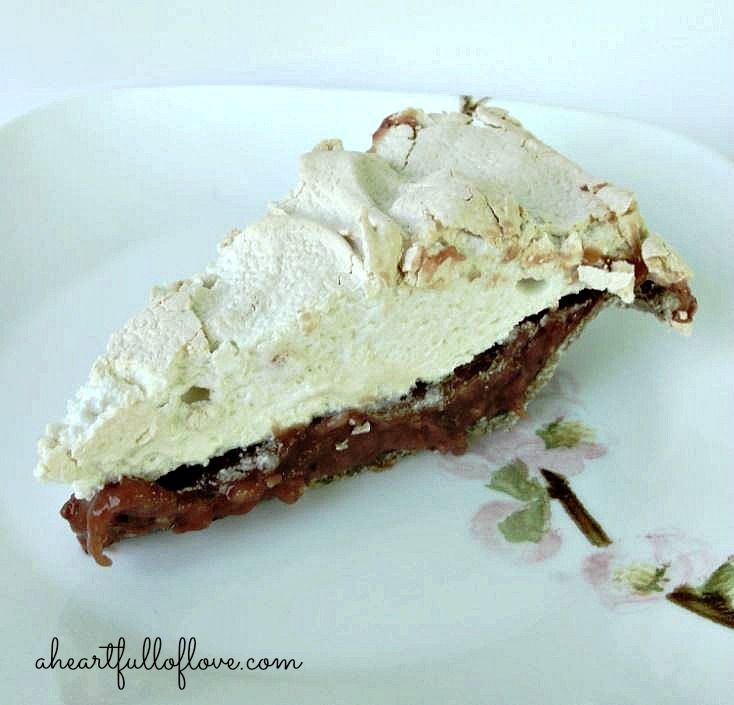 Strawberry Rhubarb Meringue Pie
4 eggs, yolk and whites separated
3 cups sugar, divided
a 9 or 10" baked pie crust, prepared according to directions (or if you are really ambitious,  make your own)
4 cups cut rhubarb
2 cups strawberries, hulled and quartered (you can use frozen)
6 tbs butter
1/4 cup cornstarch
1/2 cup evaporated milk
Beat egg whites until soft peaks form.  Add 1 cup sugar gradually; continue beating until stiff.  Set aside.
In a large pot, combine rhubarb, strawberries, the remaining 2 cups sugar, and the butter.  Cook over medium heat until fruit has broken down into a sauce.
To the rhubarb sauce –add the egg yolks, remaining sugar, cornstarch, and evaporated milk. Cook until the consistency of pudding. Pour into baked pie shell. Cover with meringue, bake at 425 degrees until light brown, about 15 minutes. Refrigerate at least 2 hours before serving to allow the custard to thicken.
Note:  If you are using frozen rhubarb and strawberries, allow them to thaw in a colander in the fridge so the excess juices drain away before using them in this recipe.
If you don't have any strawberries on hand, this recipe is equally good with just the rhubarb.
If  you make this strawberry rhubarb meringue pie recipe, you will have to tell me how you like it.  So tell me… What is your favorite rhubarb recipe?  Do you grow rhubarb in your garden?