This Stars and Stripes Forever Easy Yogurt Popsicle Recipe is absolutely yummy.  Your kids will gobble them up without ever knowing it is good for them!  They are a great patriotic treat to make for either Memorial Day or the 4th of July.
I love to come up with special crafts and recipes for each holiday. The 4th of July is no exception.  So when I came across a set of Wilton Silicone Star Ice Pop Molds, I knew they would make a fun 4th of July treat for my kids. I brought them home and immediately used them to make some cute frozen yogurt pops.
My kids love having a frozen treat for a snack each day during the summer, but I don't like all the sugar in commercial treats.  So I usually make my own.  The nice thing about this frozen yogurt popsicle recipe is that it doesn't need any added sugar. I have found if you use a ripe banana in the recipe, you don't need any added sweetener.
Since I wanted a 4th of July themed dessert, I used both blueberries and strawberries. The end result is creamy with just the right amount of sweetness.  It's just perfect for a hot summer day.
Stars and Stripes Forever Easy Yogurt Popsicle Recipe
Ingredients:
(I recommend using organic if you can, especially on the strawberries as they are on the dirty dozen list.)
1 cup diced strawberries
1 cup blueberries
2 very ripe bananas
1 cup yogurt, divided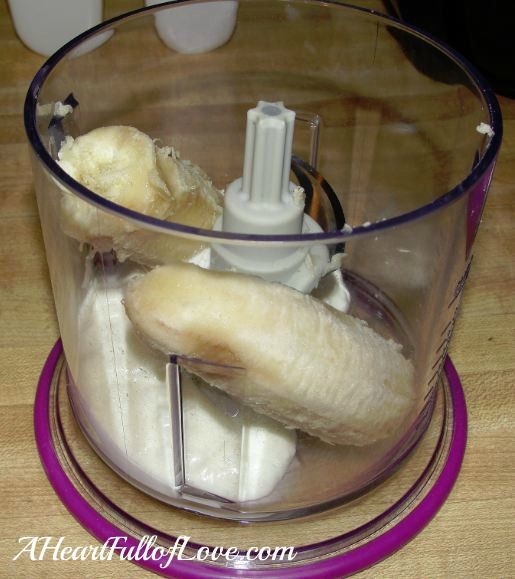 Start by making the white portion of the frozen fruit yogurt pops. In a food processor or blender, combine 1 banana and 1/3 cup of yogurt.  (My little Ninja Express Chop is perfect for making small batches like this recipe.  No need to dirty the big food processor for something like this.)  Process until smooth. Spoon into a bowl and set aside.
For the red portion, combine the strawberries, 1/2 of a banana, and 1/3 cup yogurt. Process until smooth. Spoon into another bowl and set aside.
For the blue portion, combine the blueberries, 1/2 of a banana, and 1/3 cup yogurt. Process until smooth. Spoon into another bowl and set aside. (A note about the blueberries… you may want to puree the berries first and then strain it to remove the seeds. Then proceed with the recipe. The seeds don't bother my kids, so I just used them as is. A professional blender, like a Vitamix might be able to get them smooth enough as well.)
Spoon the mixtures into the star mold, starting with the strawberry at the top. Use the white banana mix next, and then finish with the blueberry mixture at the bottom. If you use greek yogurt, your colors will probably stay separated better since it will be thicker. I used regular yogurt though and it turned out fine.  You will have extra leftover, so go ahead and freeze that in paper cups or regular ice pop molds.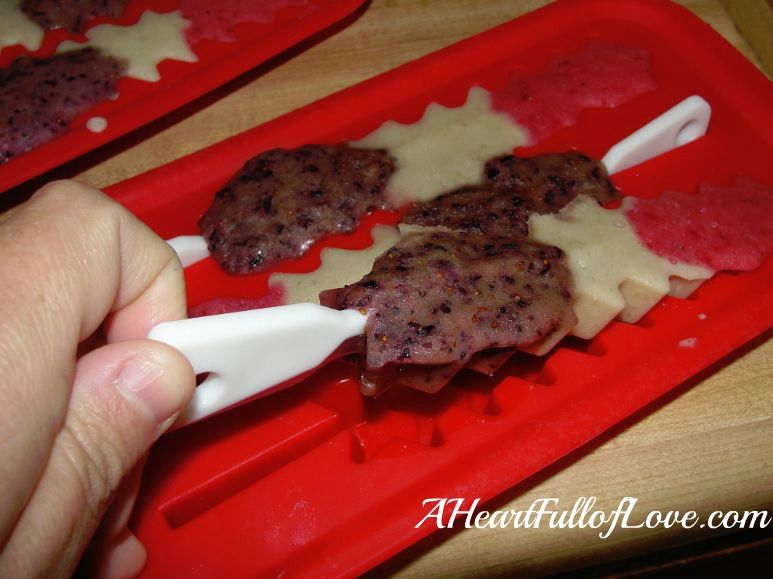 Allow to freeze overnight. The silicone molds make these so easy to remove! If you don't have the special star molds, you can certainly use any silicone popsicle mold to make these.  
Want to make these homemade frozen fruit yogurt pops for the 4th of July?  You probably won't be able to find the molds anymore at the store, but they are still available on Amazon.
My kids ask me to make this frozen yogurt popsicle recipe all summer long.  They are a much better option than regular sugar-filled frozen treats. 
Sometimes I switch things up by using different fruit.   These frozen fruit yogurt pops are also excellent made with ripe cantaloupe and blueberries.  Don't be afraid to experiment with different fruits to see what combinations you like best.
If you make this easy yogurt popsicle recipe, you will have to come back here and let me know how you liked it.  So tell me… What are your favorite frozen treats to indulge in during the summertime?
Did you enjoy this easy yogurt popsicle recipe? Then you might also enjoy these recipes…
Patriotic Trifle
Real Fruit Snowcone Syrup
Chocolate Pudding Pops
&