I recently made a batch of sprouted chickpeas for use in various recipes. It truly couldn't have been much easier.  It didn't require any special equipment either.  I was able to use what I already had in my house.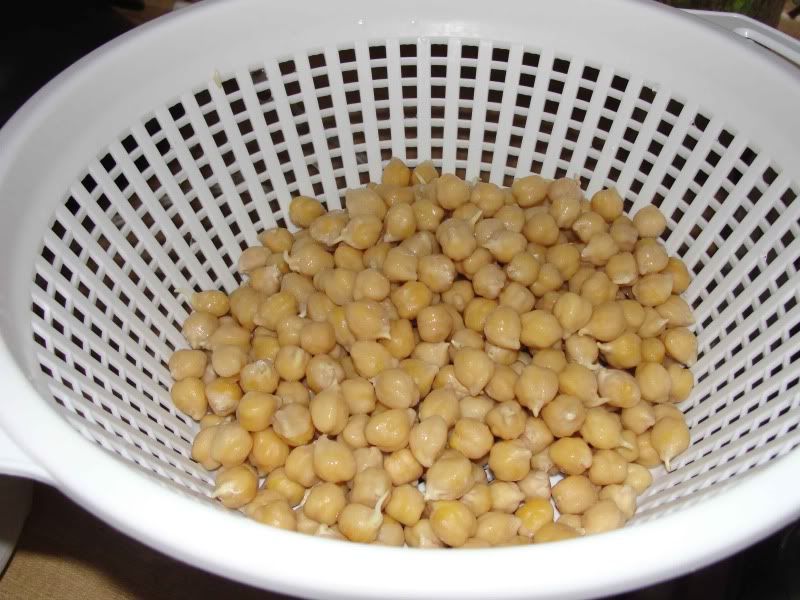 Before I get to how to sprout chickpeas, maybe I should explain why I do it.  The quick and simple reason I sprout beans is that it unlocks some of the available nutrients and makes it so your body can better use them.  Important nutrients such as calcium, iron, magnesium, zinc, and copper are all better available to nourish your body after sprouting because the phytic acid is neutralized.  I could go more in depth into the chemistry of it thanks to all those nutrient metabolism classes I took, however, I don't want to put you all to sleep 🙂
Despite knowing the benefits of sprouting, I only recently started sprouting chickpeas.  I used to think sprouting beans would take too much time.  Nothing could be further from the truth.  It takes about 5 minutes a day and the sprouts are ready in 2-3 days after their initial soak.
Equipment:
A plastic colander, like you can find at a dollar store or wal-mart
A bowl that the colander can rest in without touching the bottom
A clean dish cloth
Dried Chickpeas (garbanzo beans)
That's it.  You do not need any specialized sprouters.  A cheap colander works just fine.  I would advise using organic seeds. 1 cup is a good amount to start.
Instructions:
In a large bowl, soak the chickpeas overnight in plenty of water.  The chickpeas will absorb water so you want to make sure that there is enough water that all beans will remain submerged.
In the morning dump the chickpeas into the colander and rinse well.
Wet the towel and cover the colander, ensuring that it is not resting on the beans.
Rinse a couple of times a day, keeping covered with a damp towel between rinsing.
Your beans are finished when the sprouts are about 1/4 inch long.
I would recommend lightly steaming them before eating them.  I steam mine for 10-15 minutes.
You can now use them in a variety of recipes such as hummus.  If you have any good garbanzo bean recipes, feel free to share in the comments below.