Disclosure:  I received 2 months of the Space Scouts Kits to facilitate this review.
All opinions stated are my own.

If your kids are like mine, they love getting mail. So I am always on the lookout for fun subscription boxes for kids.  I recently became aware of Space Scouts – an educational and fun monthly subscription box for elementary school aged kids. Each month, your child will receive new goodies that will help them learn all about a new place in outer space.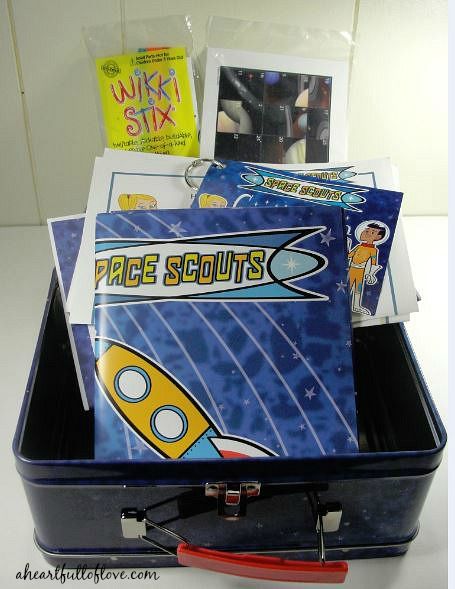 My youngest daughter received 2 months of Space Scouts kits to try it out. She was so excited to receive something in the mail and had a blast looking through all the goodies.
The introductory Space Scouts Package contains
an introductory letter
a fun metal Space Scouts lunch box that they can use to store all the great things they will be receiving in future months.
a Solar System poster
an educational activity sheet
a sticker scramble
a space themed toy
a Constellation Card cover, ring, and introduction

Then each month after that, you will receive
a Scout Plan
a Magnet, which you can store on your lunch box.
a sticker for your Solar System poster
an activity sheet
a sticker scramble
a souvenir toy
a Constellation Card and activity sheet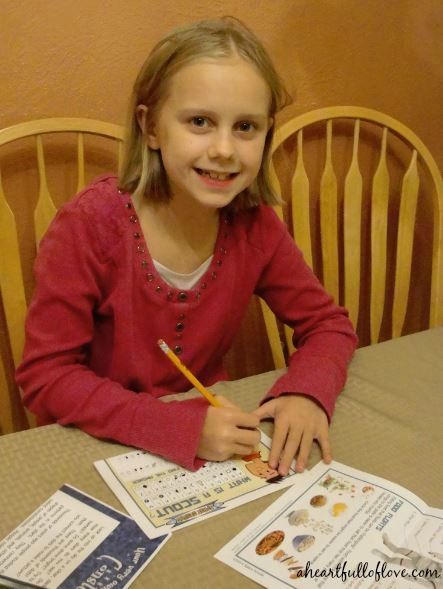 When I gave Miss S. the box, her face lit up like it was Christmas morning.  She had a blast looking through everything and then immediately went and found a pencil to start working on the activity sheets.
My youngest daughter is in 5th grade. I knew before I received the kit, that some of the activities might be too simple for her.  To be honest, she is probably at the upper age limit for these kits as she was able to complete the activity sheet pretty quickly.  However, she had fun playing with everything and learned several things she wasn't taught in school.  For example, she learned how astronauts often use robotic arms to help them work in space and got to practice with the toy claw that she was sent.  She also learned about the different parts of a spacesuit and was able to point them out on the astronaut toys that came with the kit.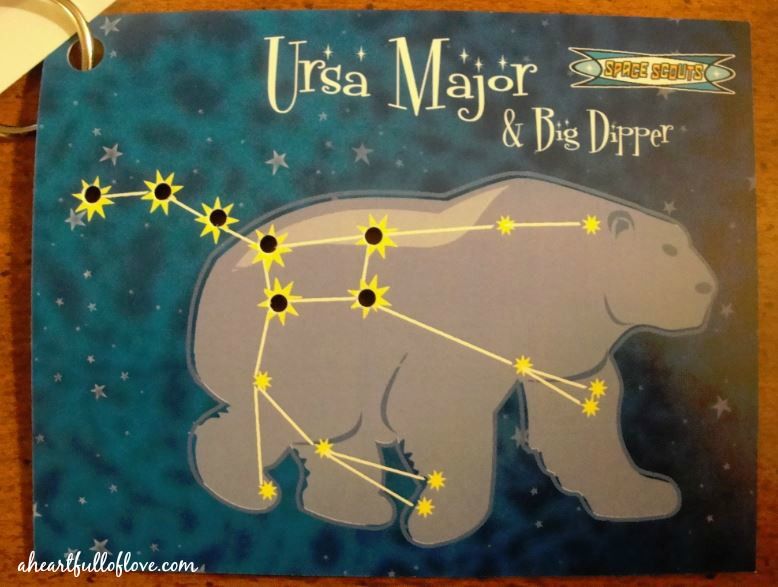 One feature of the Space Scouts program that I thought was really clever was the Constellation Cards.  Each month's card not only shows the shape of the constellation, but it also has a drawing of the shape for which the constellation was named.  The cool thing about the Space Scouts Constellation Cards is that they can be used to project the constellation on your wall.  The cards have holes where the main stars are.  So if you turn off the lights, hold up the card, and shine a flashlight on it, the constellation will show up on the wall just as it appears in the night sky.  What a fun way to help your children learn the identify the constellations!  You also receive an informational sheet that tells you the mythology behind the constellation name.  We have a telescope sitting around gathering dust, so the constellation card has actually given us an incentive to pull that out and see what we can discover in the night sky.
So how much does it cost?
Space Scouts is actually very affordable.  It costs just $11.95 a month plus $3 for shipping.  My kids have gotten other kits which cost more but send you a lot less each month.  So I was very pleased with both the price and the contents of the Space Scouts Kit.
The Verdict?
I was very impressed with the Space Scouts kits that my daughter received.  It's a good value for the money and my daughter enjoyed completing the activities. She learned some new things about outer space and had fun in the process.  If Miss S were a year or two younger, I would definitely purchase a subscription for her.
Want to give a Space Scouts Subscription as a gift this holiday season?
Have an elementary school child who loves to learn or is fascinated with space?  A Space Scouts subscription would make an excellent holiday gift!  Although you can order by the month, they also have 3, 6, or 12 month pre-paid plans that would be excellent for gift-giving.
And now for a fun giveaway!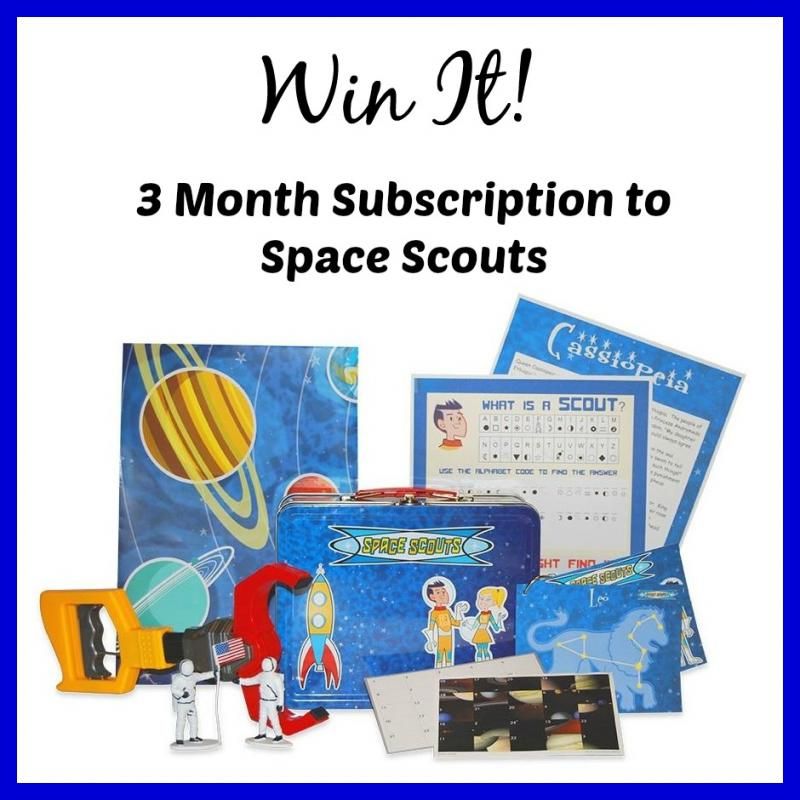 One lucky A Heart Full of Love reader will receive a 3 Month Space Scouts Subscription.  Entry is easy through the Rafflecopter form below.  The giveaway ends December 1st and is open to US residents only.
So tell me… Do your kids love to receive mail?  Do you think they would enjoy receiving a Space Scouts subscription?