A long time ago, I saw a recipe in Taste of Home Magazine for Baked Apple Pancake. Over the years, I have played around with the recipe to make it whole grain and a little bit healthier. Eventually I came up with a recipe that had a soaked batter.  Now that I have a sourdough starter, I had to play around with the recipe to use my sourdough starter. It turned out wonderfully!  This recipe is quick to throw together and makes a great breakfast for company.
Sourdough Baked Apple Pancake
Ingredients
4 organic apples, peeled and diced
4 Tbs butter, melted, divided
1/4 cup + 3 Tbs agave nectar (or the healthy sweetener of your choice), divided
1 1/2 cup sourdough starter
1/2 tsp sea salt
1 egg
1 tsp vanilla
1 tsp baking soda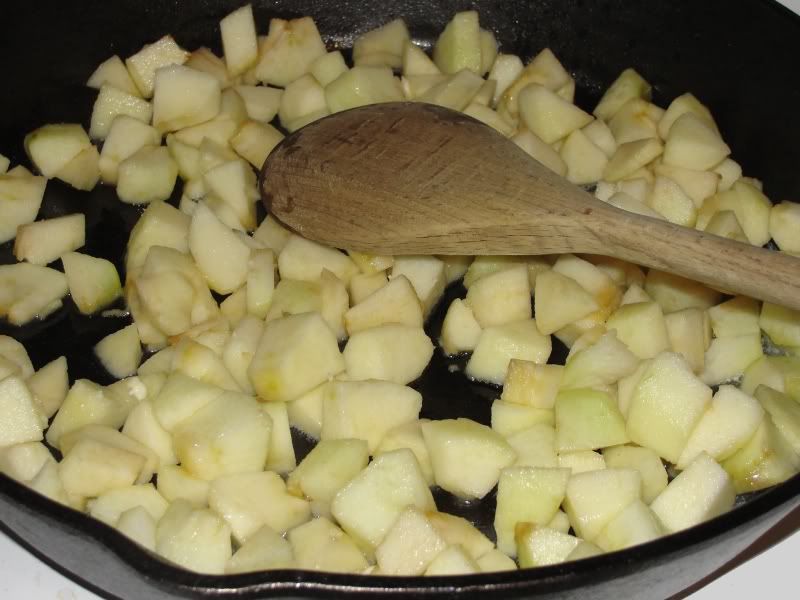 Preheat oven to 350 degrees.  In a large cast iron skillet (14 inch), melt 2 Tbs butter.  Saute the apples in the butter 2-3 minutes.   Stir in 1/4 cup agave nectar, making sure to coat all the apples well.  While apples are cooking, mix together the sourdough batter.  Whisk together the egg, salt, 3 Tbs agave nectar, 2 tbs melted butter, and vanilla.  Stir in the sourdough starter.  Quickly stir in the baking soda.  Pour batter over the apples.   Allow to cook without stirring until you see bubbles forming on top of the batter.  Transfer to the oven and bake for 15-18 minutes or until golden on the top.  Cut into slices and serve with real maple syrup.
Notes:
Apples are on the dirty dozen list so it really is best to buy organic.  A good rule of thumb is that if you eat the peel, you should buy organic.
If you don't have a cast iron skillet, feel free to substitute an oven-safe skillet of your choice.  If your skillet is smaller, you may need to adjust the baking time or scale down the recipe.  Before I started using cast iron, I used Pyrex.
Feel free to substitute any other healthy fat for the butter.  I have used coconut oil before and it worked well.
I am not a huge fan of cinnamon so I don't use it.  However a tsp of cinnamon stirred into the batter  would probably probably compliment the apple flavor nicely.
Feel free to substitute the healthy sweetener of your choice.  I used agave nectar because of its mild flavor, but honey or maple syrup work well too.  If you use a dry sweetener like rapidura or sucanat, then add it at the beginning when you are sauteing the apples.  It needs time to dissolve.  With liquid sweeteners, you just need to stir to coat the apples.
Enjoy!
So tell me…  What is your favorite sourdough recipe?  Or if you don't have a sourdough starter, what is your favorite weekend breakfast?