When the weather is warm, you can most likely find me hiking on local trails.  Our family thinks nothing of covering 5-7 miles in a day. I love getting out in the fresh air and experiencing nature, but what I don't love is the sweat and accompanying body odor that usually results.  I have yet to find a deodorant that I don't have to re-apply several times over the course of a day of hiking to keep from smelling all gross and nasty.  So when I got the chance to try Secret Clinical Strength deodorant, I was quite happy to put it to the test.
About Secret Clinical Strength Deodorant
Clinically proven to provide prescription strength wetness protection.
Provides odor protection for up to 48 hours.
Helps protect against the three causes of sweat – heat, activity, and stress.  (Visit www.nostresssweat.com for more info on stress sweat!)
Contains skin soothing conditioners to help minimize irritation.
100% Confidence Guarantee – If you aren't completely satisfied, you can send your receipt and the unused product back for a complete refund. (See packaging for more details.)
Available in three forms (Smooth Solid, Invisible Solid, and Clear Gel).
Available in four scents (Completely Clean, Powder Protection, Ooh-la-la Lavender, and Sport Fresh).
So how does Secret Clinical Strength Deodorant hold up during a full day of hiking?
Last weekend, we headed down to Cincinnati to East Fork State Park to hit the trails.  The temperature was supposed to hit 80 degrees for the day, so I knew I would be working up quite a sweat.  After I got dressed, I applied Secret Clinical Strength Smooth Solid Deodorant (Ooh-la-la Lavender) then stuck the tube in my bag, as I just knew I would have to re-apply it as the day progressed.
As the day went on, I would take a whiff at my armpit every once in awhile to see how the deodorant was holding up.  Evidently I wasn't so sneaky about it – as my husband finally asked me what I was doing.  He got a good laugh out of it when he found out I was doing "research" for my blog review 🙂
We ended up hiking 10 miles in all.  To my complete shock, the Secret Clinical Strength Deodorant worked all day long.  No body odor smell at all- just refreshing lavender.  I never once had to take the tube out of my bag and re-apply it.  I was completely impressed.  I think I have found my new deodorant for when we go hiking!
But what about the cost?
I have to admit I had a bit of sticker shock when I first saw the price of Secret Clinical Strength Deodorant.  It was $7.92 for a 1.6 oz tube at my local Wal-mart.  However, when I took into consideration that I go through regular deodorant 3 times as fast because I am constantly re-applying it during the summer to stay smelling fresh, the cost works out to be about the same.
Want to try Secret Clinical Strength Deodorant for yourself?
You can find Secret Clinical Strength varieties at your local Walmart or online at walmart.com or  www.nostresssweat.com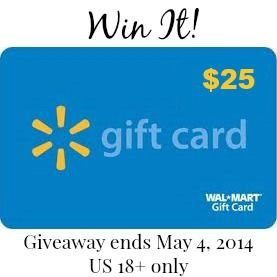 One lucky A Heart Full of Love reader is going to win a $25 Walmart Gift Card so they can try Secret Clinical Strength Deodorant for themselves.  Entry is easy through the Rafflecopter form below.  The giveaway is open to US residents age 18 and older and ends on May 4, 2014.
So tell me…  Why would you love to try Secret Clinical Strength Deodorant?
Disclosure:  I received a Walmart Gift Card to facilitate this review.  The Walmart gift cards and information have been provided by Secret.  All opinions stated are my own.