I am making a huge effort to get more organized with my scrapbooking this year.  In past years, I have just stored the photos and keepsakes.  It was quicker and easier to just make a dvd photo slideshow.  However, after discovering that the disks I made years ago no longer play on any of our computers or dvd players, I decided to go back to traditional scrapbooking.  Considering I have a child who just graduated and another entering high school, this is a humongous task.  That is a whole lot of papers!  In an effort to get all the keepsakes and photos organized by year, I made a school days memory keeper binder for each of my kids.
Here is my old system.  I had a plastic bin labeled with each kids' name.  Then I would just toss all their school papers, report cards, etc in there.  It's wasn't very organized, but it kept things from being accidentally thrown out.  However, any time I wanted to scrapbook something, I had to go sort through all the papers. It was a huge pain!
So this summer, I decided on a binder system as a holder for everything until I had time to scrapbook it.
Materials Needed for a School Days Memory Keeper Binder
2 inch Decorative Binder
Diecut letters for kids' names (I used the [amazon_link id="B0035RQ4KK" target="_blank" ]Cricut Songbird cartridge[/amazon_link] because I love that font!)
[amazon_link id="B0001DU6RS" target="_blank" ]Xyron Create a Sticker Machine[/amazon_link]
Mod Podge and Paint Brush
Page Protectors
Photo Pages that hold 4×6″ photos
Numbered Index Dividers
Scrapbooking Paper and Adhesive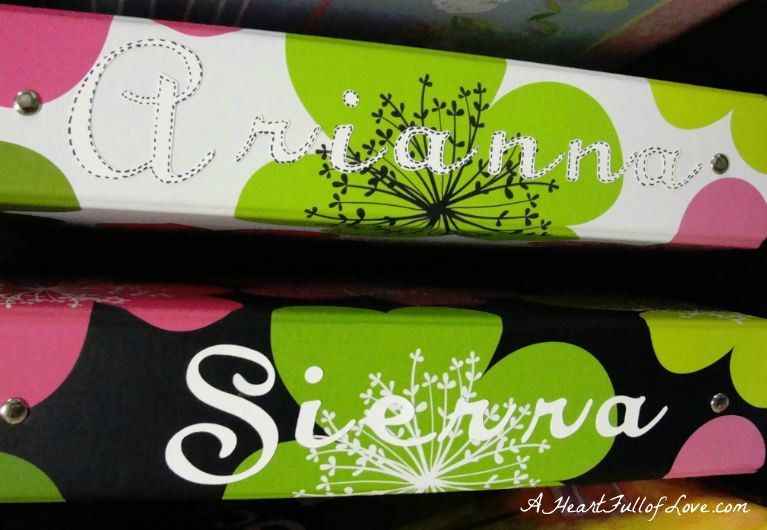 I started by labeling each binder with my kids' names. I used my Cricut to cut out 1 3/4 inch letters. I ran the letters through the Xyron Create a Sticker Machine and then adhered them to the binder. I then painted a thin coat of Mod Podge over the letters to ensure they wouldn't fall off. The binder was then set aside and allowed to dry.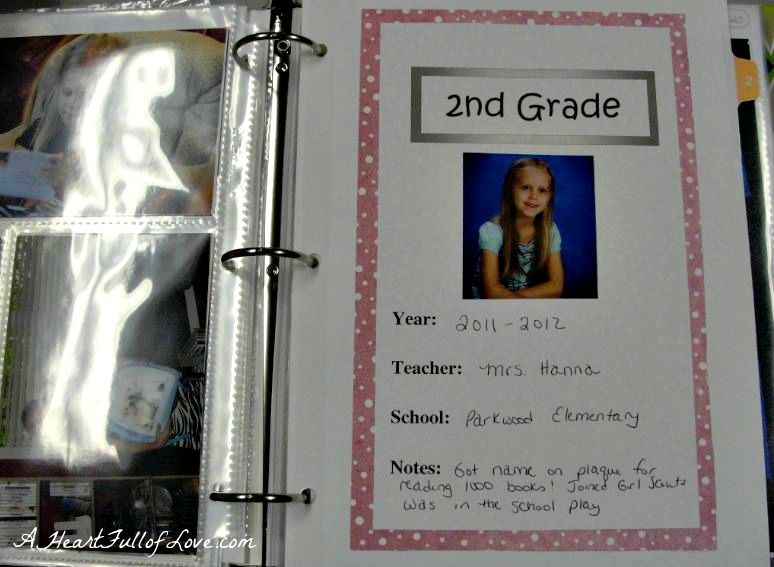 While the binder was drying, I made dividers for each school year.  I used a pack of Avery Numbered Dividers and some printed scrapbooking paper.  To each page, I attached a sheet where I could write the school year, teacher's name, school name, and any highlights of the year.  I went ahead and did these for all 12 years of school for each child.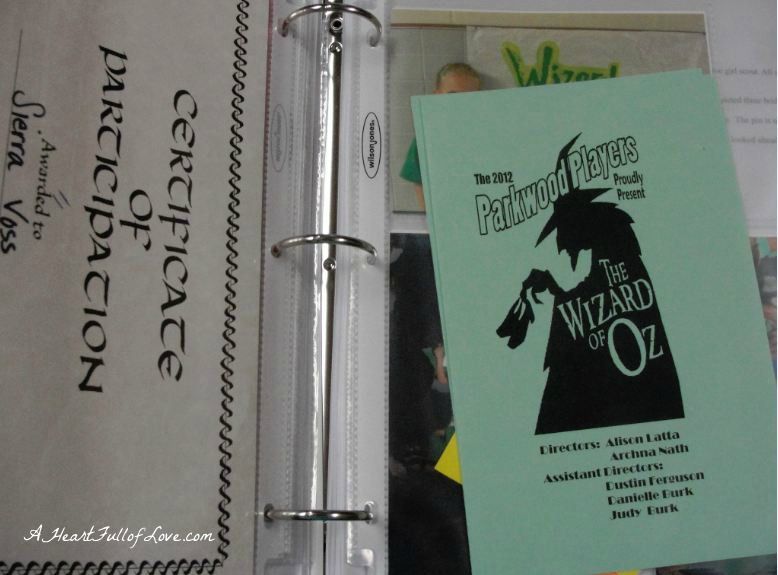 Then I set about getting all the photos, school papers, and keepsakes organized.  I went through the plastic bins and  sorted everything by year.  Then I took each year and put everything into the binder chronologically.  I used a combination of page protectors and photo pages to keep everything in place.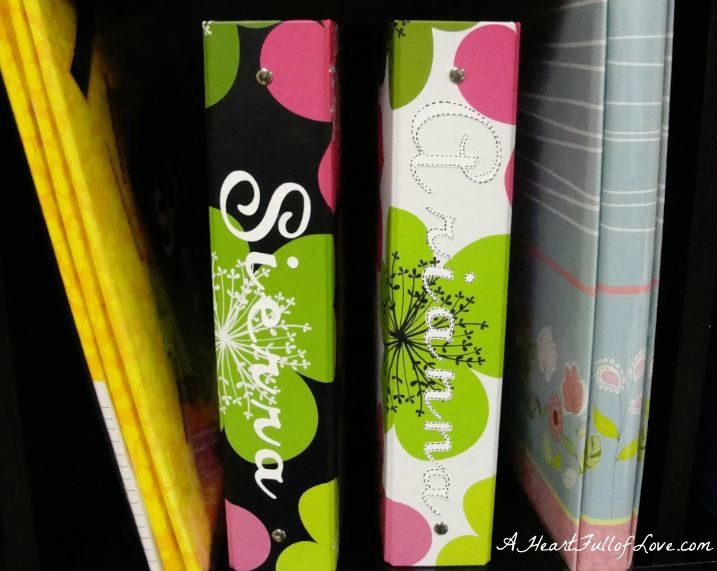 After I have everything scrapbooked, then these school days memory keeper binders will still be a great place to store everything that didn't make the scrapbook – like report cards, assorted school papers, and artwork.  This system is working out well for me so far.  So tell me….  How do you keep your kids' old school papers and keepsakes organized?
This school days memory keeper binder is participating in these great link parties.