There's no doubt that Halloween costumes can be expensive.  I can't stand the thought of paying $20-$30 each on a costume my kids will wear one time.  Although my oldest two no longer go trick-or-treating, the cost can still add up.  Here are a few great ways to save on Halloween costumes for kids.
Make your own Halloween costumes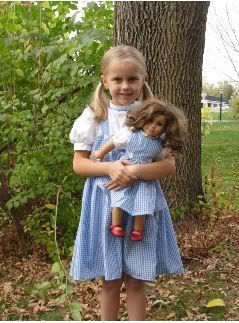 This is the option we choose most years.  Sometimes I sew a costume, like this Dorothy costume The Little One wore last year.  Of course, I had to make one for her American Girl doll too!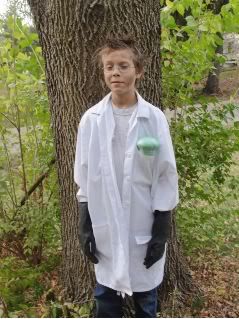 Sometimes, I put together components from clothes we have, with accessories bought at the dollar store.  Last year, Lego Boy went as a mad scientist, using my lab coat from when  I was an intern.  We bought a pair of gloves and a glow stick for the pocket.  A little dirt on his face, some mousse to make his hair look crazy, and a silly foam science experiment from school completed the look. The total cost for this Halloween costume was $2!
If you want to see some more of our past homemade Halloween costumes, you can check out my frugal Halloween costumes post.
If you want to make your own Halloween costumes this year, I recommend [amazon_link id="B002PXW0E4″ target="_blank" ]Family Fun magazine[/amazon_link] to start.  We get ours at the library.  The Box of Popcorn and Leaf Pile costumes we made (as shown in the frugal Halloween costumes post I mentioned above) were both ideas from Family Fun.
For more ideas, be sure to check out this Free Halloween Costume Ideas Book from All Free Holiday Crafts. It contains 14 great ideas for making your own Halloween costumes for kids.
If you are making your own costume this year, be sure to print up this 40% off coupon for Michaels to help save on the costume components you need to buy.
Win a Halloween Costume
There are quite a few blog giveaways running right now where you can win a Halloween costume.  A simple search on your favorite sweepstakes site should turn up a few you can enter.  In addition, Freebie King is holding a giveaway for its newsletter subscribers.  The winner will receive a Halloween costume of choice up to $75.
Save Money Buying Halloween Costumes for Kids
Maybe you don't have time to make your own Halloween costumes, or maybe you don't have the craft skills.  You still don't have to pay retail prices.  Here are a few tips to save.
Use the Amazon gift certificates you have been earning all year from Swagbucks to buy a costume.  Amazon's prices tend to be lower and they offer free shipping on orders over $25.
Purchase your costume online.  BuyCostumes is currently offering free shipping on their Halloween costumes.  Or if you prefer to purchase from Costume Express, they have a few coupon codes out right now.  Entering SPIDER10 when you are checking out will save you $10 off any $75 purchase.  SPIDER15 will save you $15 off $100.  Both coupon codes expire 10/31/2011.
Wait until the last minute.  The day before, many stores start marking down their Halloween selection to make room for Christmas merchandise.  You can score some great deals, but your selection is going to be really limited.
Buying Halloween costumes for kids doesn't have to cost you an arm and a leg.  With a little creativity or some careful shopping, your kids will look great this Halloween without emptying your wallet.