The holidays are coming and that means a lot of parties and family gatherings.  What is a good party without some dip and chips?  Whether we are having a large party or just having family over to visit, it seems we always have some sort of dip and chips set out for people to munch on if they get hungry.  Everyone seems to love it, and it's quick and easy.  Given my love of chips and dip, I was super excited to get to review the Sabra line of hummus, salsas, guacamole, and dips.
Sabra products are found in the refrigerated section of the grocery.  Made from only the freshest ingredients, Sabra products are wonderful for snacking or for use in your favorite recipe.  Their products are all kosher and most are gluten-free as well.  Here is an overview of the great foods they offer:
Sabra's Hummus is made from fresh chickpeas, tahini, and assorted seasonings.  Perfectly smooth and creamy, their hummus comes in 14 different varieties.  Whether you prefer your hummus mild or spicy, there is a flavor to suit nearly everyone's tastes.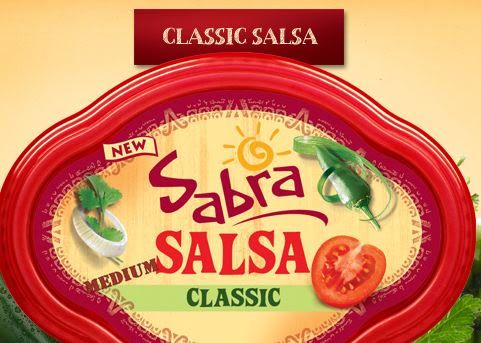 Sabra's Salsas are made from Roma style tomatoes and chunky vegetables, with just the perfect amount of seasonings.  Sabra Salsa is available in Classic, Homestyle, Southwestern, and Chunky Pico de Gallo varieties.
Sabra's Greek Style Veggie Dips begin with Greek yogurt and offer a delicious alternative to traditional sour cream dips.  Their veggie dips are available in Roasted Garlic, Onion & Fresh Herb, Spinach & Artichoke, and Sun Dried Tomato varieties.
Sabra's Guacamole is made with Hass avocados and has a fresh taste like one would expect from homemade.  Their guacamole is available in classic or spicy varieties.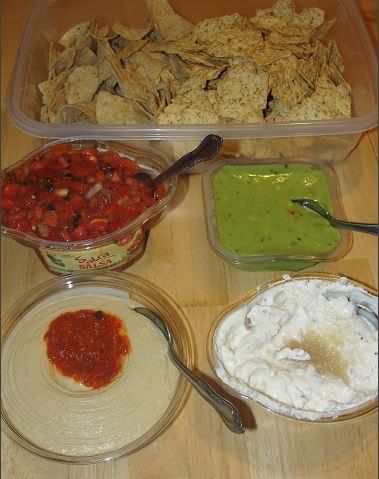 Sabra sent me a huge assortment of their products to try out with my family.  We set out a little snack buffet while we were watching a movie and sampled everything.   I was quite pleased with  how fresh everything tasted and was actually surprised at how much I loved the veggie dip.  I am not a huge fan of yogurt but I could not get enough of the Onion and Fresh Herb Dip, which is made with Greek yogurt.  I thought everything I tried was really great-tasting, but I have to admit that Onion and Fresh Herb Dip was my favorite- so rich and creamy.  Sabra has a great recipe on their website for twice-baked potatoes that uses their veggie dip. I will have to try that soon!
As for my husband, he quickly fell in love with the spicy guacamole.  I was impressed by its bright green color.  A quick note about the guacamole – you will want to finish this soon after opening.  Ours turned brown in the fridge after a couple of days, but that was only because we weren't able to finish it all because of all the great products we were sent to try!
Not surprisingly, my kids enjoyed the salsa the most and nearly polished off a container by themselves.  I couldn't get them to try the hummus or the guacamole, but I was expecting that.  They have an aversion to trying new things!  The kids did enjoy the veggie dip though – that is when they could get it away from mom 🙂
I quickly discovered that Sabra's products aren't just good for dipping.  They also are wonderful to use in recipes.  On their website, Sabra has a wonderful selection of recipes featuring their products.  A couple definitely sparked my interest – like deviled eggs made with hummus and baked eggs made with hummus.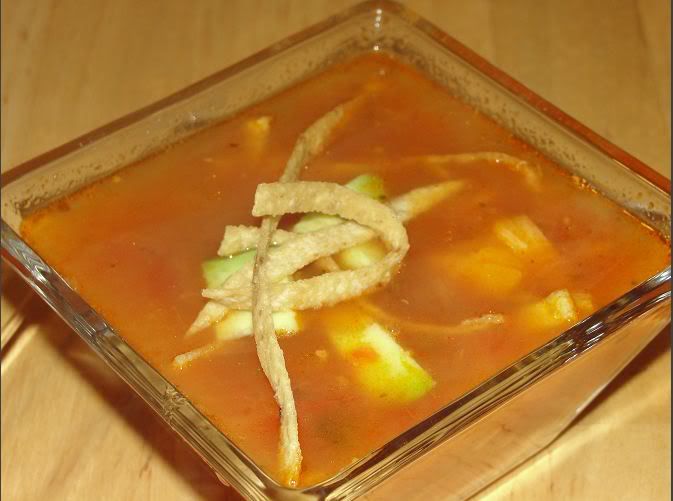 Since I had recently made a batch of chicken broth, the first thing I decided to try was their Tortilla Soup recipe.  I had actually never had Tortilla Soup before, so I wasn't sure what to expect.  I loved that the recipe had only a few ingredients and was so simple to throw together.  I ended up making in the crockpot, which worked out quite well.  I figured that since I used homemade broth (which wasn't salted), then the soup would need additional seasoning.  To my surprise, the soup had the perfect amount of seasoning already.  We all loved it so much,  I have already printed the recipe and added it to my recipe box.
Sabra products would be wonderful for gatherings during the holidays, or any other time.  Their dips are not only great-tasting, but they are also convenient.  With the holidays being so hectic, wouldn't it be nice to have one less food to prepare?
Want to find out if Sabra products are sold at a store near you?  Be sure to check out their Store Locator.
Want to try Sabra Products for yourself?  The nice people at Sabra would like to bless 2 A Heart Full of Love readers with a Sabra Party Prize Pack just perfect for your next gathering.  Each prize pack will contain a Sabra Canvas Tote, a Cloth Apron, a Bamboo chip and dip platter, Free Sabra Product Coupons and a Putumayo World Music Party CD.
Entry is quick and easy using the Rafflecopter form below. Thank you so much to Sabra for allowing me to try your products and for sponsoring this giveaway!
Disclosure: I was sent complimentary Sabra products to facilitate this review. I received no monetary compensation. All opinions in this post are my own and were not influenced in any way by the sponsor.