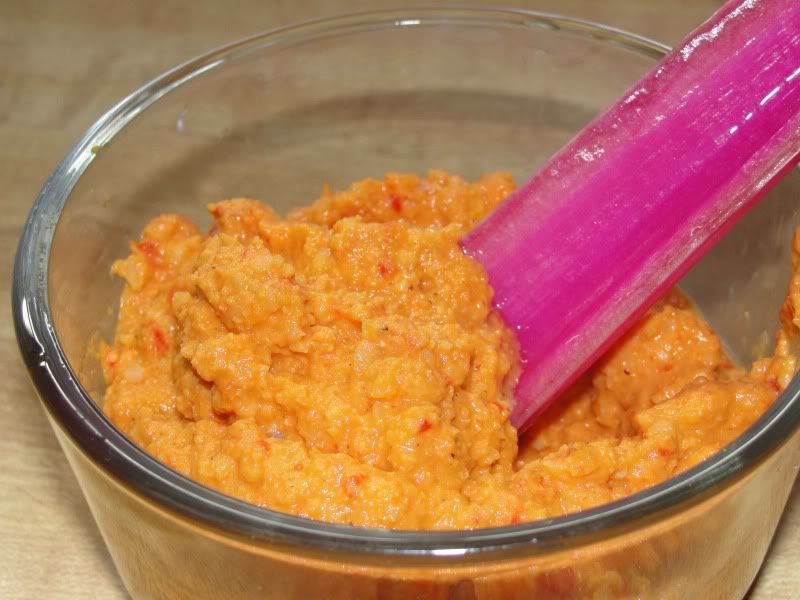 When I was an intern, the hospital chef made this yummy roasted red pepper hummus to help promote nutrition month. I had never tasted hummus before, but immediately knew I had to get the recipe. It remains one of my favorite recipes and I frequently eat it for lunch in a whole grain tortilla with some broccoli sprouts.  It also makes a great dip for veggies like carrots or celery.  Above it is pictured with a pretty spear of Bright Lights Swiss chard.
Roasted Red Pepper Hummus
2 cups of cooked Garbanzo beans
3 tbs of tahini
1 lemon, juiced
3 garlic cloves
1/2 tsp cumin
1/4 tsp cayenne pepper
1/2 tsp salt
1 tsp paprika
4 oz jar of roasted red peppers, drained
2-3 tbs water if needed to thin
Throw everything into a food processor and process until it is the consistency you desire, adding the water if you like it a little thinner.
Notes:
*You can also use a 16 oz can of Garbanzo beans, drained.  Sprouted garbanzo beans are another option.  If you are using sprouted garbanzo beans,  steam them for 10 minutes and allow to cool before proceeding.
*Tahini can be pricey to purchase.  It is easy (and much less expensive) to make your own.  You can find a simple recipe for making your own at Thy Hand Provided.
*Roasted red peppers are also expensive to buy at the grocery store.  You can make your own and freeze them.  Pick Your Own has a nice tutorial on roasting peppers that includes a lot of pictures.
This makes a lot of hummus so I recommend freezing it in serving-sized containers.  Thaw overnight and stir well before serving.
What's your favorite way to eat hummus?