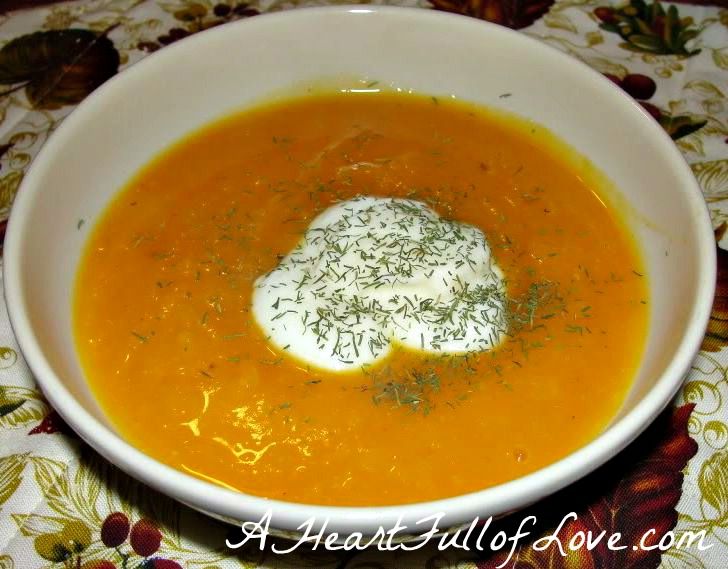 Although I typically make this simple roasted butternut squash soup recipe during the fall, I have to admit sometimes I make it during the summer and eat it cold.  I am weird like that!  No matter what time of the year you make it, this soup contains just a few nourishing ingredients, but is tasty and filling.
Just 1 cup of Butternut Squash contains 100% of the recommended daily intake of vitamin A.  In addition it is a good source of vitamin C, and potassium.  With over 5 grams in a 1 cup serving, butternut squash is also a good way to get more fiber in your diet.
This yummy soup is a great way to get the nutritional benefits of butternut squash.  The soup also contains garlic, which has been shown to help lower blood pressure and prevent blood clots.  Garlic is also antimicrobial, which is a good thing if you are prone to colds, like I am.  Onions also have antibiotic and antiviral properties.  Eating onions regularly seems to protect from certain types of cancer, such as stomach, prostrate, and esophageal cancers.
Roasted Butternut Squash Soup Recipe
1 large Butternut Squash (2 lbs or so)
1 head of garlic
1 large sweet onion diced
2 carrots, peeled and shredded
1 stalk celery, diced
2 tbs + 1 tsp extra-virgin olive oil
4 cups homemade chicken stock
dash cayenne, or to taste
salt and pepper
yogurt or sour cream for garnish
dill weed for garnish
Preheat oven to 375 degrees.  Cut the butternut squash in half and remove seeds with a spoon.  Place in a baking dish cut side down.  Pierce skin several times with a knife.  Add 1/2 cup water to pan.  Cut the top off your garlic, exposing the cloves but leaving the skin intact.  Drizzle with 1 tsp olive oil and wrap in foil.  Place the garlic and squash in the oven and roast for 45 minutes to an hour, or until squash is tender.  Remove from oven and let cool slightly.
In a skillet, saute the carrots, celery, and onion in the remaining olive oil until the onions are translucent.  When the squash is cool enough to handle, scoop out the flesh into a blender or food processor along with the roasted garlic cloves (skin removed).  Add the sauteed veggies and half the chicken stock.  Process until smooth.  Transfer the puree to a large pot and stir in remaining chicken broth, and cayenne.  Heat thoroughly.  Serve with a dollop of yogurt or sour cream and sprinkle with dill weed.
Notes:
Use organic and local veggies in this recipe if you can.  Or better yet, grow your own!
You can use store-bought chicken broth in this recipe, but look for a low-sodium version.  Store-bought stocks are ridiculously high in salt.
If you don't like spicy foods, you can cut back on the cayenne or leave it out altogether.
This roasted butternut squash soup recipe is also easily adapted for the Crock Pot.  So tell me… What are your favorite soups to make year-round?