It seems like everyday, I meet another family who is dealing with food allergies.  I myself am dairy intolerant and I have a daughter who can't eat gluten.  Planning a menu for our family is challenging, and eating out can be downright impossible.  Before we go to a restaurant, we have to find the menu online to see what we can have and what we should avoid.  However, not all online menus include ingredient lists.  In that case we have to hope that our waiter is knowledgeable enough about the menu options to help us decide what is safe to eat.
Fortunately our food sensitivities aren't life threatening, so if we are served gluten or dairy, we will just be uncomfortable the next day.  For many people this is not the case though and exposure to certain foods can cause a severe reaction and can even be life-threatening.
Despite the growing number of people affected, our family has discovered that most restaurants don't deal well with food allergies and sensitivities.  So I was thrilled to learn that Red Robin restaurant acknowledges that food allergies can be difficult for families and has come up with a way to help.
Red Robin has a couple of great tools to help families with food allergies know what is safe to eat – their Interactive Allergen Menu online and their Red Robin Customizer App.
Since we knew in advance that we would be eating at Red Robin, I chose to decide in advance what I would order via their website.  I was happy to discover that Red Robin's Interactive Allergen Menu was so simple to use.  It literally just took me a couple of minutes to find what menu items were acceptable.
You can find the Interactive Allergen menu by going to RedRobin.com and hovering over "Our Food".  Click on the Customizer Hub and then choose the Build a Customized Allergen Menu option.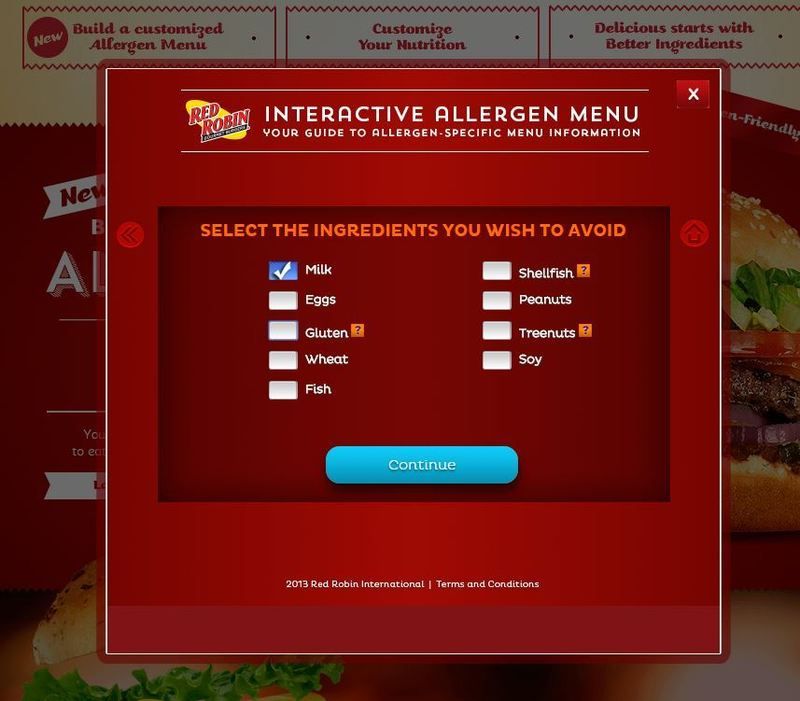 You start by checking off any ingredients you want to avoid.  Since I get nasty sinus headaches anytime I have milk products, I checked the dairy box.  They also have the option to search the menu for items that don't include gluten, eggs, seafood,nuts, and soy.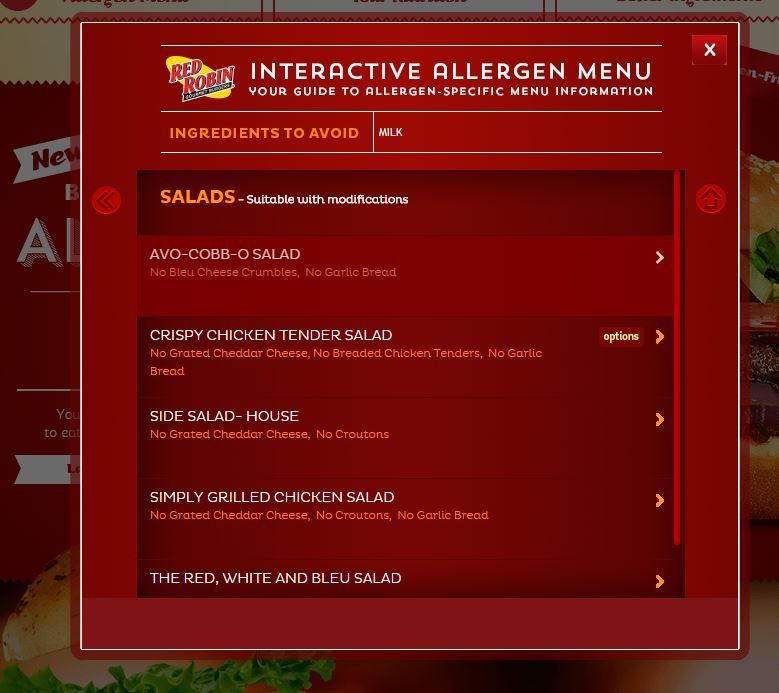 You can then search by menu category to discover which foods are suitable for your food allergy or sensitivity.  The Interactive Allergen Menu will tell you which menu items are ok as-is and also tells you which menu items are ok with modifications.  For example:  I browsed the salad menus and discovered that if I want to avoid all dairy products, I can have any of the salads, but I need to request that they be made with no cheese or croutons.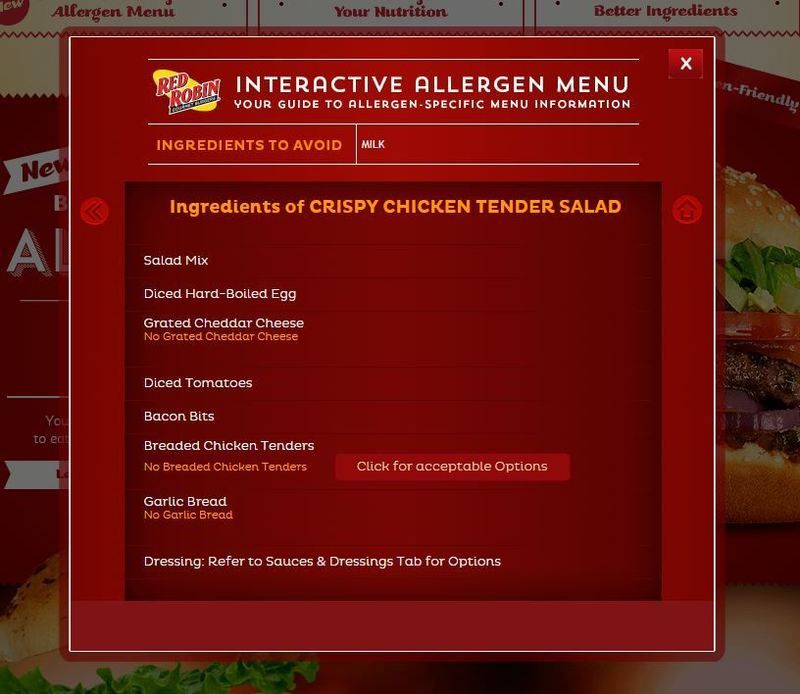 If there are substitutions possible, the Interactive Allergen Menu will alert you to that as well.  If you click on the menu item, it will bring up a list of ingredients.  If there are any suitable substitutions, it will have a "Click for Acceptable Options" button next to it.  Like in the case of the crispy chicken salad, there is dairy in the breading.  So the interactive menu suggests that you ask for the salad to be made with grilled chicken instead of the breaded chicken.  In my case, I knew I wouldn't have an issue with the small amount of dairy in the breading, so I wouldn't need to make that substitution.  However, it's very nice to have that information should my milk intolerance worsen.
Armed with the information gathered from the Interactive Allergen Menu, I arrived at Red Robin knowing exactly what I was going to order.  My mouth was already watering at the thought of a yummy Crispy Chicken Salad (minus the cheese) and a Freckled Fruit Salad on the side.  I had neglected to look up which of the salad dressings didn't contain dairy, but that didn't turn out to be a problem.  My waiter was happy to go to the kitchen and confirm that their Italian dressing didn't have any milk in it.
We had no problem making special requests when ordering our food. Red Robin trains all their staff to deal with food allergies and sensitivities, so they are more than happy to accommodate special requests. In the grand scheme of things, my dairy sensitivity is pretty mild, so other than leaving some ingredients off, my food doesn't require any special treatment in the kitchen.
I ordered my salad with no cheese and no bacon (a matter of preference).  Our food arrived quickly and as we requested.  Since the waiter knew a food intolerance was involved, he even came back after we started eating to verify that everything was ok with my salad.
If you have more serious food allergies than I do, Red Robin team members are trained to handle that as well. They have several precautions in place to ensure that the kitchen staff is aware of food allergies. The cooks use special allergen kits that are used on allergen orders only to avoid your food being contaminated with anything that would cause a reaction. Unlike other restaurants, Red Robin takes food allergies very seriously and wants to make sure you have a pleasant dining experience.
In this day and age where food allergies are affecting more and more families, it is nice that Red Robin has made it simple to find acceptable menu choices.  If you or a member of your family are dealing with food allergies, I encourage you to give Red Robin's Interactive Allergen Menu a try.  Food allergies are a hassle to be sure, so it is nice that Red Robin is trying to make things a little easier for those of us who have to deal with them on a daily basis.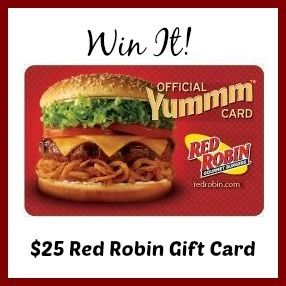 Did you know that May is National Allergy Awareness Month? I didn't, but it is nice to know that a movement is underway to help raise awareness and understanding for the problems people with food allergies face on a daily basis. In honor of National Allergy Awareness Month, Red Robin would like to bless one A Heart Full of Love reader with a $25 Red Robin Gift Card.  The giveaway is open to US residents age 18 and older (No PO Boxes).  Entry is easy through the Rafflecopter form below.  The giveaway expires at 11:59 pm EST on Sunday May 24th.
Disclosure:  I received a Red Robin Gift Card to give their Interactive Allergen Menu a try.  All opinions stated are my own.  The prize for the winner will be provided by the sponsor.  A Heart Full of Love is not responsible for prize fulfillment.