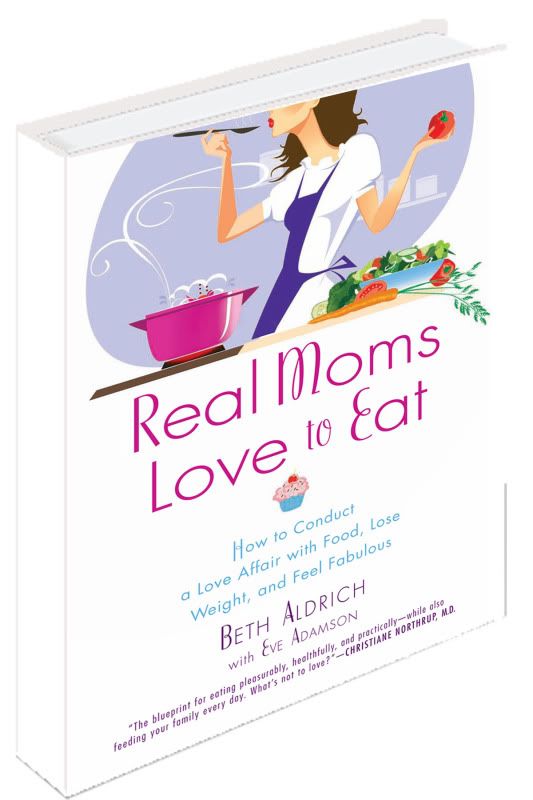 As a registered dietitian, I am always on the lookout for new books about diet and nutrition.  I recently heard about a new one that will be launching this winter.  Written by a Certified Health Counselor, who is also a mom blogger, I knew that Real Moms Love to Eat was one I wanted to read.  So I am happy to help to celebrate the launch of "Real Moms Love to Eat: How to Conduct a Love Affair with Food, Lose Weight and Feel Fabulous" (New American Library, a Penguin Books Imprint, January, 2012) by  Beth Aldrich, Certified Health Counselor.
As a mom of 4, I know how hard it can be to try to lose weight when I am constantly on the go running the kids to their activities.  It is hard to find time for myself.  Targeting busy moms who need to lose weight, Real Moms Love to Eat emphasizes gradual changes that are easy to implement and maintain.  Anyone who has ever tried to lose weight knows that if you try to change too many things at once, it is very difficult to stay on track.  The book has some great features to help you on your way to weight loss and better health:
A fun and easy-to-follow 10-part plan for moms to implement to make gradual, life-long changes in their approach to food
21 days of meal suggestions
Tips, recipes and lifestyle changes
Real Moms Love to Eat is written in a conversational tone from one mom to another.  I love that!  Some diet and nutrition books are so scientific and formal that although they have good information, the language turns people off before they ever get to it.
Beth's approach to eating is realistic and easy to follow in today's hectic lifestyle.Through the book, you'll learn how the food you eat impacts your body, which enables you to make better nutrition choices.  Beth knows that starvation diets don't work so you will learn how to eat healthy while experiencing real food and enjoying your life.  It's a lifestyle – not a short-term diet.  Real Moms Love to Eat  will be your go-to cookbook for tasty, fresh, whole food meals, creative recipes and food facts that will keep you looking fabulous and feeling energized and fulfilled.
Now for some fun stuff…
Everyone that participates in this "virtual pre-order launch party" is eligible for randomly drawn prizes. For starters, you can enter the RealMomsLovetoEat.com twice-a-month pre-order book giveaway, and win some great prizes. You can pre-order the book for one entry AND sign up for Beth's FREE newsletter for a second entry!  You can check out the current prizes here.
In addition, if you are a blogger, you can help participate in the book launch for a chance to win even more great prizes.  Bloggers can join their Food Affairiate program for a chance to win a Top of the Line Kitchen Blender, Compact Food Processor, Kitchen bakeware, Kitchen utensil goodie basket, cutting boards and a couple other secret prizes!  Blogger winners will be chosen 1-2-12.
Disclosure: I wrote this blog post while participating in the SocialMoms and Beth Aldrich – Real Moms Love to Eat blogging program, for a chance to get 3,000 My SocialMoms Rewards points. For more information on how you can participate,click here.  In addition, I was gifted from Restoring Essence Nutrition, LLC-owner of Real Moms Love to Eat, a free digital copy of the book, "Real Moms Love to Eat" and an entry into the prize drawing on January 3,2012, for participating in this virtual tour and writing about this book pre-order contest.