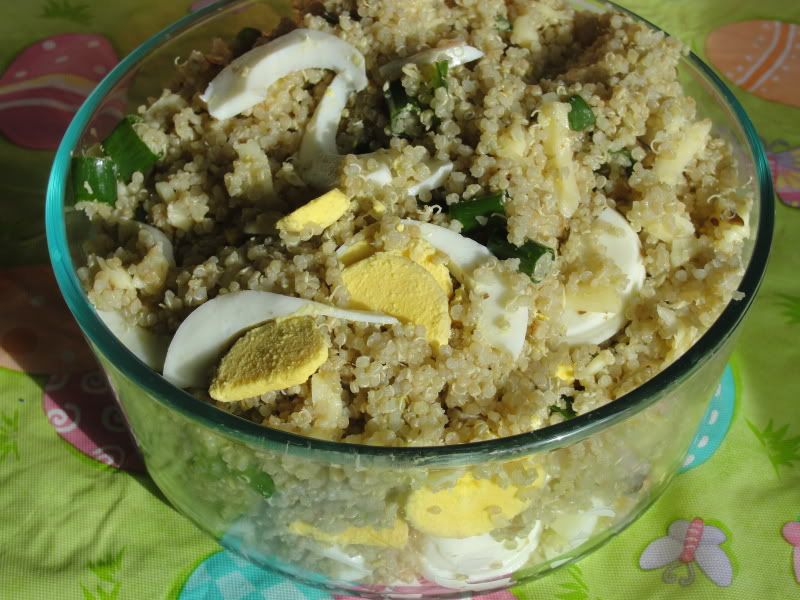 Quinoa is one of our favorite grains. It is a great for vegetarians to add to their diet, because it is higher in protein that other whole grains.  If you have never tried quinoa, I urge you to give this recipe a try. If you can cook rice, you can cook quinoa.
This particular dish started out with a recipe from 101 Cookbooks. However over the past year or so, I have messed around with it so much, that it is quite different now. We love to take this recipe in a cooler on picnics in the summer. It is full of protein and heart-healthy fats. Plus it tastes yummy!
Quinoa Salad with Avocado Dressing
2 cups quinoa, rinsed well.
4 cups water
1 avocado
1 lemon, juiced
2 cloves garlic
1/2 tsp sea salt
1/2 cup walnuts, chopped fine
1/4 cup green onions, sliced
4 oz yogurt cheese (or a sharp cheddar), shredded
4 hard-boiled eggs, diced
Bring the water and quinoa to a boil. Cover and reduce heat. Cook for 20 minutes. Cool completely. In a food processor, combine avocado, juice from the lemon, garlic cloves, and salt. Process until smooth. If it is too thick to pour, add a tbs of water at a time until it is thinner. Combine well with the cooled quinoa. Mix in the remaining ingredients. Refrigerate for a couple of hours. Serve chilled.
A few notes about quinoa:
Quinoa is ideal for people with gluten intolerance.  Some grocery stores even carry pasta made from quinoa.
Quinoa needs to be rinsed well before cooking.  The grain has a saponin coating that makes it taste bitter if not well-rinsed.
You can tell quinoa is cooked when the little rings separate from the grain.
Enjoy!