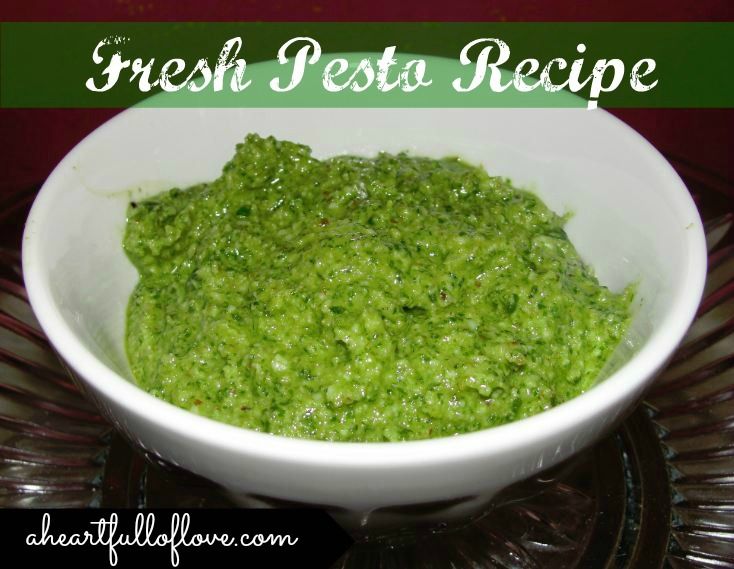 Now that the weather has finally warmed up and is staying warm, my basil plants are flourishing.  That means it's time to pull out my favorite fresh pesto recipe.  I love to use it on pizza, as a sauce for pasta, and on sandwiches.  It is quick and easy to make using a food processor.
Traditional pesto originated in Italy and was originally made with a mortar and pestle.  The basil leaves were pounded to make a paste.  Fortunately for us, making pesto is much easier these days.  With a food processor, you can whip up a batch in just minutes.
While traditional pesto recipes call for pine nuts, I use walnuts.  They are less expensive than pine nuts and I don't notice much of a difference in the taste.
Fresh Pesto Recipe
Ingredients
2 cups packed fresh basil leaves
2 cloves of garlic
1/4 cup walnuts
1/4 cup grated Parmesan cheese
1/4 cup olive oil
salt and pepper to taste
Place all ingredients in a food processor.  Process until smooth, scraping down the sides as needed. Store in the refrigerator with a thin layer of olive oil on the top to help keep it from browning.  Makes about 1 cup of pesto.
Want to enjoy the taste of fresh pesto year-round?  This fresh pesto recipe can be frozen.  I like to freeze mine in ice cube trays.  Freezing them in cubes makes it so easy to thaw the right amount needed for recipes.  Most ice cube trays hold 1 or 2 tablespoons per cube.
Once frozen, pop out the cubes and transfer to a freezer bag.  I use a straw to remove as much air from the bag as possible before I seal it. You can store your pesto cubes for up to 6 months in the freezer.
My favorite use for this fresh pesto recipe is on pizza.  I top it with chicken and red bell peppers.  Yum!  So tell me… Do you love pesto?  What is your favorite use for pesto?