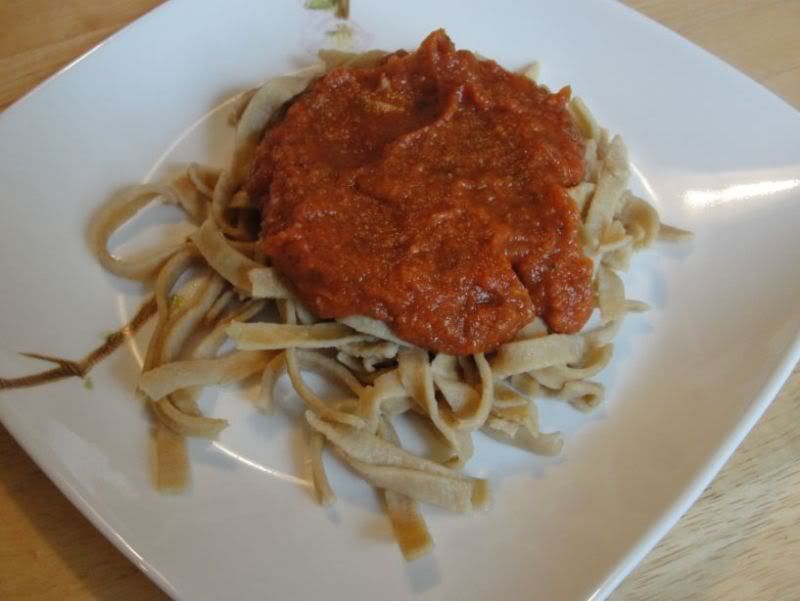 I have been trying lately to seriously limit my use of canned goods because of BPA, however that has been hard with tomatoes.  I tend to use a lot of canned tomato products since my garden tomatoes never seem to last until the next harvest.  I have a yummy oven roasted tomato sauce recipe, but I usually don't make it very often due to the mess and time involved.  In the past, after the tomatoes have roasted, I ran the whole pan through a juicer to extract the yummy sauce.  Messy, Messy, Messy!
Since getting my Vitamix, it has made making my oven roasted tomato sauce much easier.   With no mess and no fuss, I get a wonderfully rich sauce even when I have started with bland grocery store tomatoes.  The beauty of this recipe is that you can use what you have and adjust it to your tastes.  I have made it with cherry tomatoes, as well as the wonderfully multi-colored heirloom tomatoes.  It's all good!
Oven Roasted Tomato Sauce Recipe
5 lbs of tomatoes (or whatever you have.  I don't usually weigh them, I just fill up the pan.)
1-2 onions, diced
2-4 cloves garlic, peeled and coarsely chopped
1 tsp each basil and oregano (more if using fresh)
Preheat your oven to 400 degrees.  Wash, core, and quarter your tomatoes.  Put your tomatoes, onions, and garlic in a large roasting pan.  Roast until all the liquid has cooked out of the tomatoes.  Stir every 30 minutes or so.  Depending on how watery your tomatoes are, this may take 1 1/2  to 2 hours.  Allow to cool slightly, add 1 tsp each of basil and oregano,  and then blend until smooth.  (If you don't have a high-speed blender like the Vitamix or Blendtec, you may need to add a little water to get it started.)  Use immediately or freeze.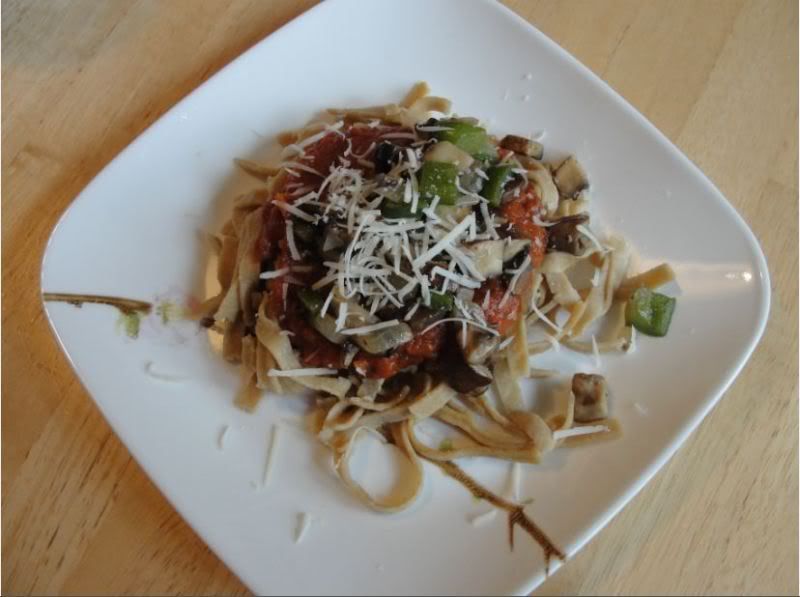 I love to serve this on my homemade sourdough noodles topped with sauteed onions, green peppers, mushrooms and freshly grated parmesan. Yum-O!