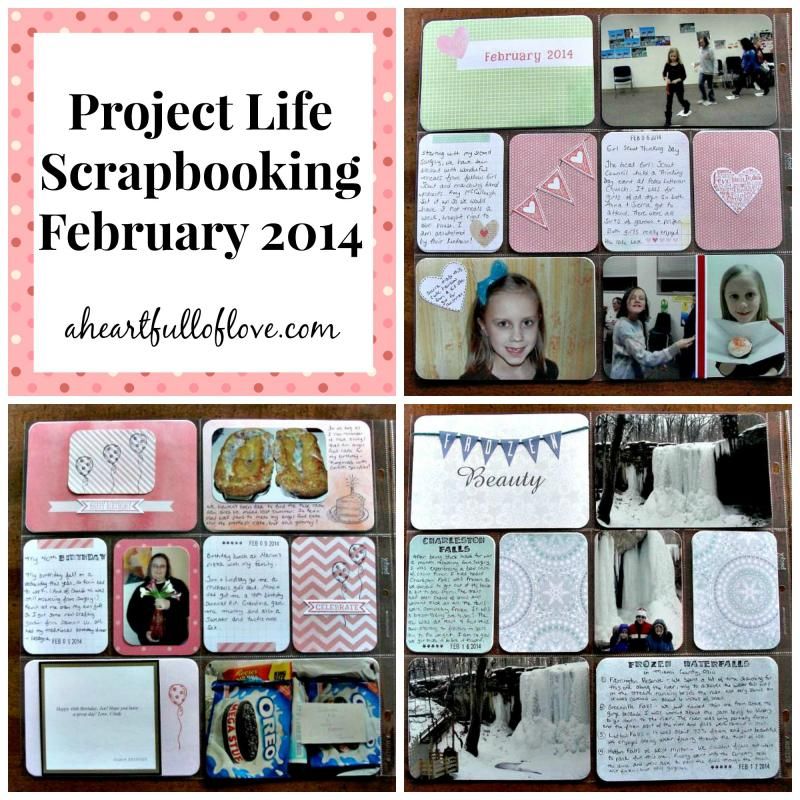 For 2014 I decided to switch over to monthly Project Life Scrapbooking.  Although I loved capturing bits of our day to day life, doing Project Life weekly was a bit overwhelming for me.  So my approach for this year is much simpler.  I am going to be doing just one monthly overview layout.  These 2 pages will include some of the everyday stories and events I wouldn't normally document.  Then after that overview layout will be additional pages if there were  any holidays, birthdays, or special events that happened during the month.  This way I should be able to contain my 2014 pages to 1 album and it allows me to get the pages done a lot more quickly.  I am able to document a whole month of memories in just a couple of hours.  I am loving this system so far!
Here is February's overview page.  The cards were from the Dear Lizzy Project Life Core Kit.  There are definitely some cute cards in there to use on February or Valentine's Day layouts.  Lots of hearts!
My overview layout this month included a lot of pictures of the kids' activities – band concerts, Girl Scout events, and school projects.  These are events I am going to cover in greater detail in each of the kids's school scrapbooks.  However since we attended as a family, I also wanted to mention them in our family album.
I know a lot of you might think it's silly to have a family album as well as a separate album for each of my kids – especially since I have 4 kids!  The thing is though I have very few pictures of my childhood and that is something I have always regretted.  So when my kids grow up and have homes of their own, their personal scrapbooks go with them.  I want them to have tons of pictures from their childhood.  So is it more work for me?  Yes – but I am happy to do it.
Here is a close-up of the left side of the February overview page.  I used the super cute Language of Love stamp set to embellish the filler cards.  The lower right picture is a collage I made in PicMonkey.  I then used a bit of self-adhesive ribbon down the middle to provide a bit of separation for the pictures. Collages are a great way to include more photos on your layout and they are so simple to do!
Here is a close-up of the right side of the February overview page.  I did something new with the band concert pictures.  I did my journaling right on the photo using PicMonkey before I had it printed.  This saved me the space on a journaling card as I wanted that card to document that some of my American Girl Doll Crafts were published in a print magazine.  Super exciting!
We had a lot going on in February.  So my next layout was for pictures from my 40th birthday (I am so old!) and Valentine's Day.  I once again used the Dear Lizzy core kit for these pages.  I don't always use core kits, but it sure does make things easier when it fits the theme of my page!
Here is a better look at the left side. I try to keep things consistent looking across a 2 page spread, even if they are 2 separate events. So for this page, I used the same title card as on the right side and just altered it using the Sketched Birthday stamp set.  I just love those cute little polka dot balloons!
I don't like having my picture taken, so I included a couple of silly pictures from my birthday to fill space – like my 40th birthday survival kit from my parents (I have a bit of an addiction to Mega Stuff Oreos) and my sad birthday angel food cake made in loaf pans because we still haven't found our tube pan since we moved last summer.

The right side of the page was pictures from Valentine's Day.  I always have a special meal for our family where everything is heart-shaped or pink.  This year since I was still recovering from surgery, we went with simple and had heart shaped pizza from Papa Murphy's and store-bought cupcakes.
I didn't do any extra embellishing on these cards because I thought they were adorable as is. Love both those filler cards – just perfect for Valentine's Day pages.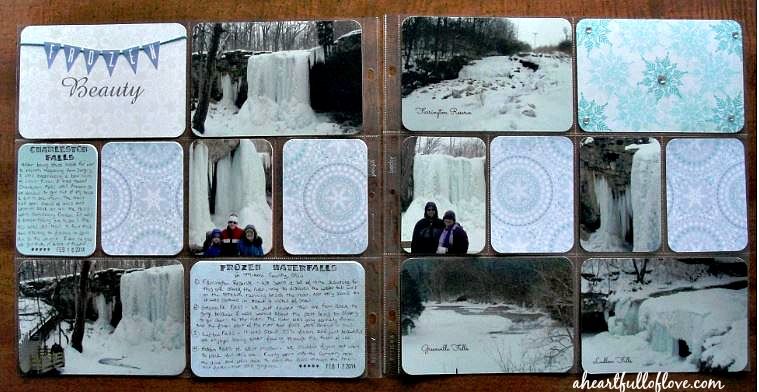 My last set of pages for the month was from we went out exploring local frozen waterfalls.  For these pages, I made my own 3×4 cards using pretty snowflake paper from Echo Park and Fancy Pants Designs.
Here is a close-up of the left side.  I did a lot of journaling telling where all the frozen waterfalls were located, in case we want to repeat the outing next winter.
Here is the right side.  I did more journaling on the pictures before I had them printed.  The upper right card was stamped using the pretty snowflake from the Best of Snow stamp set.  I stamped the snowflake once, and then stamped again without re-inking.  I repeated again and again to get a pretty background of light and dark snowflakes.  I used rhinestones in the centers of the darker snowflakes to add some sparkle.  I am not one who usually includes "lumpy" things in my scrapbooks,  but I really liked the effect.
So that's what I have been up to with Project Life this past week.  So tell me…  What have you been scrapbooking lately?
Project Life is a wonderful scrapbooking system designed by Becky Higgins. If you would like to learn more about this style of memory keeping, be sure to check out Becky's website. While you are at it, be sure to check out all our Project Life Scrapbooking posts.