Earlier this week, I shared with you the cute framed art that I made with the April Paper Pumpkin kit. Well there were a ton of leftovers after I was done, so I decided to put them to good use in my youngest daughter's Project Life scrapbook.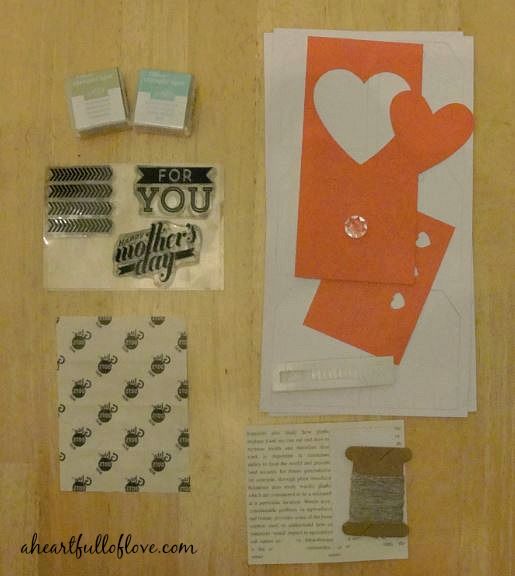 Just look at all the goodies I had left over from this month's Paper Pumpkin kit!  In addition to the stamp that I can use over and over, I had 10 tag die cuts, assorted hearts, linen thread, a banner die cut, glue dots, a button, and foam adhesive strips.  In addition I had the cute patterned belly band and the ribbon (not pictured) since I decided to keep the framed art for myself.  I cut the belly band up into 3×4 cards.
These pictures were taken on an overnight trip to Michigan to see my oldest daughter perform at a marching band competition and then the next day at the Henry Ford Museum.  Since the competition was early in the day, we spent the rest of the afternoon exploring the area and doing some letterboxing.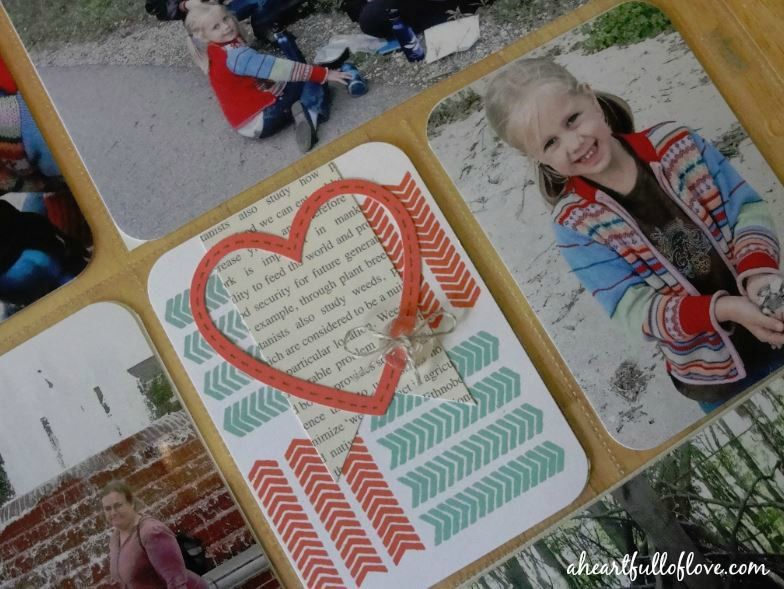 For this handmade Project Life card, I pretty much copied the design of the framed art from the Paper Pumpkin kit.  I just love how it turned out!  I used Calypso Coral and Coastal Cabana ink for the arrow stamps.  I added pen stitching to the heart to make it pop a bit.
For the second handmade Project Life card on this page, I used one of the cards cut from the belly band.  I added one of the leftover tags and accented it with the heart die cut and a strip made from the negative of the mini hearts.  I used the tag for my journaling for the page.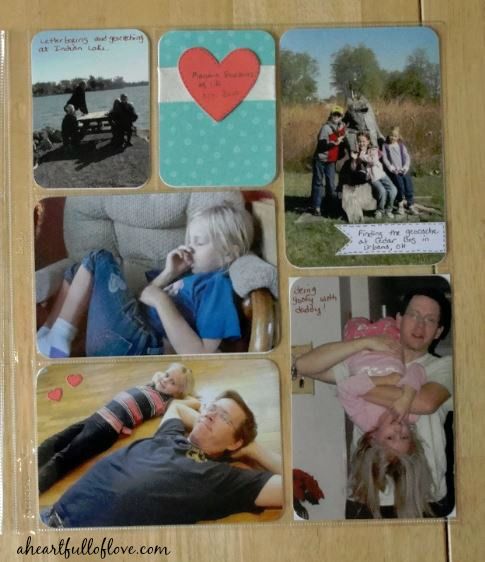 The pictures from the second page of this spread were just random pictures from the month of October.  I just love the one of daddy and daughter relaxing on the floor.  So cute!
For the last handmade journal card, I used the ribbon from the kit and added pen stitching on the last heart die cut.  I just love that color combination together!
I am so excited to be participating in the Project Life Blog Hop that happens the last Saturday of every month over at Loving Life's Little Blessings.   So be sure to head over there and check out the rest of the posts.  I hope all the Project Life scrapbooking ideas help inspire you to document your own memories!
 So tell me… What have you been scrapbooking lately?
 If you would like to learn more about this style of memory keeping, be sure to check all of our Project Life Scrapbooking posts. For even more inspiration be sure to follow our Project Life board on Pinterest.