I just finished up my April 2-page spread, so I thought I would share my latest pocket scrapbooking pages with you today. I used the Stampin' Up Project Life Everyday Adventure card collection. I just love the bright colors and how everything coordinates. Easy Peasy!
If you have never heard of pocket scrapbooking before, it is basically a simple method of memory keeping that uses divided page protectors. It is as simple as adding your photos to pocket page protectors, adding the journaling cards, and writing a little about the pictures. You can get a page done in just minutes.
The Stampin Up' Project Life cards are decorative and they all coordinate. So you don't have to do any additional embellishing – but you certainly can if you would like!  I used to be so overwhelmed by scrapbooking that my pictures were piling up on my hard drive by the thousands. Now thanks to Project Life, my pictures are in albums on the bookshelf where my family can enjoy them.
This first layout features pictures from our geocaching adventure on the Clinton County Barn Quilt Geotrail.  We had a fun day seeing all the neat artwork and ended up finding 30 geocaches.  That's a record for us I think!  Because we found 30, we got one of the limited edition Barn Quilt geocoins.
Also on this page is a collage of all the pretty spring flowers popping up in my flower garden.  I used PicMonkey to make the collage and add the text before printing.
If  you have seen any of my other pocket scrapbooking pages, you know that I keep things pretty simple.  I used the Day to Day stamp set to put the month on the title and used the letter stickers from the Everyday Adventure accessory pack to embellish the picture of my husband signing the geocache logbook.  Quick, simple, and done!
The top pictures on this page are from scout events.  I had my youngest daughter's Girl Scout troop over to help them earn their geocaching badge.  They had so much fun making trade items and hunting for a geocache I had hidden in the yard.  The geocache had plastic eggs filled with chocolates for each of the girls as a surprise for finding it.
Then my son had his spring court of honor for Boy Scouts.  He earned a couple of badges.  I can't believe he is almost an Eagle Scout.  Seems like yesterday he was starting as a Cub Scout 🙂
After the long winter, I was so happy when the weather finally started to warm in April.  So the bottom part of the page featured pictures from our outdoor adventures.  We were able to get out to enjoy the sunshine and do some hiking.  We visited a couple of Ohio's state parks and did some letterboxing/geocaching.  My favorite way to spend the weekend!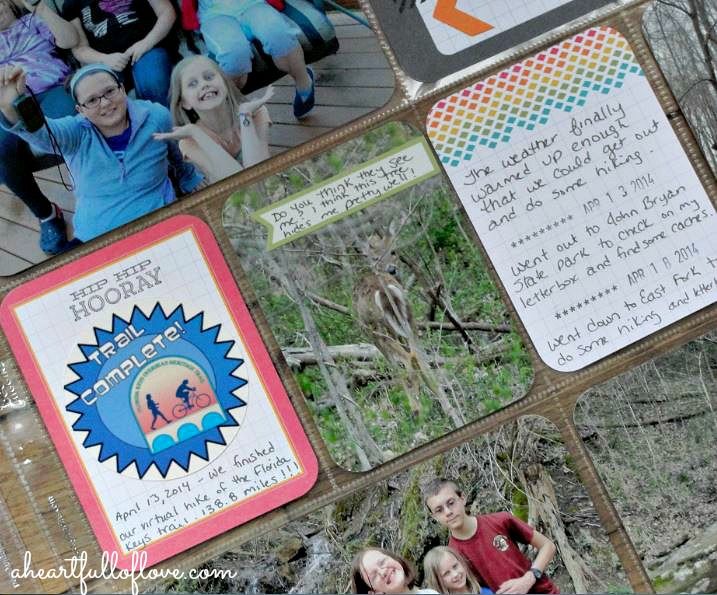 I used one of the stickers from the accessory pack to journal about the picture of the deer.  For the journal card, I was talking about 2 different outings.  So I used a rotary date stamp to add the dates and break up the journaling a bit.
We have been doing a virtual hike at Walking4fun.com and finally finished one of the trails.  So I printed the badge we earned and added it to a journal card.  I embellished the card with the "Hip Hip Hooray" stamp from the Hip Notes stamp set.
Here are the supplies I used to make these 2 pages…
If you want to see more of my Project Life layouts, be sure to check out my pocket scrapbooking posts or check out my Project Life Pinterest board.  So tell me… have you been doing any scrapbooking lately?  Do you have any questions about the new Stampin' Up Project Life collection?  Be sure to leave me a comment.  I would love to hear from you!