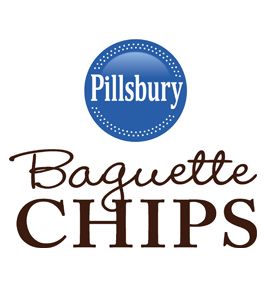 I am always on the hunt for nutritious snacks to serve my kids. Crunchy snacks are a favorite of theirs – in particular potato chips. However I don't like the kids to eat a lot of junk foods. Potato chips are so greasy and full of fat. When I got the chance to review new Pillsbury Baguette Chips, I was so happy to give their new healthy snack a try.
I received two different flavors to taste – Italian Cheese & Herb and Cheddar Sun-dried Tomato.  Pillsbury Baguette Chips are so versatile.  You can snack on them as is, use them with your favorite dip, sprinkle a few on a bowl of soup, or even use them as croutons in a refreshing summer salad.
Product Information:
Looking for ways to spice up your snacking routines? Pillsbury knows just how you feel and wants to awaken your taste buds with their new Pillsbury® Baguette Chips! These hearty chips are sliced from oven baked bread and topped with savory seasonings bringing the unique and contemporary flavors of Italian Cheese & Herb and Cheddar Sun-dried Tomato to gourmet snack chips. The delicious flavors and perfect texture of these crispy chips can help you round out any recipe.
My Thoughts:
With a mere 130 calories per serving (approximately 21 baguette chips), and 50% less fat than regular potato chips, I can feel good about serving these to my kids as a snack.  But what about the taste?
In our family, hands-down we preferred the Cheddar Sun-dried Tomato variety of Pillsbury Baguette Chips.  Both varieties were bursting with flavor and tasted great, but there was just something about the combination of the tangy cheddar and sun-dried tomato that won us over.  The kids quickly polished what we were sent and have already asked me to buy more next time we are at the store.
Want to try Pillsbury Baguette Chips for yourself? Be sure to visit the link below to print a coupon for $0.75 off one package.  Sweet!
You can learn more about new Pillsbury Baguette Chips at
One lucky A Heart Full of Love is going to receive a Pillsbury Baguette Chips Prize Pack that contains
(3) Bags of Pillsbury Baguette Chips in Italian Cheese & Herb
(3) Bags of Pillsbury Baguette Chips in Cheddar Sundried Tomato
Yummy! Entry is easy through Rafflecopter form below.
Disclosure: I received a Pillsbury Baguette Chips gift pack from General Mills through MyBlogSpark to facilitate this review. No other compensation was received. All opinions stated are my own.