Disclosure:  I participated in an Ambassador Program on behalf of Mom Central Consulting for Bob Evans. I received gift cards to facilitate my dining experience and to thank me for participating
Our family does not eat out much, but when we do, one of the places we typically go to is Bob Evans.  We have never had a disappointing experience there.  One of the reasons we love it so much is it tastes like homemade.  The food is always well-prepared and tasty.  Recently Bob Evans introduced Broasted Chicken to their menu and we were excited to get to try it out.  So after a long day of hiking at a nearby state park, we headed to the Amelia, Ohio Bob Evans location for a late dinner.
About New Bob Evans Broasted Chicken
Made with fresh, never frozen, chicken, it's marinated and hand-coated in a special blend of spices then hand-dropped in a special broaster cooker to lock in flavor and tenderness. Cooked to golden-crusted perfection, it's crispy on the outside, juicy on the inside.
Our Experience at Bob Evans
We did not get to the restaurant until after 8 pm.  I was surprised to see that despite the late hour, the restaurant was packed.  We ended up having to wait for a table, but only about 10 minutes.  Our server, Abby, couldn't have been nicer.  She was clearly busy, but kept our drinks refilled without having to be asked, and quickly got us anything we needed.
The kids all ordered off the breakfast menu – little weirdos that they are!  I love that Bob Evans offers their breakfast menu all day long.  Sometimes you just want breakfast for dinner, you know?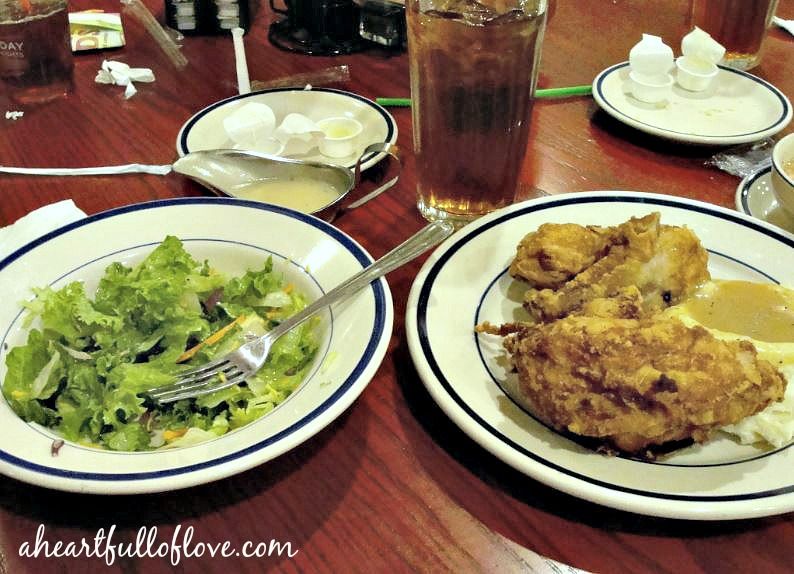 My husband and I both ordered their Broasted Chicken 3-Course Dinners.  It really is a great deal!  For $9.99 you get your choice of endless bread, a starter, an entree, and dessert.  Let me tell you, it was a lot of food!  (Which was good because we had all hiked 10 miles that day and were famished!)  I chose the rolls, a salad, the broasted chicken and mashed potatoes, and a chocolate chip cookie for dessert.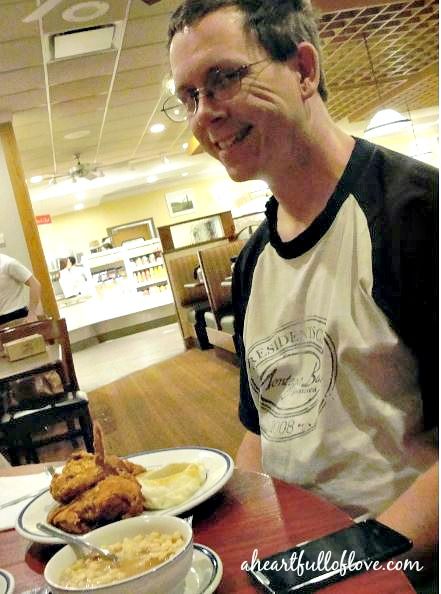 The 3-course dinners aren't limited to the broasted chicken, however.  They have quite a few choices for each of the courses so you can get exactly what you want.  You can check out all the options for the 3-course dinners on the Bob Evans Menu.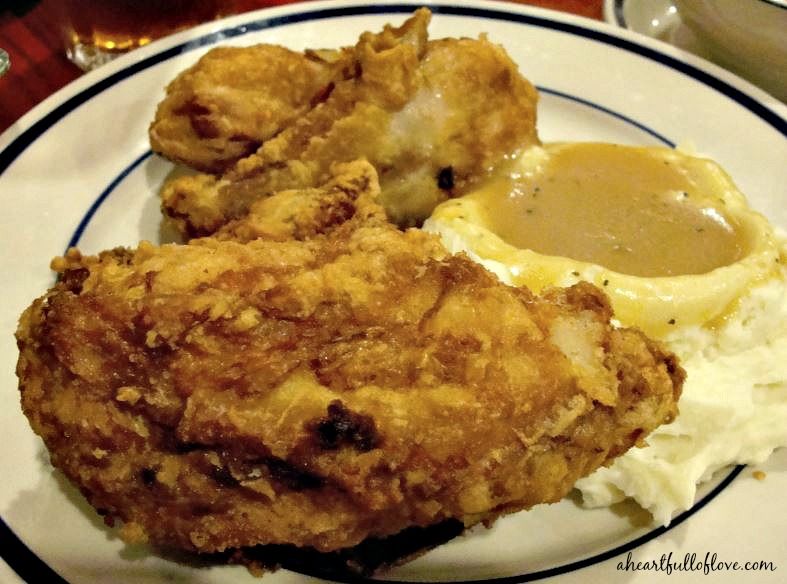 My thoughts on Bob Evans Broasted Chicken
I was definitely glad I had ordered the broasted chicken.  The coating was crispy and well-seasoned.  My husband typically adds salt to everything, and for once he didn't feel the need to add any.    The meat itself was tender and juicy.  It was very tasty and I will definitely get it again the next time we eat at Bob Evans.
Want to try new Bob Evans Broasted Chicken for yourself?
Be sure to check out their store locator to find a Bob Evans near you.  If you are in a rush and need a meal in a hurry, Bob Evans offers carryout too.  You can even place your order online and it will be ready for you when you get there.  How convenient is that?
Bob Evans would like to bless one A Heart Full of Love reader with a $20 Gift Card so they can try the new Broasted Chicken.  Entry is easy through the Rafflecopter form below.  The giveaway is open to Cont. US residents age 18 and older.  It ends on May 4, 2014 at 11:59 pm.
So tell me… Have you tried Bob Evans new Broasted Chicken yet?