My kids are huge ZhuZhu Pet fanatics so I was excited to learn that Cepia, the makers of ZhuZhu's, have come out with a new line of toys . The Happy's are fun interactive motorized plush pets that can do tricks and be trained just like real pets.   My daughter was so excited to receive the puppy Bentley and the Chase & Play Ball to try out.
About The Happy's:
There are currently 8 different pets in The Happy's line.
6 Dogs – Bentley, Chance, Sport, Thunder, Scooter, and Jewel
2 Cats – Mittens and Lady
Each pet comes with a treat that unlocks a different trick.  Each treat works with any of the pets, so the more treats you have, the more tricks your pets can do!
Other accessories for The Happy's:
In addition to the Chase & Play Ball that we got to try, there are several other fun accessories you can purchase for even more fun with your pet.
Zippy Skateboard
Bed & Blanket
Speedy Sports Car
Pet Carrier
Rockin' Playground
To see these cute toys in action, be sure to watch the commercial below.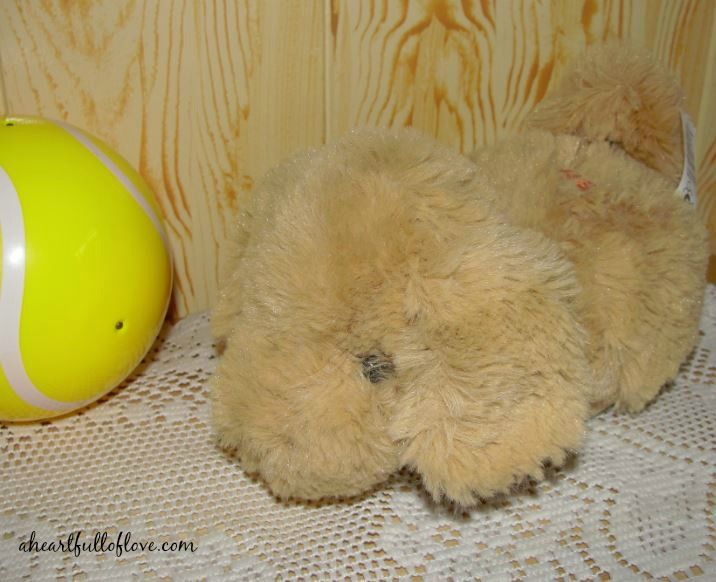 Our experience with The Happy's:
If your child enjoys playing with Zhu Zhu pets like mine do, then they will probably love The Happy's.  The Happy's are about twice the size of  Zhu Zhu's and have additional capabilities.  These cute toys can be trained to do tricks.  Using the special Happy Treat (shaped like a dog bone), my daughter was able to get the puppy to follow her and spin in circles.  She got a huge kick out of it when Bentley chased after the ball and pounced on it.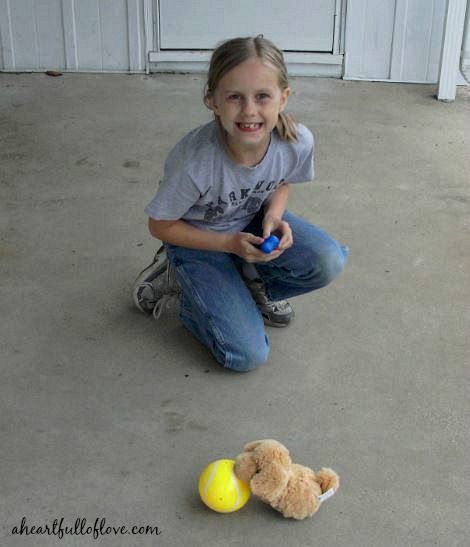 The Happy's are very easy to use.  You just need to press the button on the pet to get it started.  To get the pet to follow you, your child just needs to press the button on the treat.   The treat has a range of 6 to 7 feet, so your child doesn't have to be right up next to it to work.   After three minutes of inactivity, the toy will enter sleep mode to help conserve the battery life.
Tips for playing with The Happy's:
The Happy's pets work best on a hard surface, such as tile, wood, laminate, or concrete.
Avoid playing with The Happy's on carpet as they may not run as smoothly.
Avoid playing with The Happy's on an elevated surface, like countertops as these toys could easily roll off and possibly break.  My daughter discovered just how quickly Bentley could get away from her and he rolled off our front porch into the flower bed.  Fortunately it was just a little drop and Bentley is just fine 🙂
Avoid playing with The Happy's in bright sunlight.  Indirect light is ok.  The bone and ball both send out an infared signal that  The Happy's chase.  In bright sunlight, it may not detect the signal as well.
The Happy's pets require 2 AAA batteries and the Chase & Play Ball requires 3 AAA batteries.  These are not included.
Where to buy The Happy's:
Look for The Happy's in Toys R Us, Wal-mart, Target, Justice, and Radio Shack this spring.  They are also available online at Amazon.
My daughter just loves Bentley and has already asked for more of The Happy's pets toys for her upcoming birthday.  These are the next best thing to having a real dog or cat and will happily keep your child entertained for hours teaching them new tricks and watching them play.
The Happy's Chance Plush
The Happy's Mittens Plush
The Happy's Sport Plush
&