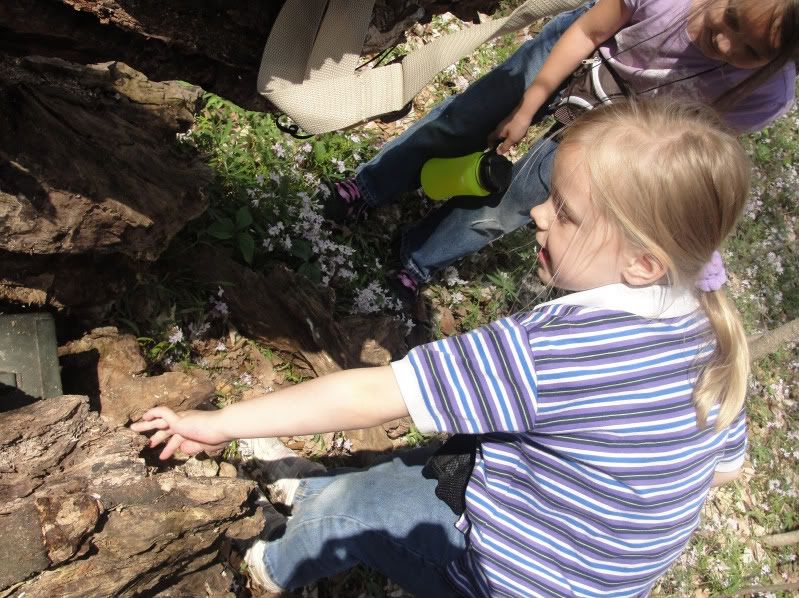 The Little One finding a letterbox.
Does the warmer weather have you looking for a fun outdoor activity that your family can do for free?  Then you might want to look into letterboxing
.  It's similar to geocaching, but there is no expensive equipment to buy.  Letterboxing combines treasure hunting, puzzle solving, and a bit of art into an fun-filled activity that can be enjoyed by people of all ages.  It  allows you to explore places you would have never known existed, sometimes right in your own hometown!  As an added bonus, you get to enjoy the fresh air and get a little bit of exercise.
What is Letterboxing?
At the most basic level, a letterbox is a container containing a logbook and a rubber stamp.  The container is hidden, usually in a wooden location, and clues are distributed to help others locate it.  Letterboxes are commonly hidden in parks along trails.  However letterboxes in urban settings seem to be gaining popularity.
Each letterbox participant has their own signature stamp, either purchased or store-bought, that they use to mark the letterbox logbook and prove they were there.  They then use the stamp that was in the letterbox to stamp their own logbook.
Letterbox clues can range from simple to complex.  Sometimes the clue flat-out tells you where the letterbox is located.  Other times, you may have to solve a puzzle to figure out where the letterbox is located.  I have seen clues hidden in a poem, clues that are in Morse code, clues that require you to use a compass, and clues that are hidden within a word puzzle. You will be amazed at the creativity of some of the letterboxing clues.
Choosing a Letterboxing Trail Name
To get started letterboxing, you will first need to come up with a trail name.   You may want to choose something that represents you or something that is important to you.  Our family goes by the trail name Viktor Viking.  My husband is of Norwegian descent so we always joked that he is descended from the Vikings.  When it came time to choose a trail name, we thought we would go with that theme.  When we came across a Larry the Cucumber plastic figurine with a Viking helmet, that sealed the deal.  We chose Viktor because it started with a V to provide some alliteration.
Get creative with your trail name!  Coming up with the perfect nickname can be a lot of fun.  Our family all uses the same name, but you could certainly have a different one for each member of the family.
What do you need to get started with letterboxing?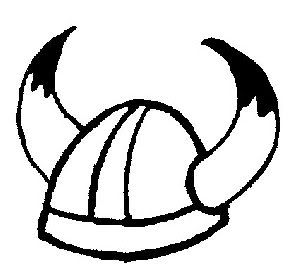 To get started letterboxing, you will need a signature rubber stamp to mark the logs, a logbook of your own, a stamp pad, and a pen.  You can either purchase a rubber stamp or carve one of your own.  To the left, you can see the signature stamp that I carved for use when we go out letterboxing.  Your logbook can be as simple as a small spiral bound notebook.  If you are artistic, you can make your own logbook with scrapbooking supplies.
Our family does not have a traditional log book.  We take along a stack of unlined index cards and stamp on those.  Then when we get home, we cut out the image and paste it into our letterboxing journal along with any notes about the day's fun.  This way if you don't get a clean impression the first time, you can just use another card.  For smaller stamps, we sometimes imprint the image on a wooden nickel and mark the back with the name of the letterbox and the date we found it.  We already collected signature wooden nickels from geocaching, so we found a way to extend it to letterboxing.
Each time we go out letterboxing, we take along a fanny pack with our supplies.  It is also a good idea to include a few basic first aid supplies such as band-aids, pain reliever, and first aid cream.  A small bottle of hand sanitizer and a small package of baby wipes are also a good addition to your pack.  We have started including tweezers in our pack, in case any gets a tick.  Be sure to bring a snack and water bottles for everyone if it will be a long hike.
Where do you find the letterboxing clues?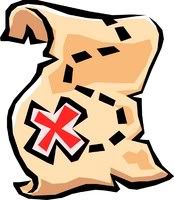 There are two main websites where you can find clues.  Both sites allow you to search by location, so it is easy to find letterboxes that are nearby.  I like to search both sites as some people choose to list their letterboxes at only one site or the other.
To search on Letterboxing North America,  click on either clues or search for boxes.  The clues link will bring up a clickable map that you can use to navigate to the exact area you want to visit.  The search for boxes link will allow you to narrow your search by city or other criteria.  I prefer to use the map as it has the letterboxes grouped by county.
To search on Atlas Quest, use their search box on the right side of the home page.  You can also select the simple search link from the top menu.  Atlas Quest will return all letterboxes within a specified distance from the location you search.
I advise you to sign up for free accounts with both sites so you can log your finds.  It is a nice way to keep track of where you have been.
For more information, there are a couple of great books on letterboxing that you can purchase or check out from the library.
So tell me…
Have your been letterboxing? If so, what has been your favorite box to date?