Have your kids been begging for a live hermit crab after seeing them at the mall or your local pet shop?  Our mall has a kiosk full of crabs with painted shells and cute little crab homes that lure kids like candy.  My kids beg for one every time we are there.  They don't realize that hermit crabs aren't a pet you can play with and pick up.  Fortunately there is a new toy on the market that can satisfy your child's desire for a hermit crab pet.  Just in time for the holidays, Cepia LLC has released Xia-Xia Toy Hermit Crabs and Play Sets.  Unlike the real thing, these adorable little crabs are super cute and can provide hours of enjoyment for your child.
[amazon_image id="B005OS91V2″ link="true" target="_blank" size="medium" ]Xia-Xia Copacabana Playset[/amazon_image]
Cepia LLC is the mastermind of the popular Zhu Zhu Pets (which are in great abundance at my house) so I was anxious to see their newest creations.   Xia-Xia Hermit Crabs are listed on the 2011 Toys R Us Holiday Hot Toy List and I have a feeling they might be THE toy to find this holiday season.
The Xia-Xia Story:
From a far away land where the Carnivale runs all day, Xia-Xia (pronounces shah-shah) are crazy crustaceans who love to dance and play.  Costumed in wild and wacky shell fashions, Xia-Xia love to change their shells for their festivities.  Press their claw and the parade begins.  Xia-Xia have a wacky shuffle that is tons of fun to watch.
I was recently sent the Xia-Xia Hermit Crabs, the Copacabana Playset, the Confetti Cottage, and the Rio de Trio Village for my 2 youngest girls to try out with their friends.  You should have seen their faces when I opened the boxes!  It was like Christmas at our house and the girls all settled down for an afternoon of serious play.
There are 4 different Xia-Xia available:
[amazon_link id="B005TYDODM" target="_blank" ]Bimini[/amazon_link] comes with a pink polka dot and striped shell.
[amazon_link id="B005TYDZQS" target="_blank" ]Trinidad[/amazon_link] has a bright orange and yellow swirled shell.
[amazon_link id="B005TYDKDG" target="_blank" ]Turks[/amazon_link] has a red shell and pretty pink bows.
[amazon_link id="B005TYDSKQ" target="_blank" ]Tobago[/amazon_link] has rough and tumble blue exterior.
In addition to the shells they come with, there are additional shells available in bright colors and fun designs.  But that's not all… each shell comes with a secret compartment that holds 2 tiny friends that can ride on top of the Xia-Xia.
The Bookworm loved Bimini, while The Little One immediately adopted Turks as her own.  Not surprising when you consider their favorite colors are purple and pink respectively.  They both had a little trouble at first figuring out how to put the shells back on, but soon figured it out.  I was delighted to see that the Xia-Xia kept the girls occupied for over an hour.  They even started to make up stories about their new pets.
My girls immediately dubbed the Rio de Trio Village "the mall".  I think it was because of the shelves in one of the rooms where they could put extra shells.  They had quite a lot of fun letting their crabs go shopping for new shells.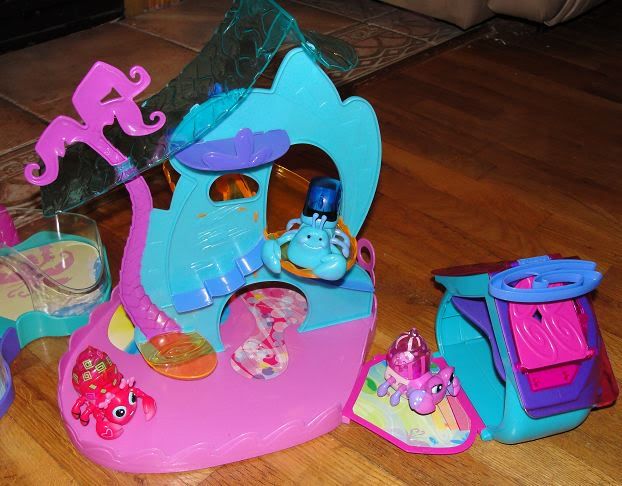 Then they discovered the slide on the Copacabana Playset and enjoyed watching the crabs scurry in and out of the doorway between the sections.  The door of the Confetti Cottage will lay flat and attach to the Copacabana Playset.  If you need to transport your Xia-Xia, the Confetti Cottage can also serve as a carrier and the little attic area is perfect for storing the extra shells.
Here is a great little video if you want to see the Xia-Xia in action. I would have loved to take video of my girls playing with them but someone – cough cough me cough – dropped the video camera a couple of weeks ago and it is out of commission 🙁
My Thoughts on Xia-Xia Pets:
I always appreciate toys that encourage creativity.   Almost immediately, the girls started making up stories about the Xia-Xia.  Ok – so it involved shopping 🙂  However it was imaginative play so I have to give the toy credit for that.
Assembly is required for the playsets, but it didn't take long at all.  Everything snapped together fairly easily.
I loved the bright colors and fun designs.  These are cute toys!  Each little hermit crab has a personality of its own.  Although I can see both boys and girls playing with the crabs, I am not sure the playsets would appeal to little boys as much as they would girls.
When I found out that the Xia-Xia Pets were made by the makers of Zhu-Zhu pets, I was a bit nervous that they might make noise.  I was pleasantly surprised to find out that they are silent.  From a parent's standpoint, that is a big plus.  I can't tell you how many times I have set off one of the girls' Zhu-Zhus after they were asleep!
I was impressed that the playsets were durable.  My girls can be rough on their toys at times.  They were able to move the playsets around our living room without anything having to be reassembled.
I have a feeling the little friends that come inside the shells probably will go missing at some point.  I am not a huge fan of teeny-tiny pieces.  They are adorable, but the girls really didn't play with them.  I am not sure they realized though that they attach to the shell.  The next time they play with their Xia-Xia Pets, I will have to point that out to them.
All-in-all, Xia-Xia Pets were a big hit with my girls.   I think they will play with them a lot in the months to come.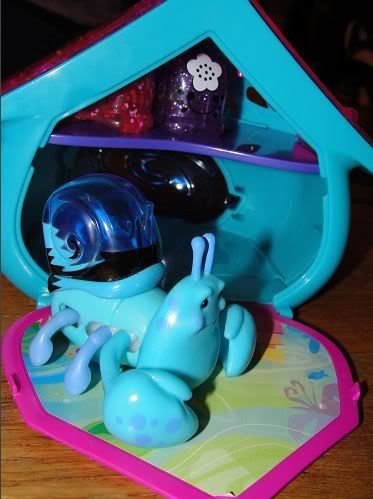 Thanks to the great people at Xia-Xia, one lucky A Heart Full of Love reader is going to win a Xia-Xia and shell of their own.  Entry is simple through the Rafflecopter form below.
Thank you so much to Xia-Xia for the opportunity!
Disclosure: I received Xia-Xia toys to facilitate this review. I received no monetary compensation. All opinions stated are my own and were not influenced by the sponsor.