My middle daughter's birthday was yesterday, and she had a few friends over to help celebrate her special day. Since she is obsessed with horses right now, I made some cute horse cupcake toppers to decorate her birthday cupcakes. (Please tell me I am not the only mom out there who makes cupcakes for birthdays.  They are so much easier to decorate than a whole cake!  Does that make me lazy?  LOL.)
These DIY cupcake toppers truly couldn't have been much easier to make. Which was good, because I had plumbers and electricians in and out of my house all day yesterday, as we are converting our house from propane to natural gas. Just two hours before my daughter's friends were due to show up and I still didn't have the toppers made. Fortunately these go together really quickly, even if you are a harried, procrastinating mom like me 🙂 I got 2 dozen of these toppers made in a little over a half an hour and still had plenty of time to get all my craft supplies cleaned up before everyone arrived. Phew!
I used white plastic coffee stirrers as my sticks.  I know a lot of people use Wilton sucker sticks.  I don't like using those because they are paper coated.  The paper gets soggy when you stick them into the icing and it sits for awhile.  You don't have that issue with plastic coffee stirrers.  Plus they are a little bit thinner so the 2 sides of the topper aren't separated as much when you glue them together.
Follow these easy steps to make your own horse cupcake toppers: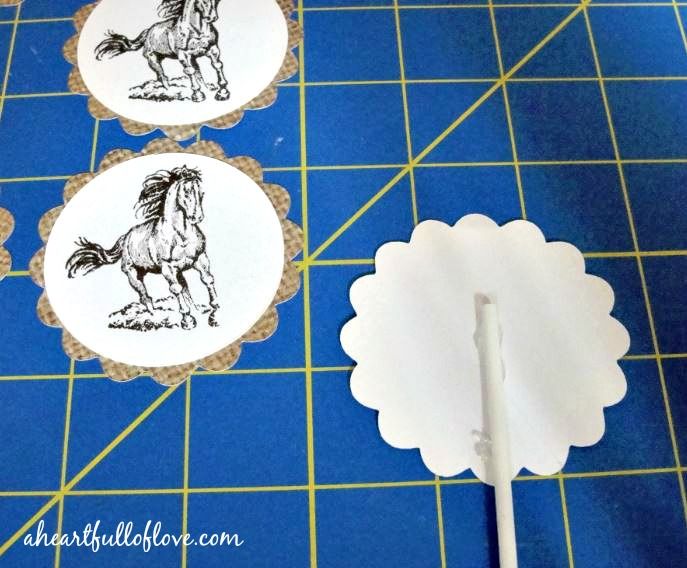 Stamp your horses in brown ink on white cardstock.  The stamped image will need to fit into a 2 inch circle so you can punch them out.  The cupcake toppers I made are 2 sided, so you will need 2 images for ever one topper.  To make toppers for 24 cupcakes, I stamped 48 horse images.
Use the 2 inch circle punch to punch out the horse images.  Turn your punch over so you can see exactly where it is cutting so you can center the image.
Use the 2 1/2 inch scalloped circle punch to cut out the backings for the horse images.  You will need as many scalloped circles as you have regular circles.
Adhere each 2 inch circle to the patterned side of 2 1/2 inch scalloped circle.  You will want the patterned side of the paper showing around the edge of the white circles.
Add hot glue to the top inch and a half of the coffee stirrer and then stick it to the back side of one of the scalloped circles.  Set each aside and allow to cool.
Run a thin line of glue down the other side of the coffee stirrer and stick another scalloped circle on the top.  Set aside and allow it to cool.
Cut an 8 inch piece of baker's twine and tie it around the coffee stirrer, just below the scalloped circle.  Tie into a bow.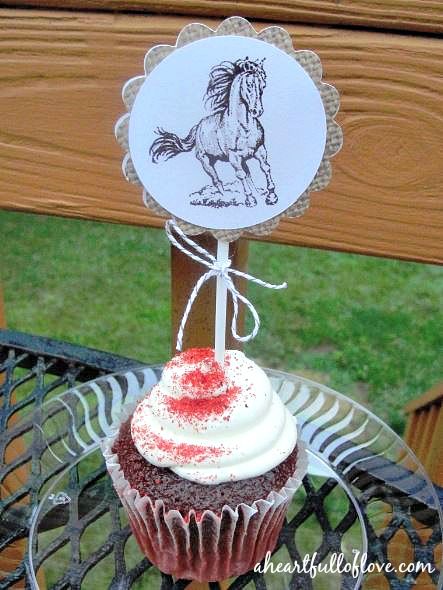 Supplies / Tools Needed to Make These Horse Cupcake Toppers
If your child isn't into horses, you could make these toppers for any themed party just by changing up the stamps and the patterned paper. I wonder if I could get my hands on a Frozen rubber stamp set for my youngest daughter's birthday next month. That is her current obsession!
These horse cupcake toppers were a hit with my daughter and her friends, so I was glad I took the time to make them.  One summer birthday down, one more to go!  So tell me… Do you like to make party decorations for your kid's birthday parties?  Or do you rely on store-bought decorations?  Happy crafting!