I love big family holiday meals, but I do not love being stuck in the kitchen, preparing the food, while the rest of my family gets to spend time together.  I am always a teensy bit jealous as I hear them all laughing and having a great time while I am busy cooking up a storm.  This year that's not going to be a problem – thanks to HoneyBaked Ham!
Did you know that HoneyBaked Ham offers everything you need for your Easter meal?  With their slow roasted meats, heat and serve side dishes, and even desserts, HoneyBaked Ham has you covered!  An Easter meal where I don't have to spend all morning in the kitchen?  Yes please!
This past weekend, I visited my local HoneyBaked Ham store in Centerville, Ohio and picked up everything I needed for a wonderful family meal.  I got a boneless Honey Baked Half Ham, Sweet Potato Souffle, Green Bean Casserole, Garlic Mashed Potatoes, King's Hawaiian Dinner Rolls, and a Cheesecake Sampler.
I love that everything is heat and serve, which means I can pick it up in advance and then freeze it until the big meal.  It couldn't be simpler to prepare.  About an hour before the meal, I popped everything in the oven.  The ham should be defrosted ahead of time, but the sides can all go straight from freezer to oven.
Did you know that each HoneyBaked Ham is smoked for 20 hours?  That is what makes it unbelievably tender.  Their delicious HoneyBaked Ham is fully cooked, so you can enjoy it hot or cold.  We like it both ways, but for an Easter meal, I highly recommend heating it.  When you pick up your ham, they will give you a sheet of instructions for warming it up, which is so helpful.
One thing to note if you want a ham for your Easter dinner…   I called ahead to make sure I didn't need to order the ham a couple of days ahead of time.  I was told that during most times of the year, you can walk right in and they will have a ham ready for you.  However, if you want a ham for Easter, you will definitely need to place an order in advance.
Now let's talk about sides…  I wasn't quite sure what to think about heat and serve sides.  Would they be as good as homemade?   Our favorite was the Sweet Potato Souffle – with just the perfect balance of sweet and streusel topping.  The Garlic Mashed Potatoes were so flavorful and wonderfully seasoned.  And of course, what would a holiday meal be without green bean casserole?  With its creamy sauce and crunchy fried onion topping, the green bean casserole was also a hit.  I have to say I was pleasantly surprised to discover that the heat and serve sides from HoneyBaked Ham were just as good as what I make myself.
We picked up King's Hawaiian Rolls because the kids love them, but my local HoneyBaked Ham store also had a great selection of artisan bread.  Of course, we had to get some dessert too!  We picked up their cheesecake sampler. With 4 different varieties of cheesecake, there is a little something there for everyone.  I personally am partial to the chocolate cheesecake.  Yum!
So how long does it take to get your HoneyBaked Easter meal on the table?  All the dishes took about an hour until they were piping hot.  The ham requires a lower temperature so we put that in our roaster oven.  The rest of the sides went into the regular oven.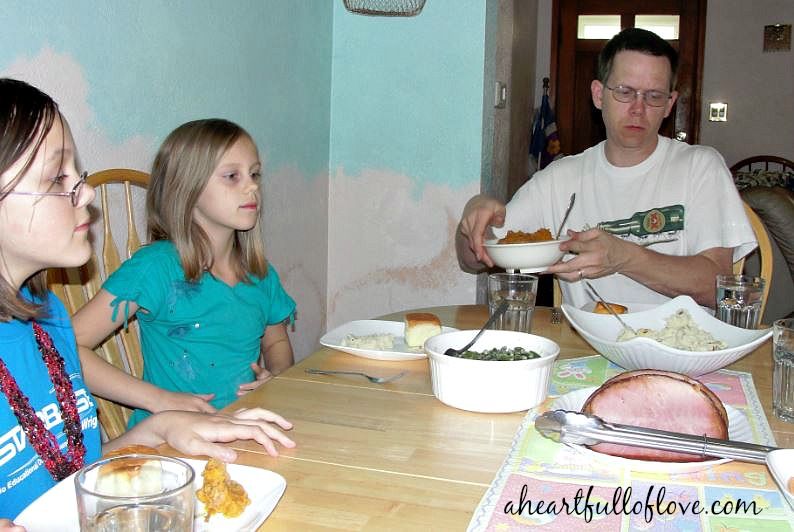 Our HoneyBaked Ham meal was so delicious and so easy to get on the table.  I loved that I could just stick everything in the oven and spend time with my family while it was heating.  Thanks to HoneyBaked Ham, this Easter I will be out making memories with the rest of my family instead of being stuck in the kitchen.
Want to order your Easter meal from HoneyBaked Ham this year?
Visit  www.honeybakedforyou.com to find a store near you.
Even better, save some money on your holiday meal!
Be sure to sign up for the HoneyBaked Ham email list to receive exclusive coupons.  I was able to save over $10 just by signing up for their email list.  In addition here are even more printable coupons to help you save on your Easter Meal
$5 off Any Size Half/Whole Ham

$3 off Any Size Quarter Ham

$2 off Sliced and Glazed Whole Turkey

$1 off Any 2 Frozen Sides

$3 off 3 Frozen Sides
Click here to print the coupons.
Offers valid only at:
Participating Retail Locations: Forestville, Silver Spring, Alexandria, Fairfax, Falls Church, Fields Ertel, Beechmont, Kenwood, Colerain, Florence, Salem, Centerville, Sawmill Road, McNaughten, Louisville, Lexington, Fern Creek, Glendale, Paradise Valley, Superstition, Tolleson, Chandler, Tucson East, Tucson North, Overland Park, Independence, Barry Road, Norristown, Parma, Willoughby, Rocky River, Strongsville, Maple Heights, Canton, Fairlawn, Chapel Hill and Boardman.
 Now for a fun giveaway!
Disclosure:  I received compensation for participating in the Honeybaked Easter blogger campaign.  However, all opinions stated are my own.