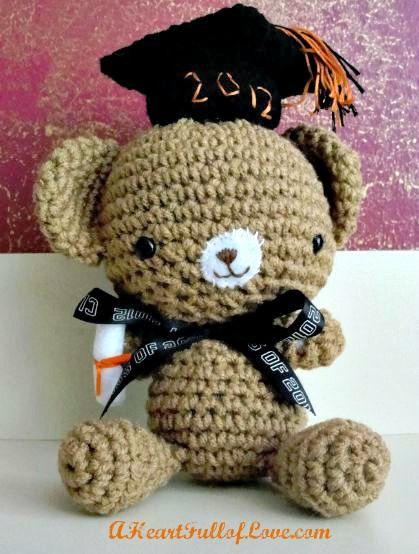 My daughter received her main graduation present early so she could take it to school on the senior's last day. (We got her a nice Nikon camera.) However, I still wanted her to have a little something from us at her graduation party. So I found a free crochet pattern for a cute little amigurumi graduation teddy bear.  I just love making amigurumi, don't you?
Here is a link to the free crochet pattern I used:
Crochet Graduation Teddy Bear Pattern
I pretty much followed the pattern as is, using tan for the bear. The only modification I made to the actual crochet pattern was that I made two of the square boards. I sewed them together with some plastic canvas in between to make it stiff.  I also cut  a strip of plastic canvas and formed it into a circle for the inside of the skull cup to give it some stability.  I finished it off with a ribbon around the neck to help use up the Class of 2012 ribbon I picked up at Michaels on a whim.
I was able to make the amigurumi graduation teddy bear for my daughter in a couple of days, working on it sporadically.  I thought I would share the link in case anyone else needs a quick graduation gift.  A huge thanks to All About Ami for offering the free crochet pattern!