Like most other teenage boys, my son lives in a t-shirt and jeans.  The funnier the t-shirt, the better in his opinion.  So when I was contacted about doing a review for Headline Shirts, I was happy to agree to it.  I mean a person can never have too many comfy t-shirts, right?
About the Company
Founded in 2005, Headline Shirts is a San Francisco based company that offers a wide variety of intelligently funny T-shirt designs. Their clever designs originally poked fun at the latest news in politics, but have now branched out to include hilarious references to pop culture, music, and more.
Headline Shirts is definitely a company that is conscious of their carbon footprint. They only use eco-friendly inks and materials to make their shirts. In addition, their shipping bags can be composted. How cool is that? I definitely appreciate a company that is trying to lessen its impact on the environment.
My Favorites
After browsing their selection, I had a hard time narrowing it down to just one shirt for my son!  Ultimately I settled for the Vader Pinata T-shirt because my son is a huge Star Wars fanatic.
Here are a few others that caught my eye while I was browsing…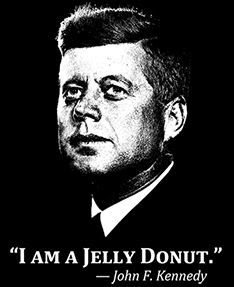 JFK: I am a jelly donut t-shirt
My son is taking German this year, so my husband had to tell him the whole "I am a jelly donut" story.  Of course, my son had to tell all his friends in the German class and now I think they are driving the teacher a bit nuts with it 🙂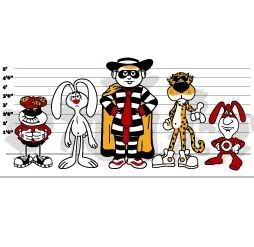 This t-shirt brings back happy memories of birthday parties at McDonalds and the commercials that used to play during Saturday morning cartoons.
If I were picking out a shirt for myself, this is what I would get.  Hmm…  now I am strangely in the mood to listen to "Can't Touch This".  Wonder if it is on YouTube!
My Thoughts
First of all, I was extremely impressed at how quickly the shirt arrived.  I received it just 4 days after placing the order.  Their website states that they ship within 24 hours.  You have to love a company that is committed to getting the merchandise to the customer quickly!
When you are ordering online, you never know quite what to expect in terms of quality.  I was so happy that the Vader Pinata T-shirt I received was high quality and well-made.  The t-shirt is so soft too.  It will definitely be comfy to wear.  Another great thing about Headline Shirts is that they are tagless.  My son hates tags in clothing and always cuts them out.
Headline Shirts are definitely a far cry from the shirts you can find at your local discount store.  Their designs are clever and will certainly spark conversation.  I do need to note though that some of their shirts feature language that is not family-friendly.   Just something to keep in mind if you are browsing the selection with a child in the room.
Overall, I was very pleased with the Headline Shirts quality and service.   I can't wait to see my son's face when he opens up the t-shirt on Christmas morning.  If you are looking for a last minute stocking stuffer, I would definitely recommend that you check out their selection.
Right now, Headline Shirts is offering $5 off any purchase when you sign up for their bi-weekly newsletter.  In addition, orders over $30 ship free.  Be sure to like Headline Shirts on Facebook to keep up with the latest news.
Headline Shirts would like to bless one A Heart Full of Love reader with a t-shirt of choice, including free shipping.  Entry is quick and easy through the Rafflecopter form below.  You can enter daily by tweeting.  All other entry methods are one time only.
Disclosure:  I received a complimentary t-shirt to facilitate this review.  No other compensation was received.  All opinions stated are my own and were not influenced in any way by the sponsor.