You probably won't have been geocaching for long before you encounter the term geocaching swag.  You may be wondering what that is.  While not strictly necessary to play the game, swag helps make geocaching even more enjoyable.
Geocaching swag is another term for trade items.  Many geocaches that you find will contain inexpensive little trinkets.  These trinkets are meant to be traded.  Children especially love this aspect of geocaching as it makes the game more like a treasure hunt to them.  Geocaching etiquette asks that if you remove an item from the cache, you replace it with something else of equal or greater value.
Geocaching trade items don't have to be expensive.   Here are some ideas to get you started.
Toys that come with kids meals
bouncy balls
plastic rings or bracelets, stickers
keychains
toy soldiers
trading cards
Hot Wheels cars
Stickers
Some adults like trading as well, so you don't have to limit what you put in a cache to only toys.  Good swag for adult cachers include playing cards, extra AA batteries for their GPS, carabineer clips, coins, and signature items.
Signature items are a special type of swag.  These are items that are left behind as a "calling card" at every cache a geocacher visits.   They typically have something to do with the cacher's trailname or interests.  Asignature item can be something as simple as a custom printed business card that has been laminated.  It might include a picture and a little blurb about where the cacher is from and how long they have been caching.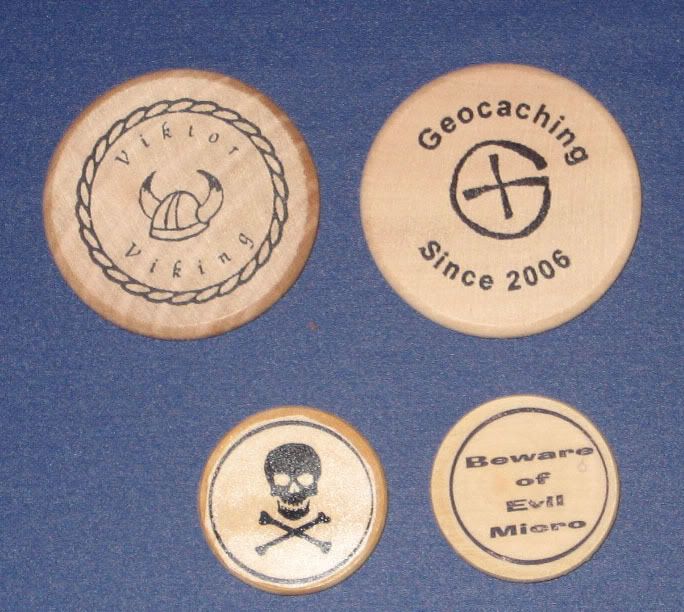 Wooden nickels stamped with the geocacher's trail name are also popular signature items.    The picture above shows our signature wooden nickel.  You can design a custom round rubber stamp from iPrint that works well on wooden nickels.  You can use the same design on both sides of the wooden nickel or you can create a different stamp for the front and back.  We get the blank nickels on eBay in bulk or at a craft store.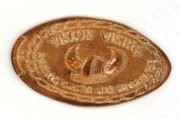 Other popular signature items include custom keychains, magnets, or pencils.  These items can be imprinted inexpensively with the text of your choice.  You could even consider having custom smashed pennies made.  We had a geocaching smashed penny custom made.  We  love it as they are small enough to leave in all sizes of caches including micros. It was around $150 to have the mold made initially with our design, which included 300 pennies. After the initial cost though, the reorders are quite inexpensive – less than 10 cents a piece.
If you are crafty, you might be able to find a simple craft related to the theme of your trail name that you could make for signature items.  There are craft instructions galore all over the internet to give you some inspiration. I recently posted a tutorial for a geocaching guardian angel you might want to check out.
Regardless of what geocaching swag you decide to trade, be sure to protect it in plastic bags.  Not all caches are waterproof and sometimes previous finders don't get the lids back on correctly.  By using a well-sealed plastic bag for your cache, you will ensure that your swag doesn't get destroyed by exposure to water.
You might want to consider carrying extra swag to restock any caches that are low in trade items.  Nothing is more disappointing to a child than an empty cache or one that is filled with junk.   Consider it your good deed for the day and add some extras to caches like this.
Whether you are a child or adult, geocaching swag can add a treasure hunting aspect that increases the enjoyment of the game.  While children love to play with the toys they find, adults might take pleasure in collecting signature items.  Regardless of what you trade for, it is great fun for everyone.
Photo Credit: Geojono