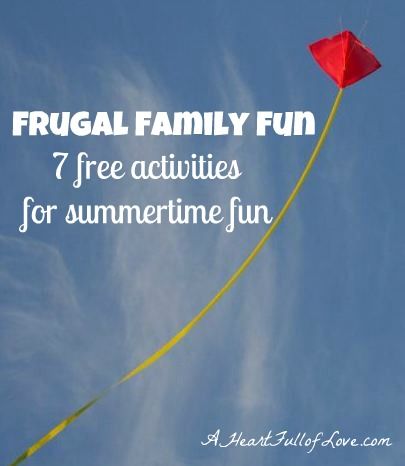 Things are so expensive these days.  It is even worse if you have a large family like we do.  It can be extremely difficult to find money in the budget for entertainment, especially with skyrocketing prices.  Try taking a family of 6 to an amusement park where tickets run $50+ a piece!  It costs a small fortune anymore just to go to the movies.  That doesn't mean that we don't have any fun as a family.  Far from it!  We just have to be a bit creative.  Frugal family fun has become the norm in our house.  There are numerous ways for the family to have a great time, be together and spend little, if any money. You just have to be resourceful, creative, and keep an open mind.
Here are 7 ideas for frugal family fun that won't cost an arm and a leg.
1. Celebrate an unusual holiday. Check the calendar and online for many
unusual holidays on which to base your celebration. For example, today is Ice Cream Soda Day. Celebrate by picking up some ice cream  and soda pop at the grocery store.  Let everyone make their own ice cream sodas for a sweet afternoon treat.  For a list of unusual holiday celebrations, visit Holiday Insights.
2. Have a movie theme night.  For instance, find a fish cookie cutter and make some cute iced fish cookies to snack on while watching Finding Nemo.
3. Go letterboxing.  Kids will love the treasure hunting aspect of letterboxing, while adults will appreciate the artistry of the hand-carved rubber stamps.  With very little cost involved, it is perfect for frugal family fun.  Plus you get exercise and fresh air while you are hunting for the letterbox.
4. Go fly a kite. Some of your fondest memories of growing up may be when your mom
or dad helped you build and fly a kite.  You can buy all kinds of kite designs, ranging from simple to complex.   Help your kids assemble their kites and then take them to a park to fly them.  You can pack a picnic and make a day of it!
5. Visit local attractions for free.  Many museums periodically offer free admission for families.  Check out the museum websites to discover if yours offers a free admission day.  You can also visit national parks several days a year for free.  Visit the NPS website to check for upcoming free admission days.
6. Visit a botanical garden or arboretum. Most of these do not charge any admission.  They can be a beautiful place to just stroll and visit with your family.  Take your camera and get some memorable shots of your family among the blooming flowers.  Be sure to sign up for their email lists to keep informed about upcoming free lectures or festivals that are being held at the arboretum.
7. Camp in your own backyard.  Spend the night outside, catching fire flies, telling ghost stories, and eating S'mores. Kids will have a blast sleeping in a tent.
Entertaining the family doesn't have to cost an arm and a leg.  What's important is making happy memories of the good times your family spent together.   So tell me…  what ideas do you have for frugal family fun?