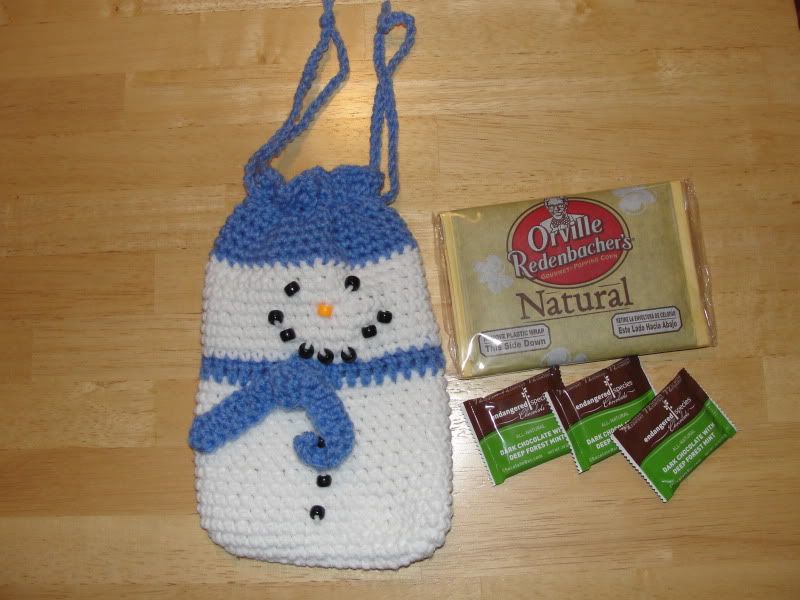 I am always on the lookout for ideas for frugal Christmas gifts for the kids' teachers.  I love giving handmade gifts so when I came across an adorable crocheted snowman gift bag pattern from Crochet Sal on Etsy a few years ago, I bought it with the intention of making gift bags up for the teachers.
I use these handmade gift bags to make up "Movie Night" teachers gifts every year.  In each bag, I include a $5 Blockbuster gift card so the teacher can rent a movie.  Then I also include a bag of microwave popcorn and some chocolates.  Flavored hot chocolate packets would also be a good addition.  They are always a big hit!  I have received such nice notes from the teachers about them.  I am making them for teachers again this year.
The total cost for each bag is about $7.50.  Each one takes a couple of hours to make each bag depending on how fast you are at crocheting.  If you don't know how to crochet, you could probably find a cute little gift bag at the dollar store.  Or maybe use these red and white plastic popcorn containers
.  That would be cute!
These movie night gift bags also make great gifts for Scout leaders, bus drivers, mail and paper carriers, or friends who might stop by your house over the holidays.   Another thing I did with the gift bags last year was to make up a "Teacher Survival Kit".  I included little things like lip balm, kleenex, gum, and lotion.
So what frugal Christmas teacher's gift ideas do you have…