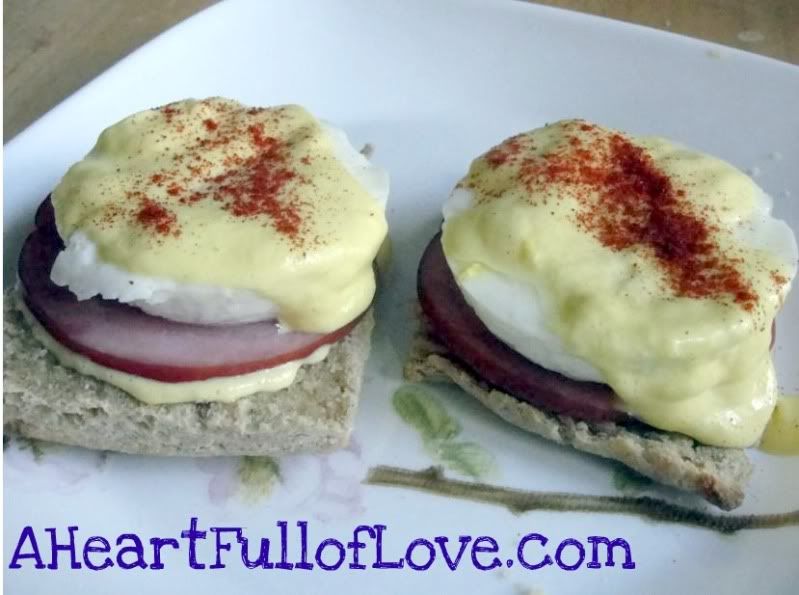 Shhhh.  I have a secret….
When I make Eggs Benedict, I use a mix packet to make my hollandaise sauce.  There!  I feel so much better for admitting that!
Eggs Benedict is one of my absolute favorite recipes but I have never even bothered to look up the recipe for hollandaise sauce.  As I am increasingly looking for ways to cut all processed foods out of my family's life, I knew I needed to figure out how to make it myself.  I mean I already make English muffins from scratch, could hollandaise sauce really be that hard?
Turns out it wasn't.  In fact it was pretty darn easy.  By using your blender, you can churn out a rich hollandaise sauce in a matter of minutes.
Easy Hollandaise Sauce in a Blender Recipe
1/2 cup butter
3 egg yolks
1 tbs lemon juice  ** see note below
1/4 tsp sea salt
dash of cayenne pepper
Heat the butter in a small saucepan until bubbly but not browned.  Combine the remaining ingredients in the blender and blend on the medium setting for 30 seconds or until the egg yolks are lighter in color.  Reduce speed to low, remove the center cap of your blender cover, and drizzle in the melted butter.  (Or if you are really brave, remove the lid.  Just be sure to turn the speed down!)  After you have added all the butter, turn the speed back up to medium for about 15 seconds.  Serve immediately.
** A quick note about the lemon juice…  Since I use fresh lemons, I tend to use more lemon juice than recipes call for so I don't have to store the extra juice.  Don't do that with this recipe unless you like really lemony hollandaise sauce.  I used the juice from a whole lemon the first time I made it, and it was quite lemony.  Still good, but a bit too much.  So take my advice and use the extra juice to make yourself some lemonade.
So tell me… have you ever made hollandaise sauce in a blender?