Since I have a nutrition degree, I have a pretty firm grasp on the fact that controlling your diet and getting regular exercise is the best way to lose weight and keep it off.  However, as a busy mom of 4, I struggle with exercise.  So when I was contacted about reviewing Dustin Maher's Fit Moms for Life program, I readily agreed.  Since my exercise lately has been limited to walking on the treadmill, I was happy to try something new.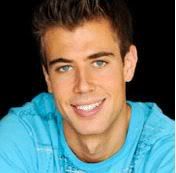 Dustin Maher is a personal trainer/fitness instructor/writer/motivational speaker/and teacher.  With a degree in Exercise Science, his passion is helping moms lose weight and get healthy.  Dustin is a widely recognized fitness professional with over 100 TV appearances to his credit.  In addition to the Fit Moms for Life series, he has numerous DVDs including Got Core, Ultimate Buddy Bootcamp, and BabyTone.  Dustin also has a book coming out soon – Fit Moms for Life: How to Have Endless Energy to Outplay Your Kids.
After learning a little bit about Dustin's credentials, I was excited to try out the first of the Fit Moms for Life Workout DVDs.  What impressed me at first was that this is more than just a workout DVD.  The DVD also includes a nutrition lesson, an interview with one of his success stories, and information on taking measurements properly.
The nutrition lesson on this DVD focused on quick and healthy breakfasts.  Any mom who has struggled to get her family out the door on time in the morning will definitely appreciate Dustin's breakfast ideas.   My only quibble would be with his recommendations of protein powder.  I personally view protein powder as a processed food.  He did however recommend other whole foods protein sources, so I can't complain too much.  Overall his advice was nutritionally sound and would be quite helpful for any mom who is struggling to put a healthy breakfast on the table every morning.
The DVD then moved on to an interview with a mom who got down to her goal weight with the Fit Moms for Life program.  Having struggled with my weight in the past, I have to say I really enjoyed the success story interview portion of the DVD.  I always find it inspirational to hear other people's weight loss stories.  The featured mom on this DVD was a mom of 5.  She was able to lose over 50 pounds using the Fit Moms for Life program.  As a mom of 4 myself, I could definitely relate to her.  Incidentally, this mom was the same mom used later in the dvd to demonstrate the exercises.
As for the workout itself, I had to admit I was a bit intimidated when I saw Dustin instruct the mom to use 20-30 pound weights.  However, he did give instructions to start out with lighter weights and work up to the heavier ones.  He also gave instructions on how to modifying exercises for people just starting out.
Unlike other workout DVDs I have tried, this one focused heavily on strength training, with 35 minutes devoted to it.  In comparison, only 10 minutes are spent on cardio.  However, the cardio exercises are whole body exercises so they are more effective and you don't have to do them as long.
I was definitely tired after the workout, but it was a good tired.  (You know that tired feeling when you really accomplished something?)  Having only done the workout a few times so far, I have noticed a slight increase in my energy levels.  I will definitely be continuing with it a few times a week.  I can't see myself ever working my way up to the heaviest weights due to a past back injury, but I still got an excellent workout using the lighter weights I own.
Although this is a fitness program from moms, I definitely think others could benefit from it.  For example, it would be a good dvd for a husband and wife to use together.  The first time I used it, my two youngest daughters decided they wanted to do it too.  It was fund to see them excited about exercising.
The DVD I tried is actually just the first part of a 12 part series.  Members of the Fit Moms for Life Club receive a new DVD workout each month.  That way the workouts don't get boring and your body continues to be challenged.  For more information on the Fit Moms for Life Club and the rest of Dustin's workout DVDs, be sure to visit http://dustinmaherfitness.com.
A huge thank you to Dustin Maher Fitness for allowing me to try your workout DVD.  They would like to bless one A Heart Full of Love reader with a Fit Moms for Life DVD of their own.  The lucky winner will receive the first workout DVD in the Fit Moms for Life series.  Entry is simply using the Rafflecopter form below.
Disclosure:  I received a complimentary Fit Moms for Life DVD to facilitate this review.  I received no other compensation.  Any opinions expressed in this post are my own and were not influenced in any way by the sponsor.