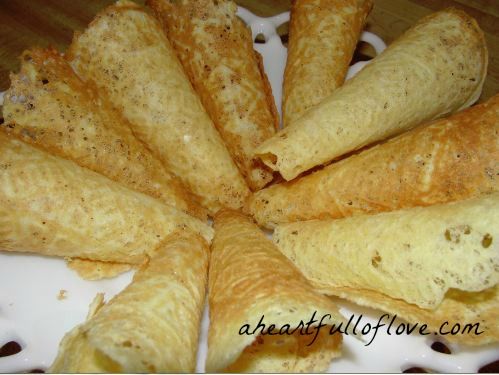 As I begin doing some baking for the holidays, one of the first things I make is my Christmas krumkake recipe.  I  had never heard of krumkake until I started dating my husband.  His family is of Norwegian descent and not a holiday goes by that they don't make krumkake and lefse.  When we married, I happily adopted these traditions as my own.
If you aren't familiar with this wonderful treat, krumkake has a taste that is reminiscent of waffle cones.  They are delicate,crunchy, and utterly delicious.  They are cooked on an iron that leaves a wonderful imprint on the cookie.  Then fresh off the iron, they are rolled into a cone shape and left to cool.  You could, I suppose, fill them with whipped cream, but my husband's family considers that to be un-Norwegian!  So we have always eaten them plain.
To make this Christmas krumkake recipe, you will need a special krumkake iron.  You can get a stovetop krumkake iron, which is what I started out with, or an electric krumkake iron, which I switched to when we bought a new stove with a glass cooktop.  I currently have a double electric krumkake iron.  I love it.  It takes me half the time to make this recipe since you make 2 cookies at once.
Christmas Krumkake Recipe
Ingredients
4 eggs
1 cup sugar
1/2 cup butter (use the real stuff!)
5 tbs heavy whipping cream
1 tsp vanilla
3/4 cup flour
2 tsp cornstarch
Heat your krumkake iron.  Melt your butter and allow to cool slightly.  Meanwhile, with an electric mixer, beat eggs and sugar together in a large bowl.  Add melted butter, cream, and vanilla.  Add in flour and cornstarch, beat until smooth.
Drop about 1/2 tbs of batter onto your iron.  (Refer to your iron's directions to see the amount they recommend so it doesn't overflow and spill out of the iron.)  Bake for about 30 seconds.  Remove from the iron and immediately roll around a wooden krumkake roller.  I found it is helpful to have a couple or rollers, especially if you have a double iron.  Allow to cool on a cooling rack.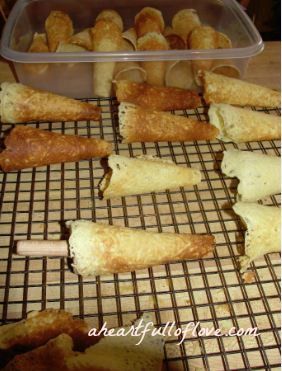 I leave the krumkake to cool for a minute on the roller before removing it to a cooling rack to cool completely.  Enjoy!
If you give this Christmas Krumkake Recipe a try this holiday season, you will have to let me know how you liked it.  So tell me… Have you ever heard of krumkake?