If we have to eat out, Chipotle is my fast food of choice.  I know it's not the best thing in the world for me, but it is sooooo good.  Recently I came across a recipe for Chipotle's rice and was excited that I could now make it at home.  The best part is that I know exactly what is going into it and can choose healthier ingredients.
I usually get the Bean Fajita Burrito with black beans, peppers and onions, their signature rice, mild salsa (yes I am a wimp!), cheese, and sour cream in a flour tortilla.  By making a couple of adjustments, I can serve this at home and feel good about it.
So let's start with the rice…
Chipotle uses white rice.  I prefer using brown rice for the higher nutrient and fiber content.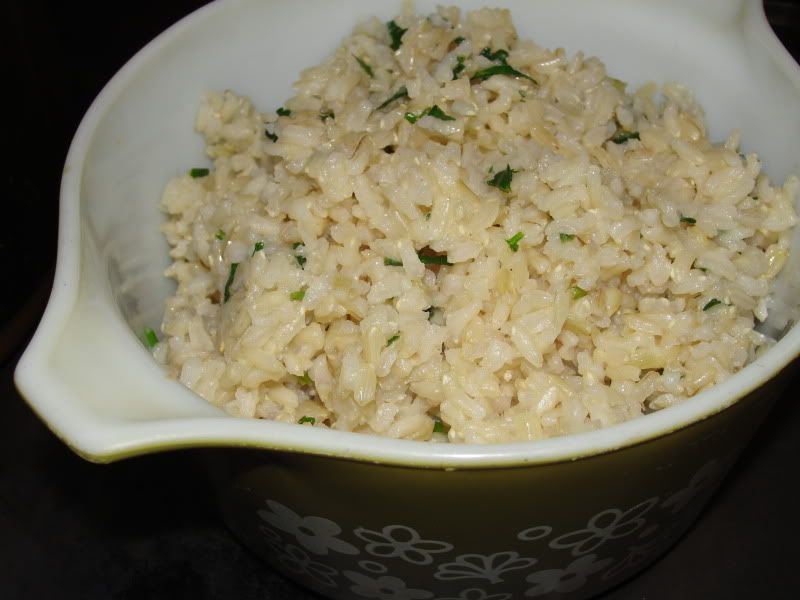 (Don't you just love the avocado green bowl from the 70's? LOL. I inherited it from my grandma when I got married!).  Now that the garden is in full swing, I love being able to go out back and pick a bunch of cilantro instead of paying $1.50 a bunch at the store!
Just Like Chipotle Rice
1 tsp olive oil or butter
1 lime, juiced
1 cup brown basmati rice, soaked overnight and drained
2 cups water
1/2 tsp salt
2 tsp cilantro, finely chopped
In a 2-quart heavy saucepan, heat oil. Add rice and lime juice, stir for 1 minute. Add water, salt, and cilantro bring to a full rolling boil. At boiling, cover, turn down to simmer over low heat until rice is tender and the water is absorbed, about 45 minutes. Fluff rice with a fork.
Alternately, you can fix rice in an electric steamer.  I made it a day ahead of time.  To prepare it, I added the cooked rice to the heated oil.  Stir for about a minute, then add remaining ingredients.  Heat until all liquid is absorbed.
Now for the tortillas…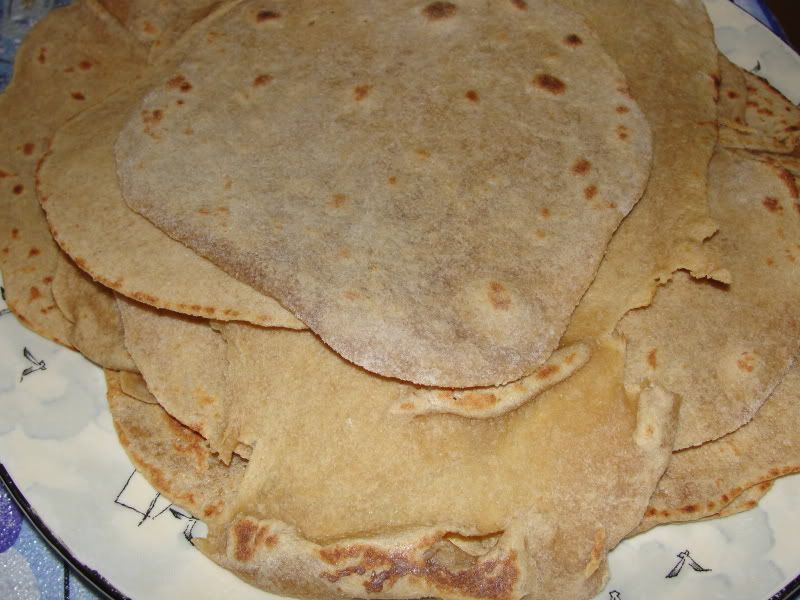 I really need an electric tortilla press.  I roll my tortillas with a rolling pin and they all end up in odd shapes.  You know how little kids try to find shapes in the clouds?  Well my kids think it is fun to try to find shapes in my tortillas! If anyone can tell me where to buy a good electric tortilla press, I would be extremely grateful.
Soaked Whole Grain Tortillas
2 cups wheat berries, ground into flour (or 3 cups whole wheat flour)
2 tbs apple cider vinegar
1 tbs olive oil
1 cup lukewarm water
1/2 tsp sea salt
In a large bowl, mix flour, vinegar, oil, and water until dough forms and is well combined.  Cover and allow to stand for 24 to 48 hours.  Preheat griddle or skillet.  Knead in the salt.  Divide into 12 pieces for small tortillas or 8 pieces for burrito-sized tortillas.  Roll out with a rolling pin, trying your best to keep it circular.  Cook for 1 minute on each side.  Serve warm
The best part of making these at home is you can use whatever fixings you want.
Good choices are
protein (beans, chicken, beef)
sauteed peppers and onions
salsa
sour cream
cheddar
guacamole
Most of all – have fun!   We set all the ingredients on the table buffet-style and let everyone make their own.  The kids love it.