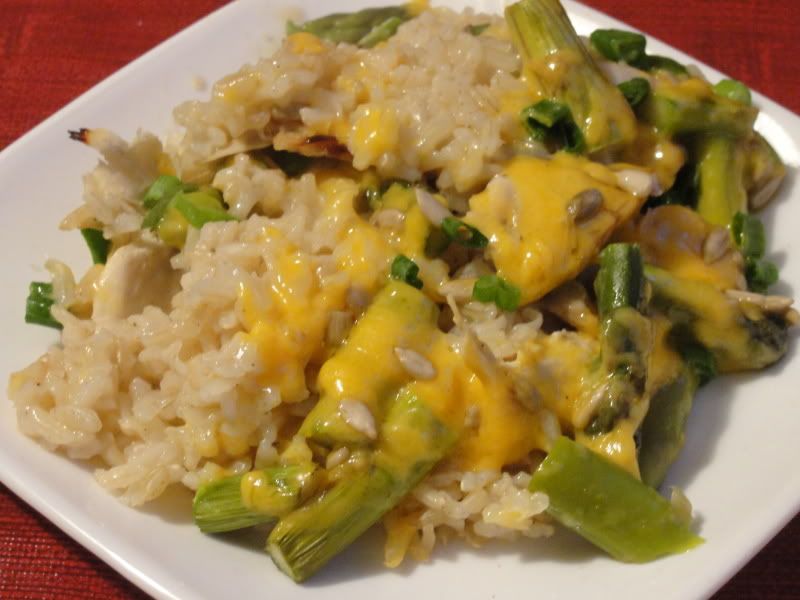 Cheesy Chicken and Asparagus Bake Recipe
1 cup brown rice, cooked according to package directions
1 lb asparagus, chopped into 1 inch pieces
2 cups diced cooked chicken breast
2 cups cream of chicken soup (homemade preferable)
8 oz sharp cheddar, grated (Cabot's 50% reduced fat cheddar is a good choice)
1/4 cup green onions
1/2 cup sunflower seeds, unsalted
Spread rice into a 9×13 inch pan. Layer with asparagus. Lay chicken breasts on top. Pour chicken soup over top. Cover with foil and bake at 400 degrees for 20-30 minutes or until thermometer reads 165 degrees. Remove from oven and top with cheddar cheese. Sprinkle with green onions and sunflower seeds. Return to oven just long enough to melt cheese.
To make this recipe even healthier:
Soak your rice overnight in a tablespoon of apple cider vinegar to help reduce the phytic acid which can interfere with nutrient absorption.
Make your own cream of chicken soup. It's easy and there are no fillers or preservatives. Also, remember that most canned goods contain BPA. By making it yourself, you can assure that it contains high quality ingredients, unlike what you might find at the grocery store.
Use white cheddar. Do you really need the colorant just because we have grown to expect that cheddar is supposed to be orange?