I have to admit over the past couple of years, I haven't eaten much bread.  It's not that I don't like bread – I most certainly do.  However 2 years ago, our family made a commitment to remove high fructose corn syrup from our diets.  At my local grocery store, it can be nearly impossible to find bread without high fructose corn syrup.
So when I was asked to try new Brownberry® Healthfull® Bread for a week and learned that it doesn't contain any high fructose corn syrup, I jumped at the chance.  Brownberry® Healthfull® Bread comes in three varieties:  Flax & Sunflower, Steel Cut Oats & Honey, and Nuts & Seeds.  I was fortunate enough to be able to try all three yummy varieties.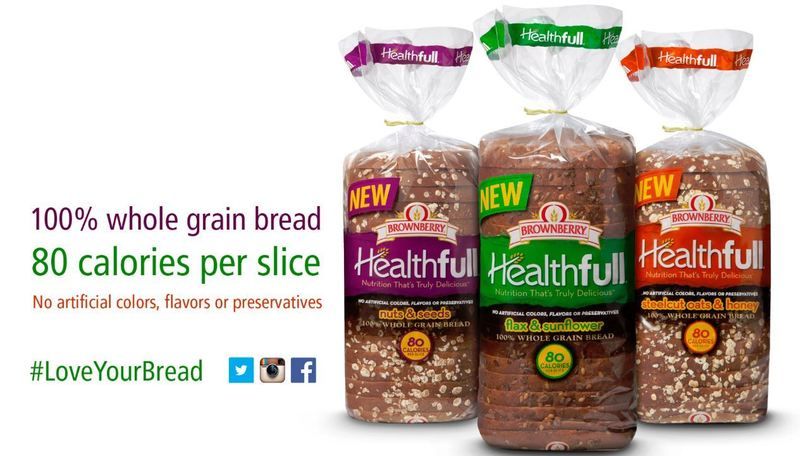 About Brownberry® Healthfull® Bread
Just 80 calories per slice.
Made with 100 percent whole grain flour and is a good source of fiber.
Contains no high fructose corn syrup, artificial colors, or preservatives.
Brownberry®  Healthfull® Bread is certified by the American Heart Association.
(Please note:  Brownberry® bread is available across the Midwestern U.S.  and can be found in the Eastern U.S. as Arnold® bread and in the Western U.S. as Oroweat® bread )
Over the course of the week, we tried new Brownberry® Healthfull® Bread for breakfast, lunch, dinner, and even snacks.  My kids can sometimes be picky about whole grain bread, so I wasn't sure how they would like it.  However, they ate it without complaint any time I served it – even the variety with seeds embedded in the crust.  In fact I was shocked when my youngest told me the Flax and Sunflower variety was her favorite.  I agree with her – that's my favorite as well!
Brownberry® Healthfull® Bread makes it easier to serve healthy meals in a snap
Since the kids are home from school for the summer, having Healthfull bread on hand made it easy for them to prepare their own simple meals.
One breakfast that my kids repeatedly asked for during the week was French Toast Roll-Ups made with Brownberry®  Healthfull® Bread.  You can vary the filling depending on what you have on hand, but my kids' favorite was peanut butter and banana.  This recipe is simple enough that older kids can make it themselves with minimal supervision.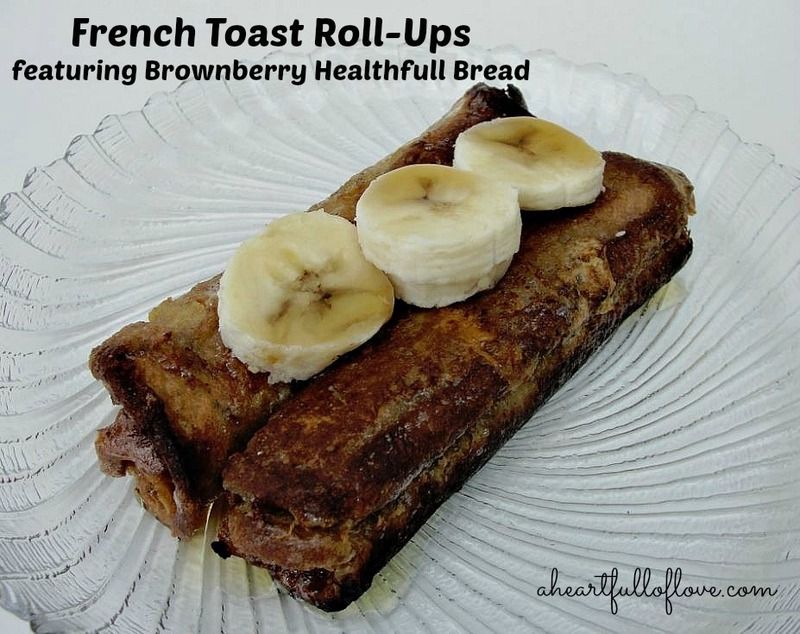 Peanut Butter and Banana French Toast Roll-ups
 Ingredients
4 slices Brownberry Healthfull Bread (we used steel cuts oats and honey)
1/4 cup natural peanut butter (with no extra sugar)
1 banana sliced
2 eggs
2 tablespoons milk
1 tsp vanilla extract
2 tbs butter
real maple syrup for dipping
To prepare:
Cut the crust off the bread (optional).  Use a rolling pin to flatten each slice of bread.  Thinly slice the bananas.  Spread each piece of flattened bread with 1 tbs of peanut butter, and 1/4 of the banana slices.  Roll up the bread tightly and repeat with the remaining slices.  In a shallow bowl, whisk the eggs, milk, and vanilla extract.   Melt the butter in a large frying pan over medium heat.   Dip each bread roll into the egg mixture and then place seam side down in the frying pain.  Cook for 1-2 minutes per side, turning to ensure that the bread rolls get golden brown on all sides.  You can cook 3-4 rolls at a time, depending on the size of your frying pan.  Serve with maple syrup for dipping.
~~~~~~~~~~~~~~~~~~~~~~~~~~~~~
Breakfast isn't the only meal where Brownberry bread made an appearance though.  Since I work from home, lunch time needs to be quick to prepare so I can get back to work.  Fortunately Brownberry® Healthfull® Bread made preparing healthy lunches a breeze.  Earlier in the week I prepared a big batch of our favorite Chicken Salad. It's a copycat recipe of the Napa Valley version you can find in popular delis and sandwich shops. This chicken salad goes great with the Flax and Sunflower Bread.  I loved the extra crunchiness from the seeds!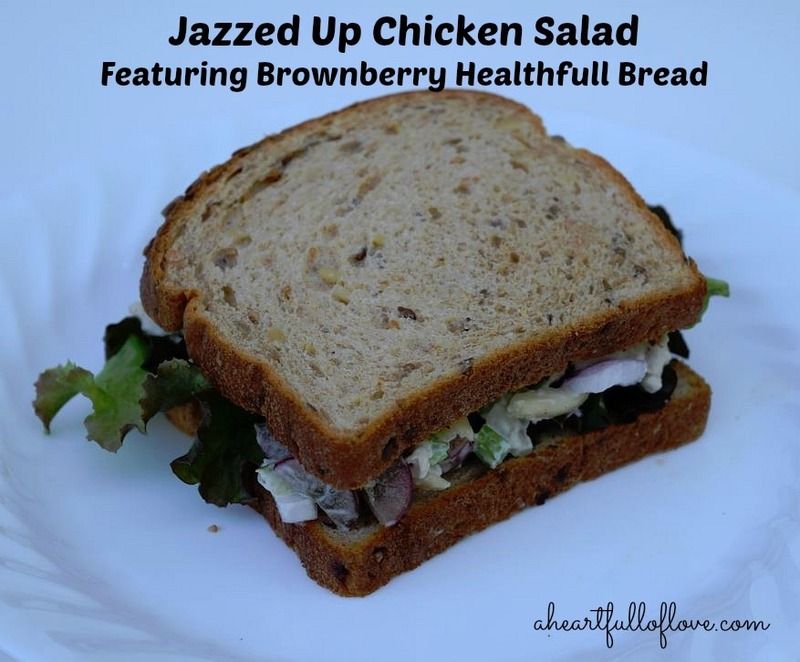 Jazzed Up Chicken Salad
Ingredients
2 cups cooked rotisserie chicken, finely chopped
1 stalk celery, finely chopped
2 tbs red onion, finely chopped
1/2 cup grapes, quartered
1/4 cup slivered onions
1/2 cup mayo
1 tsp honey
1 tbs red wine vinegar
1/4 tsp garlic powder
1/4 tsp onion powder
1/4 tsp italian seasoning
salt and pepper to taste
Brownberry® Healthfull® Bread (we used Flax and Sunflower.)
lettuce and tomato (optional)
To prepare:
In a bowl, combine chicken, celery, onion, grapes, and almonds.  In a small bowl, whisk together mayo, honey, lemon juice, and seasonings.  Pour dressing over chicken mixture and toss well to coat.  Refrigerate at least a couple of hours before serving to allow the flavors to meld.   To serve, spread 1/4 to 1/3 cup chicken salad on a slice of bread, top with lettuce and tomato, and another slice of bread.
~~~~~~~~~~~~~~~~~~~~~~~~~~~~~
After using exclusively Brownberry® Healthfull® Bread for a week, I have to say I am quite impressed.  It is not only a healthy option, but it tastes great as well.  All three varieties of Healthfull bread were soft and had a nice texture.  My kids are sometimes picky about whole wheat breads, but they gobbled Brownberry up with no complaints.  As a mom who is always looking for healthier options to feed her kids, I think I have found our new regular brand of bread!
And now for a fun giveaway…
Brownberry would like to bless one A Heart Full of Love reader with a $25 Visa Gift Card and a coupon for $5 off any Brownberry® Healthfull® Bread.  The giveaway is open to US residents only and ends Wednesday June 17th at 11:59 pm EST.  Entry is easy through the Rafflecopter form below.
Disclosure:  Brownberry® Bread provided me with product information, free product coupons, and a gift card to facilitate this post.  The opinions expressed in this post are my own and do not reflect the opinions of Brownberry® Bread.  A Heart Full of Love is not responsible for prize fulfillment.  The sponsor will send the prize directly to the winner.