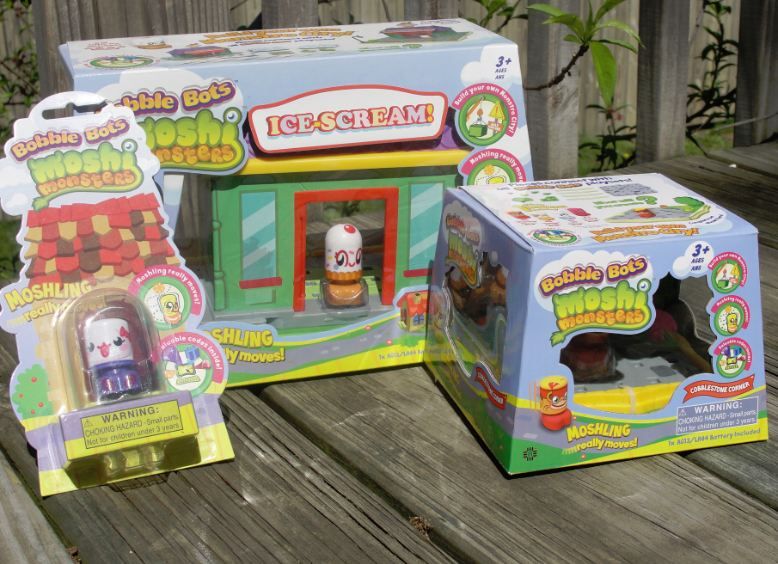 My girls recently had the chance to try out Bobble Bots Moshi Monsters – a fun new toy from Innovation First Labs.  I predict that these fun toys are going to be one of the hottest toys for 2012.
About Bobble Bots Moshi Monsters:
Bobble Bots Moshi Monsters are the brainchild of Innovation First Labs, the company behind everyone's favorite critters, HEXBUG Micro Robotic Creatures. Bobble Bots Moshi Monsters is an all-new buzzing, explorative and collectible line of bobble-head mini robotic pets and playsets that bring the hugely popular online world of MoshiMonsters.com to life for its 50 million fans worldwide. The cute and cuddly, battery-operated Moshlings use patented HEXBUG Nano vibration technology to buzz around their unique configurable 3-D "dollhouse" replicas of the same streets, yards, buildings and houses found online in Moshi Monsters' Monstro City.
My thoughts:
Bobble Bots Moshi Monsters are adorable and my girls were immediately excited to find out we were going to review them.  They set to work assembling the Ice Scream shop right away.  It kept them occupied for quite some time.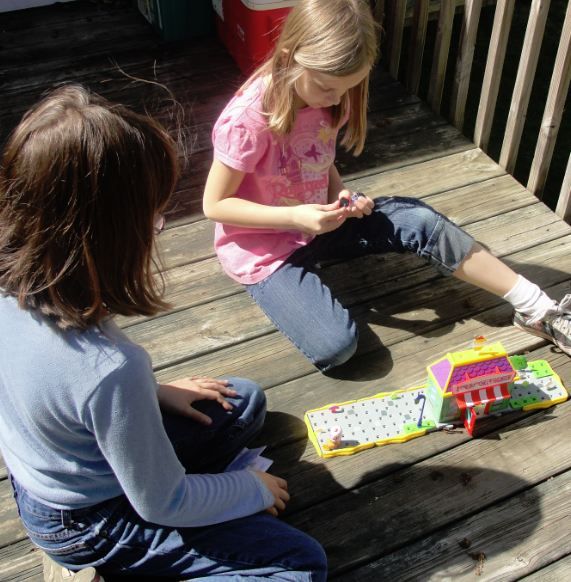 One of the nice things is that the base panels can connect on all 4 sides.  So you could assemble them in a different way each time.  I love that all the sets can connect together and you can add to your collection over time to create a whole town.  Each set also comes with an assortment of pieces to decorate your scene.  Our Ice Scream Store, for example, came with four grass pieces, two garden patches, one lamp post, one mushroom, one weed and two rocks.  My daughters spent a good deal of time redecorating their scene.
There are currently 24 Bobble Bots Moshlings to collect and of course my girls want them all!  Even though they are called monsters, there is nothing scary at all about them.  In fact, these little guys are seriously cute!
We all were impressed with how well the Bobble Bots Moshi Monsters Moshlings maneuvered.  Even when my girls set loose multiple Moshlings in a single play set, there weren't any pile-ups.
Every Bobble Bots Moshi Monster comes with a secret code to unlock new content in the online world at www.moshimonsters.com.  Prior to this review, I wasn't aware of the MoshiMonsters online world.  I am very selective about where I let my kids go online, especially my youngest two.    So I of course had to check out the Moshi Monsters site.  When I read through the section for parents, I was pleased to see that they make it a priority to keep kids safe online.  Unlike some other popular sites for kids, Moshi Monsters is educational.  Kids need to solve puzzles to earn Rox (Moshi Monsters currency) to buy things for their pet monsters.  Another thing I like is that the site automatically bases the difficulty of the puzzles on past performance.  So your child won't find the site too easy or too hard, because the system will automatically adjust to present puzzles at your child's skill level.
The only downside that I found with the Bobble Bots Moshi Monsters play sets is that they contain a lot of small pieces that have the potential to get lost.  Which is a real problem in my house.  We really need to work on organization 🙂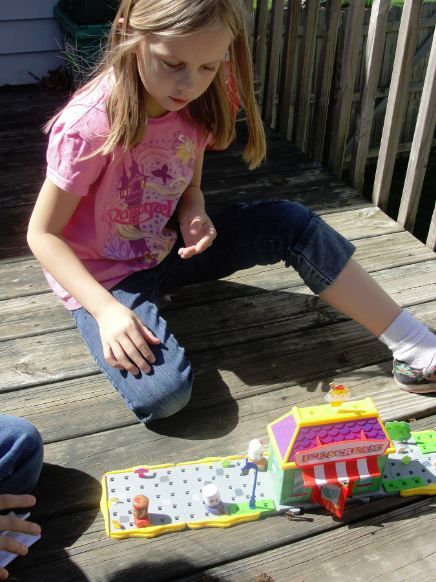 All in all, I would recommend Bobble Bots Moshi Monsters.  These sets encourage creative play and the online world is a definite plus.
Want to pick up some of these cute toys for your own kids?  Bobble Bots Moshi Monsters can be found at Target, Toys R Us, and Amazon.
Now for a fun giveaway!  One lucky reader is going to receive a Bobble Bots Moshi Monsters prize pack that includes
1 Bobble Bots Moshi Monsters Moshling
1 Bobble Bots Moshi Monsters Store
1 Bobble Bots Moshi Monsters Starter Set
Disclosure: To facilitate my review, I received free product as part of a promotional program with Innovation First Labs and MomSelect. All opinions stated are my own and I received no monetary compensation for this post.