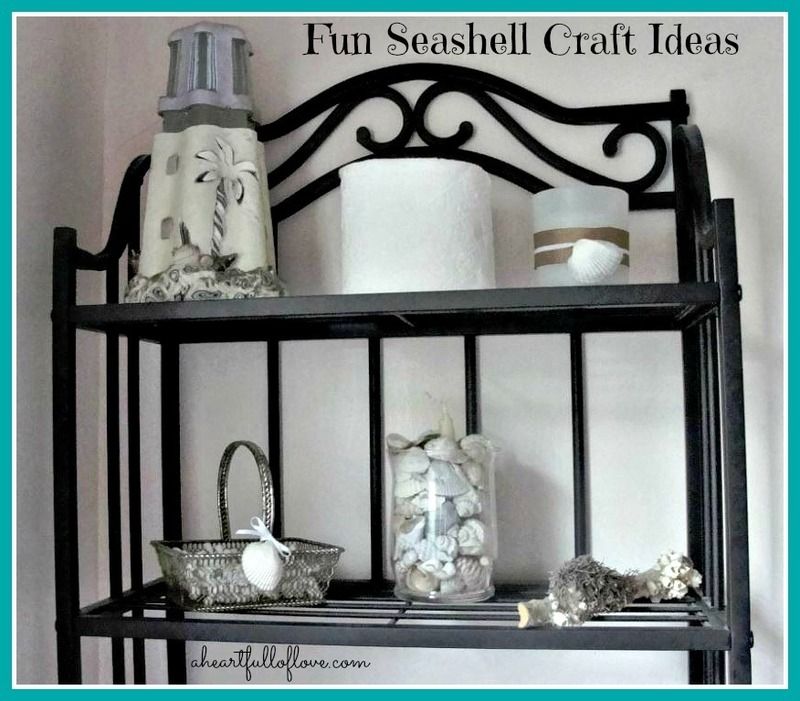 Do you have a bunch of seashells laying around from a recent beach vacation? Here are some fun seashell craft ideas to inspire you.
It's so much fun collecting shells when you go to the beach, but after you get home, what do you do with them? Do they languish in a box somewhere?  We went to Florida over spring break a few years ago.  My two youngest girls had never been to the ocean before and they spent most of their time at the beach collecting seashells. We ending up bringing home a whole bucket full!
We did nothing with the shells for the longest time, but when we moved into our new house two years ago, inspiration hit.  I decided to go with seashell decor in our downstairs bathroom.  So I got out that bucket and in about 10 minutes made a couple of seashell accents for my bathroom.
Seashell Candle
The first of my seashell craft ideas was to dress up a plain candle holder.  For this project I used one of those Glade scented candles. I used a hot glue gun to stick 1 1/2 inch tan ribbon around the center of the candle holder.  Then I looked through our seashells for one that was nicely shaped and had a natural hole near the top.  After I found one, I threaded 1/4 inch white ribbon through the hole and then used hot glue to center the seashell on the tan ribbon.  I then glued the white ribbon down.  Quick and easy!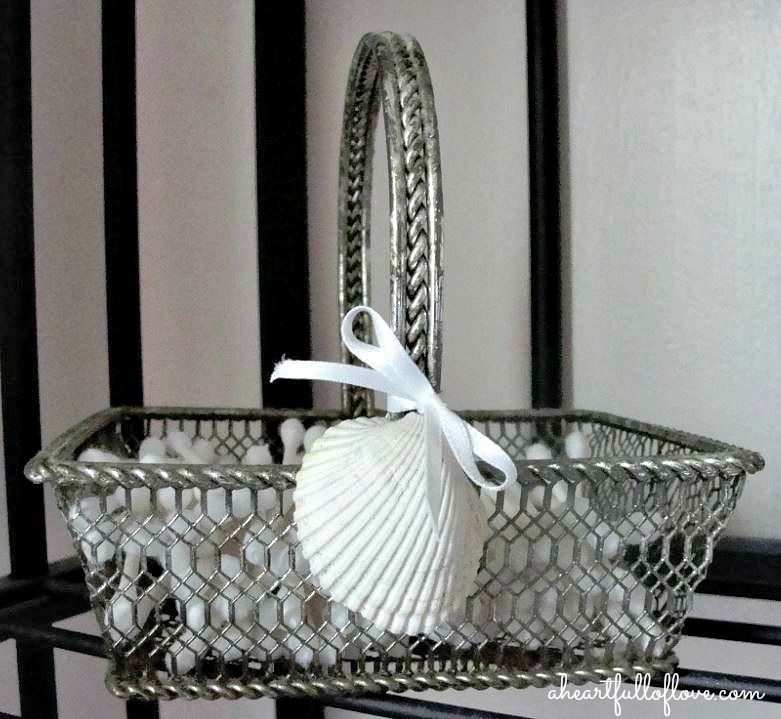 Seashell Accented Basket
I already had a little wire basket that was the perfect size for holding Q-Tips.  So I found another seashell with a hole near the top.  I simply threaded 1/4 inch white ribbon through the hole and tied it on to the handle of the basket.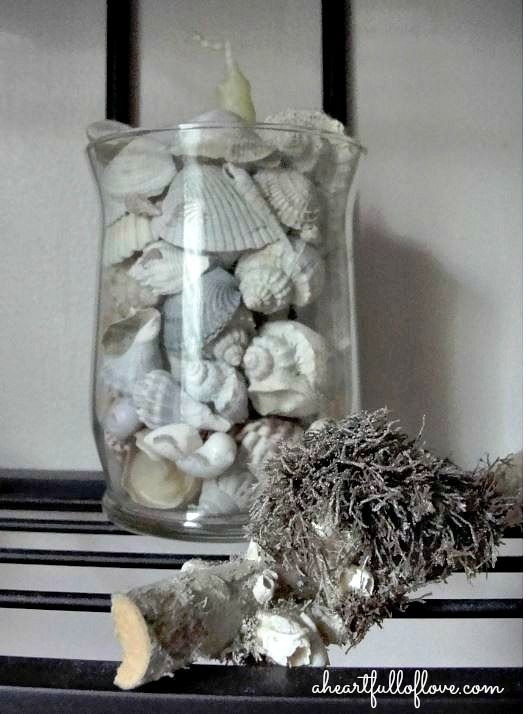 Seashell Candle Holder
For this craft, I used a small glass candle holder I already had on hand.  I applied a dab of hot glue to the bottom of the candle and then stuck it in the center of the candle holder.  (This wass just to hold it in place while I filled it with seashells.)
Then I filled the candle holder all the way to the top with seashells.  I picked out all the conch shells we found in St. Augustine and used those to surround the candle.
The candle I used is a hand-dipped one that my youngest daughter made on a field trip to an 1800's working farm.  Since it had special meaning to her, I wanted to include it, despite the fact that it is a shorter candle.  So it doesn't stick up much above the shells.  If you have one on hand, a taper candle would be great for this project.
Shell Chic: The Ultimate Guide to Decorating Your Home With Seashells
Click here to read all Customer Reviews for this product…
More Seashell Craft Ideas
Click here to read all Customer Reviews for this product…
So tell me… Do you have any cool seashell craft ideas to share? What have you been creating lately?