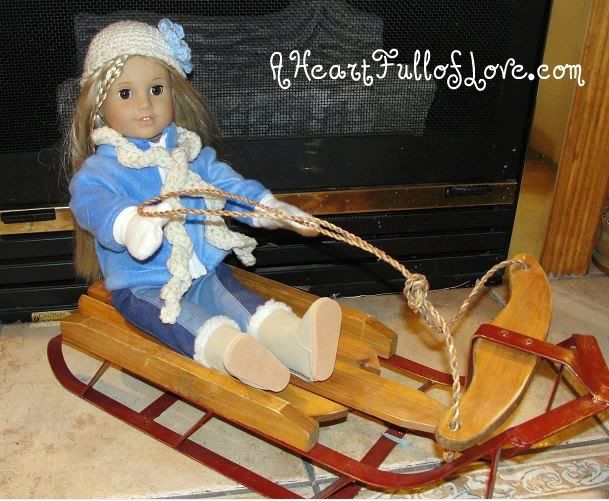 One of the gifts for my youngest daughter this year is a sled for her American Girl Dolls.  I got busy crafting and also made her some winter gear to go with it.
The sled was a find at Crafts 2000.  I got it for $9.97, which was quite a bargain in my opinion. My other purchase for the ensemble was the boots which I found at my local Michaels.
The hat and scarf are crocheted, both of which were done without a pattern.  After you have been crocheting for awhile and know how to do some basic shaping, it's not all too hard coming up with your own patterns.  I put the 18 inch doll hat free crochet pattern online.  You can access the hat pattern, as well as the pattern for the flower embellishment, by clicking on the link.  I hope to get the twirly scarf pattern up soon.
The fleece jacket and mittens are patterns from the book Sew the Contemporary Wardrobe for 18 inch Dolls by Joan Hinds.  I have used several patterns from this book.  With some of the patterns, I found they were a bit snug.  However I was pleased to find that the fit was great with both the mittens and the jacket.  Joan Hind's books for 18 inch dolls are definitely worth adding to your craft library if you love to sew for your daughter's American Girl dolls.
I think my youngest daughter is going to be so pleased with her new sled for her American Girl dolls, as well as the winter accessories.  So what have you been crafting for Christmas this year?