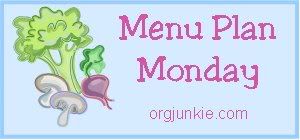 I am trying to get back on track with meal planning.  With all the kids' activities, we have been eating out way more than we should.  At $40+ a pop, it quickly eats away at our budget.
Anyway, here's our weekly meal plan:
Sunday:  Roasted Chicken, Quinoa with Avocado dressing, Leftover veggies
Whenever I make roasted chicken, I throw a second one in at the same time.  Then I freeze all the leftover chicken to use in recipes later.  It's a huge timesaver to have 4-6 cups of cooked chicken in the freezer for future recipes.  Then I throw the bones in the crockpot to make homemade chicken broth overnight that I will use later in the week.
The quinoa is basically my quinoa salad minus the cheese and eggs.  I am trying to eat vegan until dinner each day so I wanted the leftovers for a quick and easy lunch.
We had leftover Kale chips and sliced cucumbers with dinner, trying to use up what we already had in the fridge.  I am making a huge effort to reduce the amount of food we throw out.
Monday:  Ham and Cheese Calzones, Steamed Broccoli, Watermelon
Prep work the night before:  Soak bread dough.
Tuesday:   Turkey Roast, Make Ahead Potatoes, Honey Roasted Carrots
Prep work the night before:  Make mashed potatoes
Wednesday: Chicken Asparagus Bake, Butternut Squash Soup, Cherries
Prep work the night before:  Soak rice.  Make a double portion to use for Thursday's dinner.  Thaw cooked chicken.
Prep work that morning:  Cook rice, then assemble casserole so it is ready to go at dinnertime.
Thursday:   Porcupine Meatballs, Rice, Brussels Sprouts.
Friday:  Homemade Pizza, Broccoli Slaw Salad, Fruit Salad
Prep work the night before:   Soak pizza dough
Prep work that morning:  Cut up veggies
Saturday: Mexican Pizzas, Roasted Cauliflower, Cantaloupe
Prep work the night before:   Thaw refried beans
Hopefully I stay on track with our weekly meal plan.  I am so tired of eating out!  Visit Organizing Junkie for even more great meal plan ideas.  So tell me…  What is your biggest meal planning challenge?