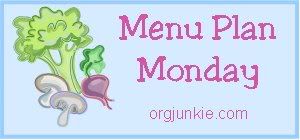 Can you believe it is the 4th of July already?  Do you have any big plans for the day?  We are going over to my parents' house for a cookout.  Then we will be heading over to the community park to watch the fireworks.  I hope the weather is nice!
Anyway, here's our weekly meal plan:
Sunday:  Popcorn Chicken, Greek Yogurt Potato Salad, Eggplant 
Prep work the night before:  Make potato salad
Monday:  Chicken Crescent Rolls, Sweet Potato Fries, Cantaloupe
Tuesday:   Spaghetti, Sauteed Zucchini, Cherries
Wednesday: 4th of July Cookout.  
I am bringing my Patriotic Trifle and a cheese ball
Thursday:   Chicken Parmesan, Rice, Cauliflower
Friday:  Homemade Pizza, Broccoli Slaw Salad, Fruit Salad
Prep work the night before:   Soak pizza dough
Prep work that morning:  Cut up veggies
Saturday: Leftovers
Visit Organizing Junkie for even more great meal plan ideas.  So tell me…  Do you meal plan?  Do you find it saves you money?