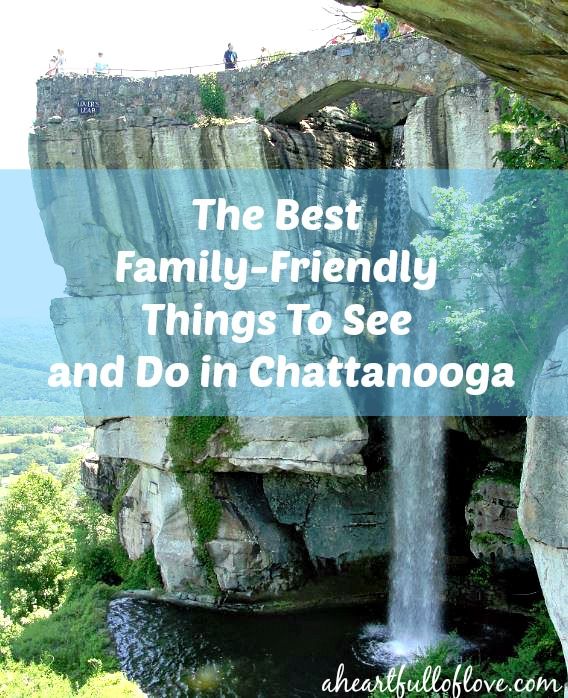 We weren't able to take a huge vacation this year due to some work we had done on the house, but we still wanted to get away for a few days to unwind a bit.  So we decided a short trip to Tennessee was in order.  It's far enough away that we don't get there very often, but close enough that  we can get there by lunch time if we leave pretty early in the morning.  Our first stop was Chattanooga.  Chattanooga is usually where we stop for the night on our way home from Florida, but we discovered there are plenty of fun things to do in Chattanooga that make it a great place for a little getaway.
Since we had a 6 hour drive, we left pretty early in the morning.  Any time we go on vacation, we usually hit the road around 5 am, so that we can be at our destination by lunch and still have plenty of time that first day for sight-seeing.  The kids usually go back to sleep, so we can drive for a couple of hours before stopping for breakfast.  We ended up getting to Chattanooga about noon.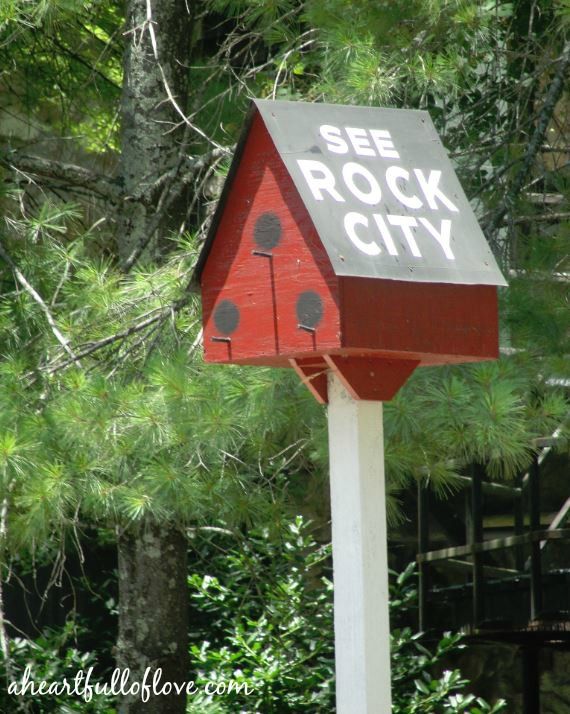 Our first stop in Chattanooga was Rock City.   If you live in the south or the midwest, chances are you may have seen a "See Rock City" barn along the highway.  Starting in the mid 1930's, Rock City hired Clark Byers to paint advertisements on barns along major roads.  This continued until 1969. During this time, "See Rock City" was painted on over 900 barn roofs in 19 states.
It was one of those barn advertisements that led to our first visit to Rock City 20 years ago when Kevin and I were first married.  So when we were planning our vacation this year, we thought it would be fun to go back and see how it had changed.
If you have never heard of Rock City, it is located on Lookout Mountain in Chattanooga.  Rock City  is a park full of beautiful gardens, stunning rock formations, and gorgeous views.   Adults will definitely appreciate the natural beauty of the place, but that's not to say that Rock City isn't fun for children too.  Younger kids will definitely enjoy the Fairytale Caverns, the herd of white deer, and all the gnomes hidden throughout the park.   My middle daughter, who just turned 12, told me that Rock City was her favorite part of our trip.
You can learn more about Rock City at SeeRockCity.com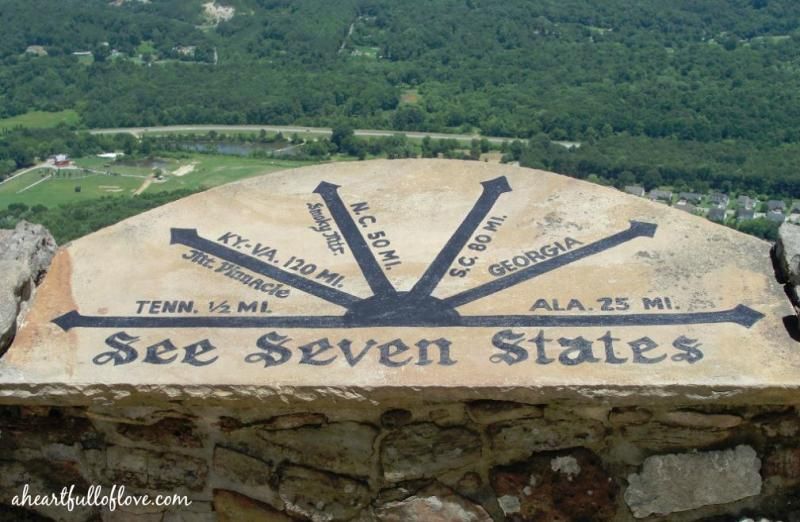 If you are planning on visiting the three main attractions on Lookout Mountain, I highly recommend purchasing their combo tickets.  We got the Triple Play tickets that included admission to Rock City, Ruby Falls, and the Incline Railway.  We ended up saving about $5 a person.  You can buy the combo tickets at the ticket booths at any of the attractions.  We got ours at the ticket counter at Rock City.
After visiting Rock City, we headed over to a famous Chattanooga landmark. I mean what would a visit to Chattanooga be without seeing the Chattanooga Choo-Choo?!  Although it was originally a working train that inspired the famous song, the train is now on display and the cars have been converted into hotel rooms.  How fun would that be to spend the night in a train car?  If we had not put off our hotel reservations until the last minute, we would have loved to stay there.
While  you are visiting the Choo Choo, you can also see the largest HO model train layout in the US or do some shopping.  If you are into scrapbooking, there is a fun shop there called Little Lace Lady.  The women who work there are super friendly and they have a lot of scrapbook supplies for local attractions.  And there may or may not be a letterbox there 🙂
We ended our first day in Chattanooga with a trip on the Incline Railway.  The Incline Railway is one of the world's steepest passenger trains, traveling one mile up to the top of Lookout Mountain.  Your ticket includes a round trip.  Most people start at the station at the base of the mountain, but you can also board the train from the top station.  Just be aware that there aren't as many parking spots at the station on top of the mountain.
The two trains of the Incline Railway are connected by a cable.  As one goes up, the other comes down.  They pass in the middle, with only a couple of feet separating the two trains.  The kids really enjoyed the part where the trains passed.
Once at the top, you can get out and explore a bit.  Trains depart every 15 minutes so you can take as long as you want to look around.  We climbed the stairs to the observation deck and took in the views of the city down below us.  For a special treat, plan your visit to coincide with sunset!  The view is just gorgeous.
Learn more about the Incline Railway at RideTheIncline.com
The next morning, we got up early and headed over to Ruby Falls.  Ruby Fall is also located on Lookout Mountain.  It is a cave tour that leads you to a spectacular underground waterfall.
Along the half mile walk to the waterfall, the knowledgeable and friendly tour guide gave us a bit of the history of the area, and pointed out all the fun rock formations, like the Niagara Falls formation.   When you get to the waterfall, the main lights are turned off and the lights behind the waterfall change colors, creating some really beautiful photo opportunities.
To learn more, visit RubyFalls.com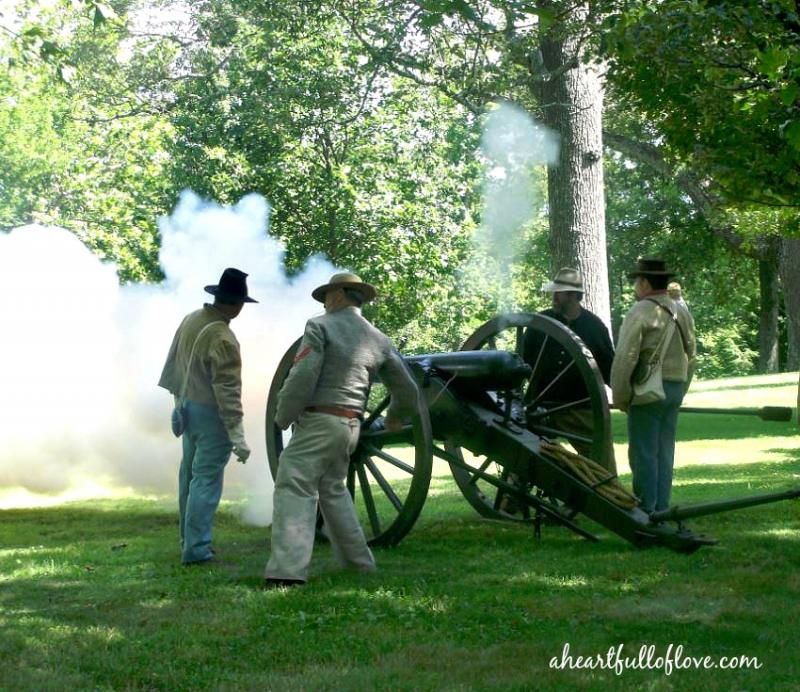 The last attraction we visited in Chattanooga was Point Park, which is part of the National Park service.  If you are a civil war history buff, then I highly recommend a visit if you are ever in the area.   Point Park is part of the Chickamauga and Chattanooga National Military Park, which includes several historical sites in both Tennessee and Georgia.  Point Park is just a short walk from the top station of the Incline Railway.
The highlight of our visit to Point Park was getting to see a civil war cannon demonstration.  I knew it was going to be a loud boom, but I didn't expect that I would feel the reverberation with as far away as we were standing.  We also listened to a very interesting presentation by a park ranger who explained the role Chattanooga played in the Civil War.  I never much cared for history in school, but now that I am an adult, I find it fascinating to visit historical places and learn how they shaped our country.
To learn more Point Park and the rest of the Civil War sites in the area, visit NPS.gov/chch/.
We only had 2 days in Chattanooga, as we were heading to the Smoky Mountains next to spend a couple of days hiking.  However, there were definitely other things to do in Chattanooga that we would have loved to see if we had more time.
If we had one more day, we would have definitely visited the Tennessee Aquarium.  We have been there before, and it is an amazing place to visit.  However since we have the Newport Aquarium about an hour from home, we decided to skip it on this trip.  Also in Chattanooga are an art museum, a zoo, the Creative Discovery Museum for kids, and an Imax Theater.  You could easily spend three or four days taking it all in if you had the time.
Price Disclaimer
There is definitely lots of family-friendly things to do in Chattanooga and we had a great time during our stay there.  So tell me… Have you ever visited Chattanooga?  What was your favorite attraction?
If you enjoyed this post on Family Friendly Things To Do In Chattanooga, here are some family road trip posts you may also enjoy…