It's that time of the year again! You know the time of year when parents get bombarded with phone calls and emails asking what the kids would like for Christmas. Wouldn't it be nice to have the list in one place so all your relatives could access it? Well there is such a site! It's called Sweet Relish and not only does it allow you to create wish lists, but you can shop right from that list. How easy is that?!
In a nut shell, Sweet Relish is a wonderfully useful site that allows you to make lists of all your favorite things. Sweet Relish makes it super easy to keep your holiday gift giving organized. In addition to using it to create wish lists, you could also use it to create holiday shopping lists to keep track of what you want to get for who.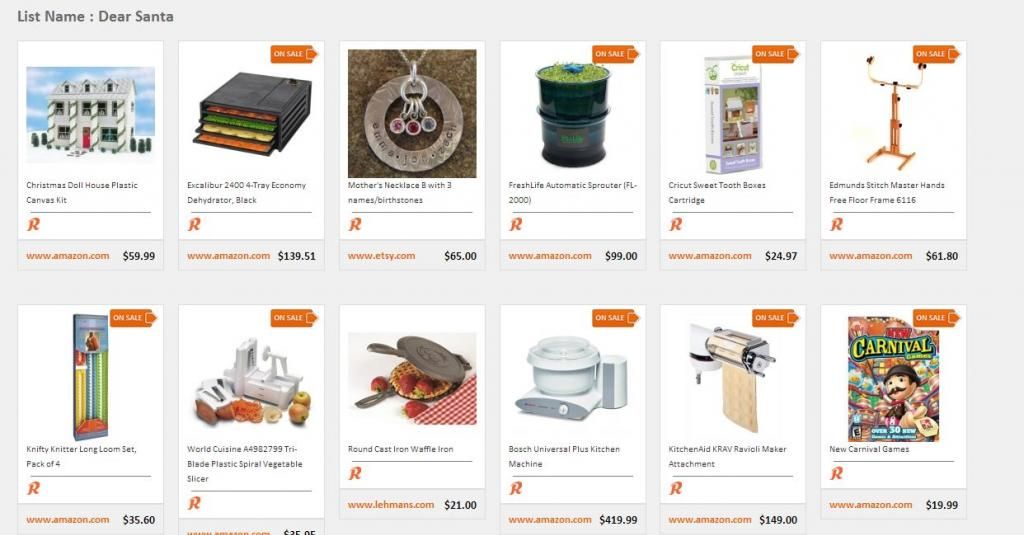 I gave Sweet Relish a whirl today and I must say I am impressed. In just a few minutes I was able to create a Dear Santa list today to give my husband some ideas of what to get me for Christmas.
Sweet Relish is super easy to use. I just installed an add-on for Chrome. Then as find an item when I am browsing the web, I just click the little "R" icon in my toolbar to add it to one of my lists. In addition, you can share your lists on Twitter and Facebook with just the click of a button. You can even pin your entire list on Pinterest!
I think Sweet Relish would be great to use all year long to keep track of things I want to get my family as gifts. I usually jot ideas down on little scraps of paper and stick them in my purse. Of course I inevitably lose those scraps of paper and can't remember the item by the time Christmas rolls around! Sweet Relish eliminates that problem.  I am going to start a separate list for each of my kids.  That will definitely simplify holiday shopping next December!
I invite you to take Sweet Relish out for a test drive and in the process you can enter to win some great prizes.  There are two separate giveaways on this page so be sure you read all the way to the end of the page so you can enter both.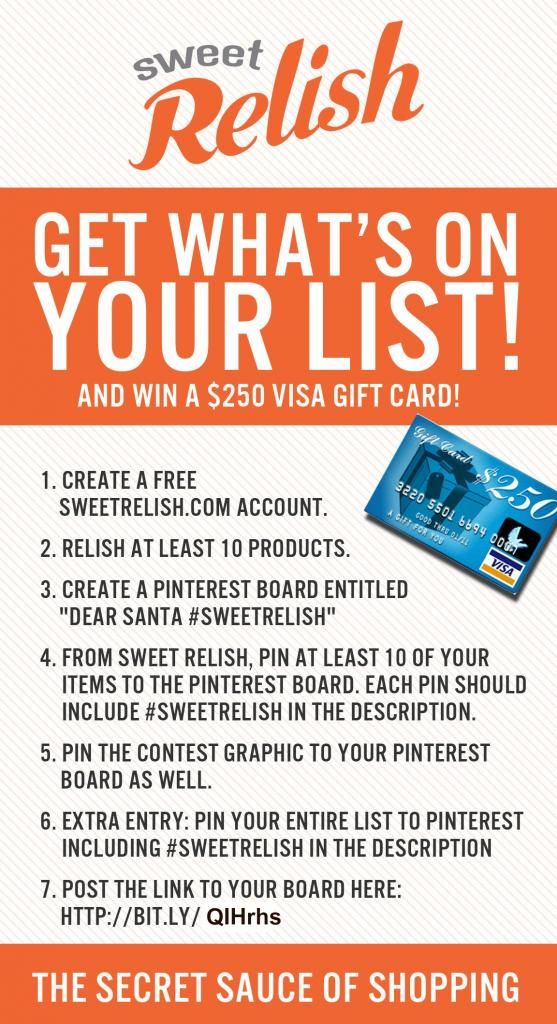 Enter the Sweet Relish "Get What's on Your List" Pinterest Contest
To enter you will need to
Create a Sweet Relish account and relishing at least 10 products on a list entitled "Dear Santa".  Then you need to create a Pinterest board entitled "Dear Santa #SweetRelish" and pin your 10 items from your Sweet Relish List to your  Pinterest board including #SweetRelish in the description of each pin.
You must include the contest graphic (shown above) in your Pin board.
Then you must place the link to your newly created Pinterest board on the linky below.
In addition, Sweet Relish has an option to pin your ENTIRE relish list to Pinterest in one pin. You can gain one extra entry by pinning your entire list and adding the link to that pin on the linky below.
After you have followed the above instructions, click here to access the Sweet Relish contest linky and leave your entry. (Sorry to not be able to embed the code for the linky, but it is not playing nice with my blog layout for some reason.)
ONE WINNER across all 15 participating Diva blogs will win what's on their Sweet Relish Dear Santa list! Prize will come in the form of a $250 VISA Gift Card. The Double Duty Diva will be selecting the winner randomly. The "Get What's on Your List" Pin it contest will run from 12/6 to 12/27.
In addition to that, one lucky A Heart Full of Love reader is going to win a $50 Visa Gift Card! Woo-hoo!  Entry is super simple, especially if you already entered the Pin It Contest above.  You just need to create a Sweet Relish account and relish at least 10 items.  To enter for a chance to win the $50 gift card, you just need to leave a comment below with the link to your newly created Sweet Relish list.  One winner will be chosen at random from all the participants here at A Heart Full of Love.  The $50 Visa Gift Card giveaway ends 12/20/12 and is open to US residents age 18 and older.
The Giveaway is now closed. Congrats to the winner – Kenny F! Thanks to all who entered.
Disclosure: This review was made possible by Double Duty Divas and Sweet Relish. I was compensated to facilitate my review, but all opinions are 100% mine.