Looking for a quick and easy holiday recipe to make with your kids?  Reindeer Chow (Peppermint Muddy Buddies) only takes about 15 minutes to make and is absolutely yummy!
I had a box of Chex Cereal from a review I did recently and wanted to make a snack for the kids with it.  I thought about making traditional Muddy Buddies, but then decided it wasn't very Christmas-y.  I wondered if anyone had ever made mint-flavored Muddy Buddies.  A quick search online turned up nothing, so I decided to adapt the regular recipe to use peppermint oil and crushed candy canes.
The Bookworm and the Little One helped me make this quick snack when they got home from school.  The recipe took no time at all to finish.  The most time consuming part was crushing the candy canes.  You know that scene from National Lampoon's Christmas Vacation where Clark Griswald has the magazine pages stuck to his hand?  Well, that was me after unwrapping and crushing all those candy canes!  The candy cane wrappers were sticking to my hands and I couldn't fling them off.  The girls thought it was quite funny!
Reindeer Chow
(Peppermint Muddy Buddies)
Ingredients:
A quick note about the peppermint flavoring:  I used natural peppermint oil.  This is strong stuff!!  You only need 2-4 drops.  It comes in a tiny little bottle.  If you are using peppermint extract, try 1/4 to 1/2 tsp.
Start by crushing your candy canes.  I recommend putting the candy canes into a thick freezer bag for this to help minimize the mess.  I have a heavy marble rolling pin that works perfect for crushing candy canes, but a hammer works just as well.  Just be sure to protect your table or countertop.
Next you want to measure out 9 cups of Chex cereal into a large bowl.  I used Rice Chex because that is what I had, but other varieties of Chex would work as well.
Melt the chocolate chips and butter in a double boiler, stirring until smooth.  You can also melt them in the microwave for about 30 seconds at a time.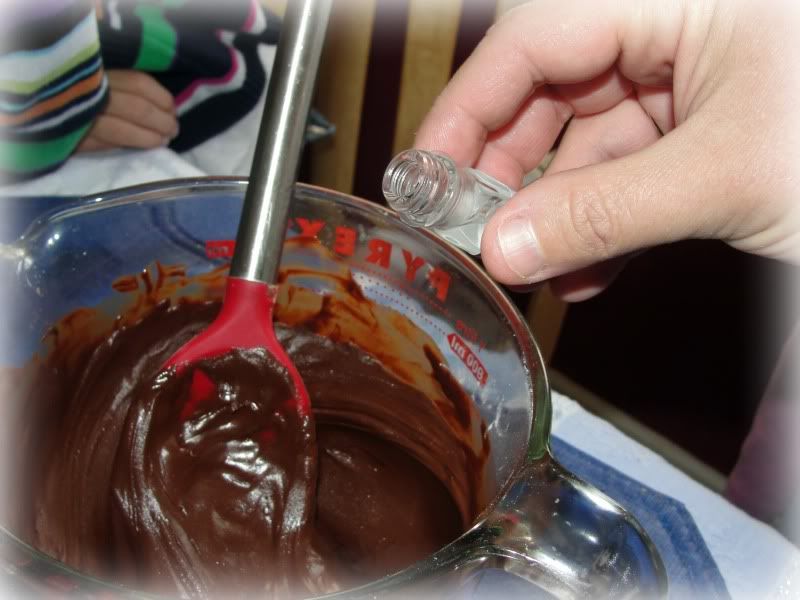 After the chocolate chips are melted and smooth, remove from the heat and add 2-4 drops peppermint oil.  Pour slowly.  It is very easy to dump too much.  Ask me what recipe I ruined figuring that out!  Those little bottles really need an eyedropper.  Anyway…  You might want to start with 2 drops and taste it before you add anymore.  It doesn't take much of the oil at all to flavor the chocolate.
Once you have the chocolate minty enough, pour it over the Chex cereal.  Toss it well so that all the cereal is coated in chocolate.  Add the powdered sugar and continue tossing it until all is well-coated.  Gently stir in the crushed candy canes.  You might want to save some to use as garnish for a pretty presentation.
Click on the card below for a printable recipe card.
Reindeer Chow makes a wonderful holiday gift for teachers or friends. I save the glass jars that we get when we buy honey for things like this. You could also package this in holiday print cellophane bags with a ribbon bow and a candy cane.
If you end up making this reindeer chow, you will have to let me know how you like it.  While you are here, be sure to check out the rest of our Christmas crafts and recipes.  So tell me…. What special treats are you making this holiday season?