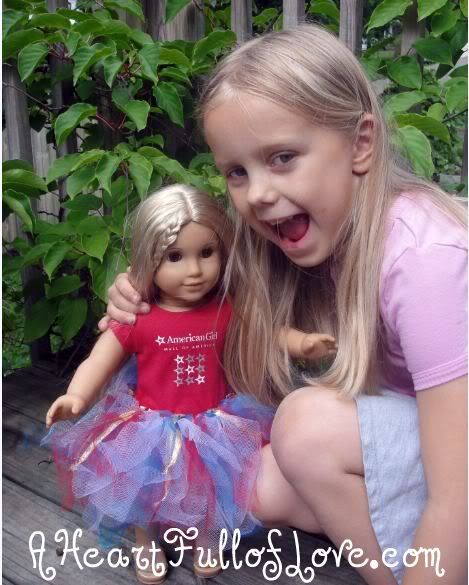 I have seen numerous tutorials out there showing how to make a tutu for a little girl, but have never seen any instructions for making them for American Girl dolls.  The Little One decided she needed an American Girl tutu.  So of course, mommy was happy to get out her craft supplies and try to make one for her doll.  With the 4th of July rapidly approaching, I decided to make it in red, white, and blue.
Turns out it's pretty easy to make a doll tutu, everything is just smaller.  I was able to finish it up in an hour and that was with distractions.  The most tedious part is cutting the strips, but that is made easier with a rotary cutter.  This is a great project for your daughter to make.  An adult should handle the rotary cutter and glue gun, but everything else should be easy for a little girl to do.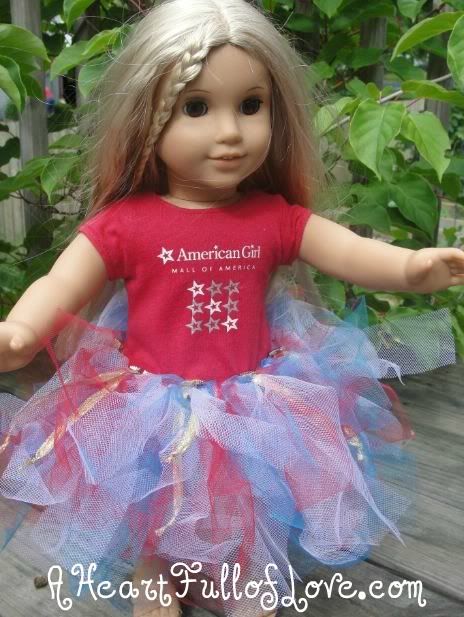 Make a Tutu for an 18 inch Doll Tutorial
Materials
Total cost   – around $3 (actually less since I had quite a bit of tulle and ribbon left over)
Instructions
Start by fitting the elastic to the doll's waist, pulling snug and overlapping a couple of inches.  You want to make sure it will stay up but you don't want it so tight that your little girl won't be able to take it off.  For my daughter's doll, I used 12 inches of elastic.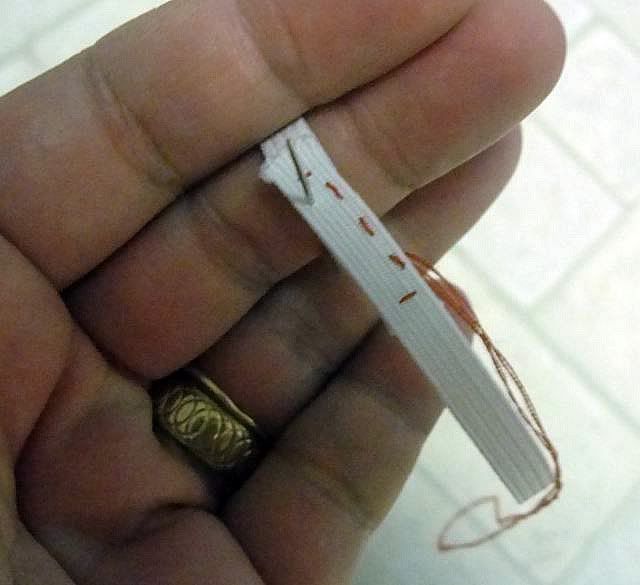 Overlap the elastic by an 2 inches and sew to hold in place.  Try on the doll to make sure it will come off easily.
Next cut your strips of tulle.  Each strip needs to be approx. 2 inches by 14 inches.  No need for perfection though.  I cut the whole piece into strips and had a lot left over.  I ended up using 35 strips of each color.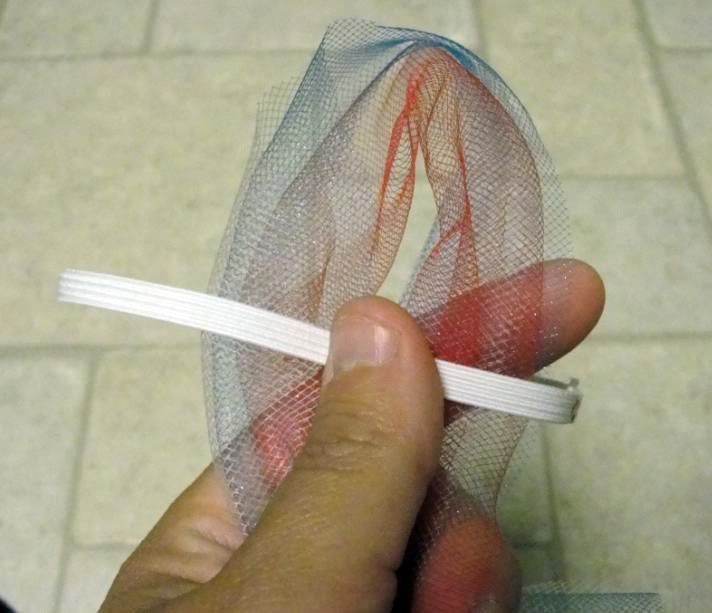 Next stack 1 strip of each color and fold in half.  Put the loop behind the elastic and bring the ends up over the elastic and through the loop, pulling to make a loose knot.  Don't make too tight of a knot or it stretches the elastic.  Repeat around the circle.  I ended up with 35 knots but you may have a different amount.  That's ok 🙂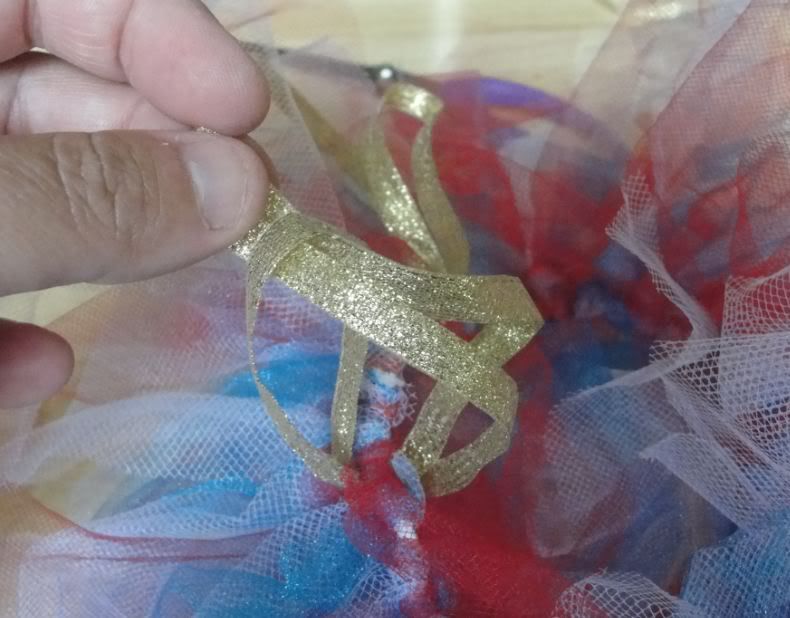 Now you want to cut 8- 12 inch lengths of gold ribbon.  You are going to tie them onto the elastic in the same way you did the tulle.  Fold the ribbon in half and put the loop behind the elastic.  Bring the ribbon ends over the elastic and through the loop, pulling loosely to form a knot.  I put a ribbon every 5 tulle knots, but feel free to add more if you like a little more bling!
Now you want to add the stars t0 the ribbons.  I used a glue gun to hold them in place to make things easy.  However, you could use tacky glue or knot them in place as well.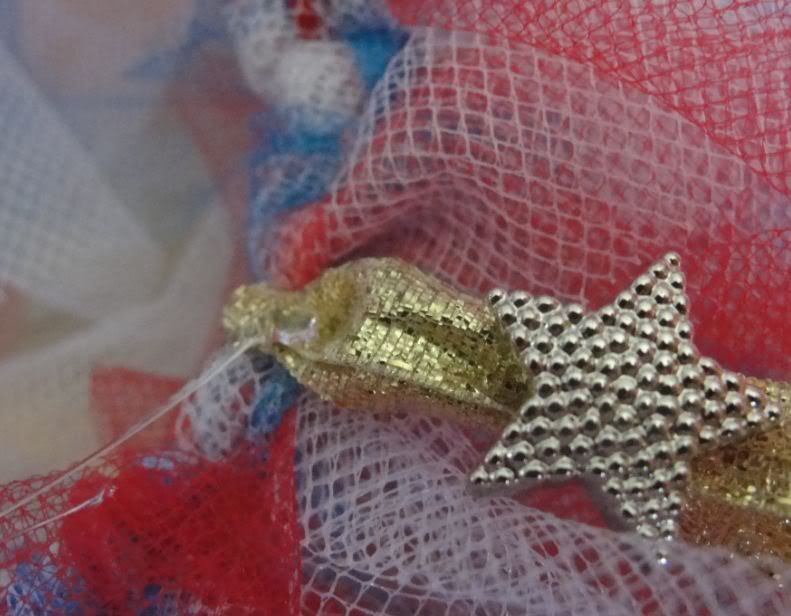 Thread both ends of the ribbon onto a plastic canvas needle and use the needle to get both ribbon ends in the loop of the star buttons.  Use a small dab of hot glue near the ribbon knot and slide the button up the ribbon into the glue.  Allow to cool.  This will hold the stars in place.  Repeat for all the gold ribbons around.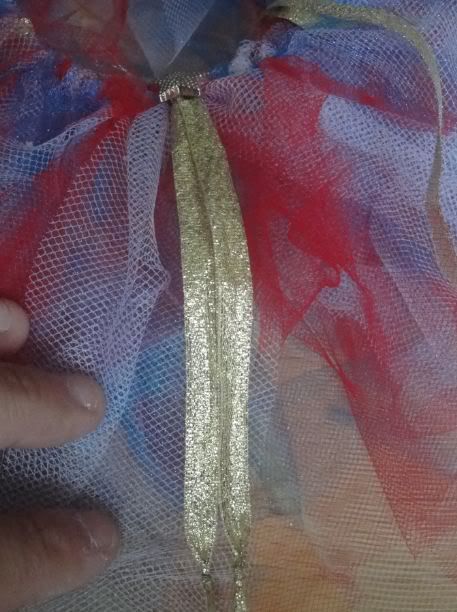 Cut the ribbon ends to the desired length and knot each end to deter fraying.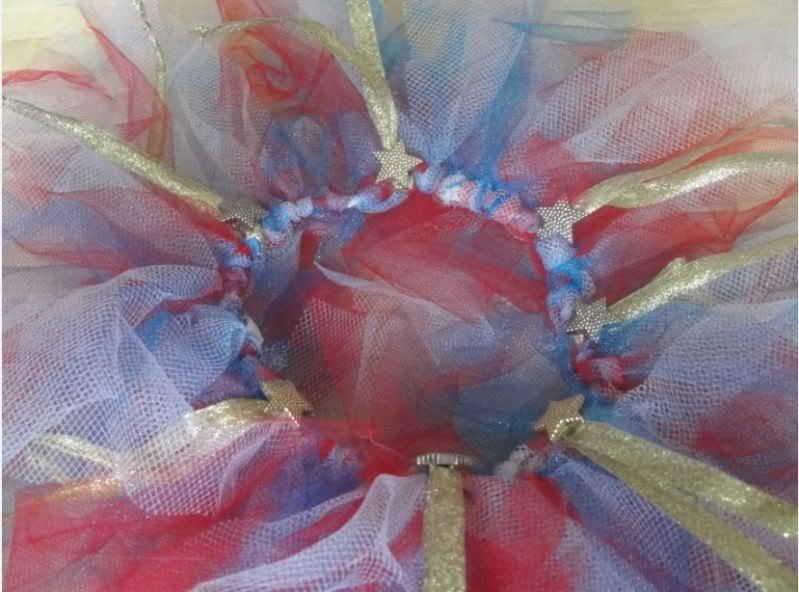 You're all done! A quick and easy doll tutu to make with your little girl. Have fun!
For more homemade American Girl Doll Clothes ideas, I highly recommend this book.
If you make one of these doll tutus, you will have to come back here and let me know how it turned out.  Happy crafting!
Did you enjoy this American Girl Doll Craft post?  Here are some other doll crafts you might enjoy…