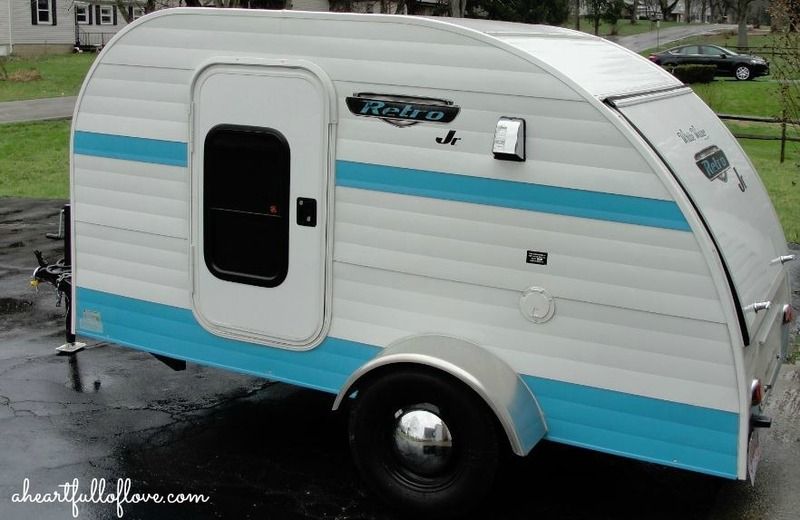 After years of dreaming about owning one, I am so happy to finally be able to say that we are now the proud owners of a teardrop trailer. Our family has always loved camping. However, since 2009, when I messed up my back, we haven't been able to go camping very much. Sleeping on the ground in a sleeping bag was out of the question. We tried putting a cot in the tent for me, but it took up so much room and still resulted in an awful night's sleep. So after much discussion, we finally took the plunge and purchased a retro-looking teardrop trailer from Riverside RV.
We named our new teardrop trailer Nadia.   When we were discussing names, my husband thought it would be hilarious to call her "Not a Tent", which I promptly vetoed.  So he decided to give it a foreign flair and suggested calling her "Nadia Tentsky".  Somehow the name Nadia stuck 🙂
If you aren't familiar with teardrop trailers,  they are tiny campers that were first made popular in the 30's and 40's.  Back then they were nearly all homemade.  A lot of people nowadays still make their own, and we definitely considered that route.  Ultimately though, the worry about getting the trailer watertight and setting up the electrical wiring correctly scared us off.  So we opted to purchase one from a dealer.
Most teardrop trailers, ours included, are under 1000 pounds so they are light enough to be pulled by nearly any vehicle.  We had a trailer hitch installed on our minivan and have been towing the teardrop trailer with no problems.
Teardrop trailers consist of a sleeping area and a galley (the kitchen area).  The galley lid opens upward which allows you access to the kitchen for cooking.  Our teardrop has 30 amp electrical or it can also run on battery – which will be nice for when we are camping in more primitive locations.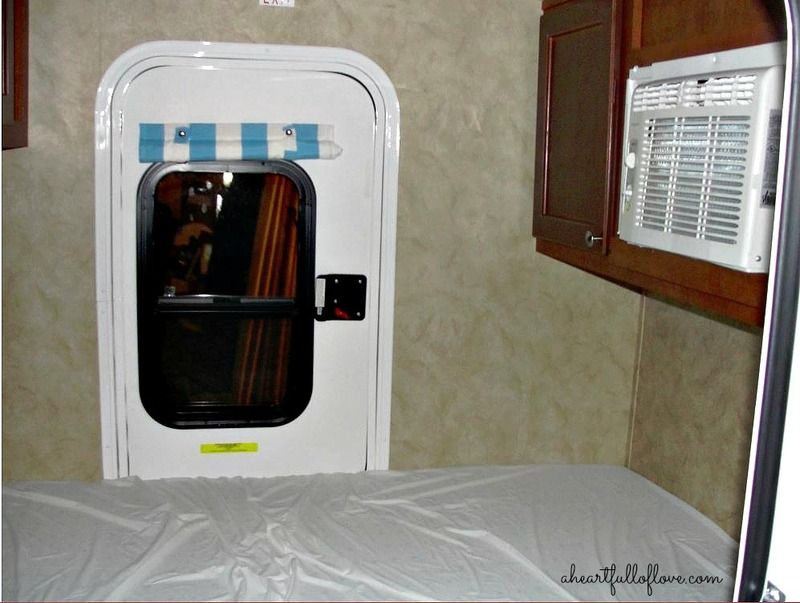 The sleeping area consists of a queen-sized mattress and 4 overhead cabinets. There is an overhead light and then additional reading lights mounted under the cabinets.  We were happy to discover there is an electrical outlet in the sleeping area.  I found some Rubbermaid car organizers that our phones will fit into and hung 2 of those near the outlet using Command adhesive hooks.  So that way we have somewhere to charge our cell phones overnight.
The sleeping area also has an air conditioner.  Given that there isn't a lot of air flow in the sleeping area with the curtains down for privacy, we will probably use the fan setting just to keep the air circulating.  I can not sleep when it is stuffy!
The mattress that came with our teardrop trailer is pretty thin – think summer camp mattress thin!  Given my back issues, we knew we needed to do something to make it more comfortable.  So we bought a 3 inch memory foam mattress topper.  We figured we would give that a try and see if that would be enough, and if not we could always buy a regular mattress for the trailer.  The memory foam topper worked out really well.  I don't think we are going to have to buy another mattress after all.
I want to go with a Route 66 theme for our sleeping area.  I found some really cute Route 66 fabric at a local store.  So eventually I want to use that fabric to make matching curtains, pillow cases, and a quilt for our trailer.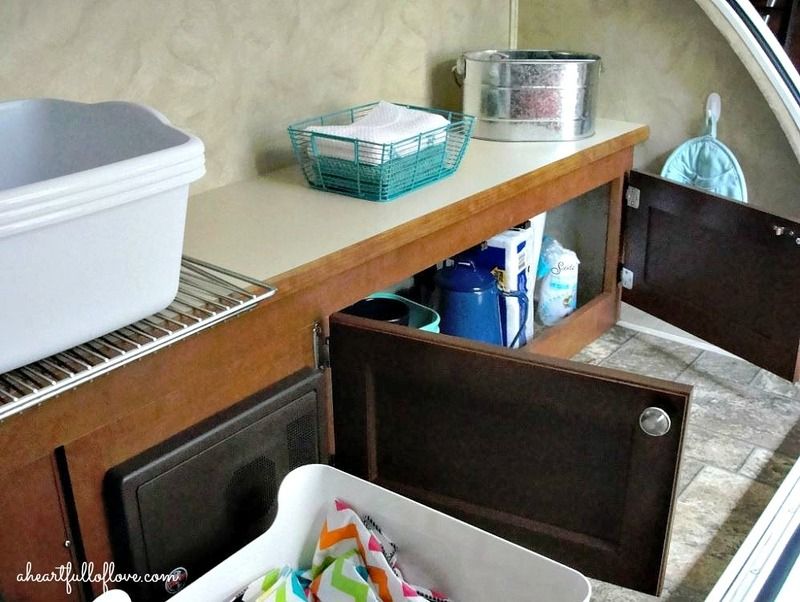 The galley doesn't have a whole lot of storage currently, but we have plans to remedy that.  Right now it just has a double cabinet.  I already added some Command adhesive hooks to the sides to hang pot holders.  (Command adhesive is my new best friend!)  We will be doing more customizing as we go along.  The walls seem to be fairly thin, so we don't want to screw anything into the walls and risk the screw going through into the wall in our sleeping area.  So we are trying to figure out the best way to hang some things like a spice rack and paper towel holder.
Although I would have loved a bigger cooking area, I do like the storage area at the bottom of the trailer.  You access it via the door under the galley and it runs the whole length of the trailer.  It is really nice for storing the spare tire, the emergency tool kit, camp chairs, and lawn games.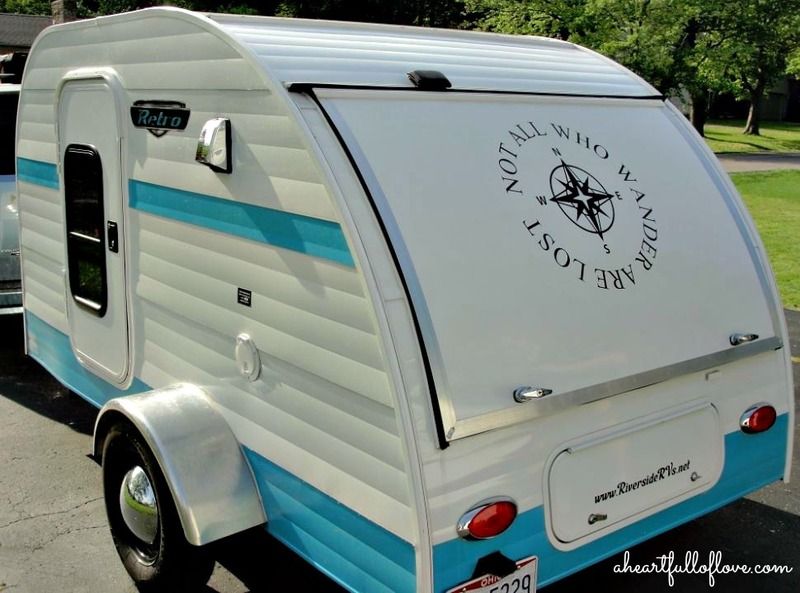 I found the perfect vinyl decal on Etsy to go on the back of the galley lid.  It is a compass with the quote "Not all who wander are lost."  I have always loved that quote.   We plan on doing a lot of wandering with our new teardrop trailer 🙂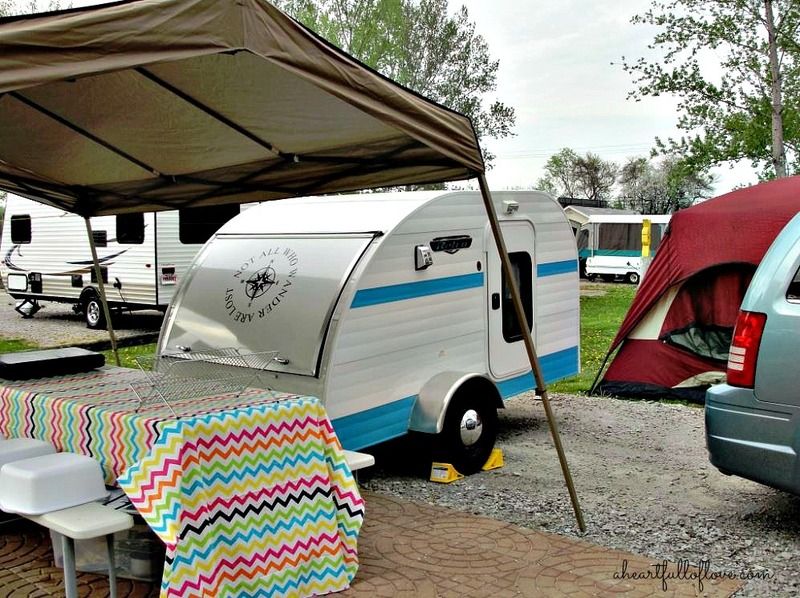 We were able to take Nadia out for her inaugural campout over Mother's Day.  We went up to Kelley's Island (Lake Erie) to do some letterboxing.  We set up the family tent right next to the trailer for the kids.  We got an EZ Up shelter to put over the galley, so we could still cook even if it rained.  It's a good thing we did as it rained cats and dogs the second night we were there.
We had a great time.  I have missed camping so much.  I am so glad we decided to take the plunge and get a teardrop trailer. I foresee a lot of fun trips in our future!
So tell me… Have you ever heard of teardrop trailers?  Does your family enjoy camping?