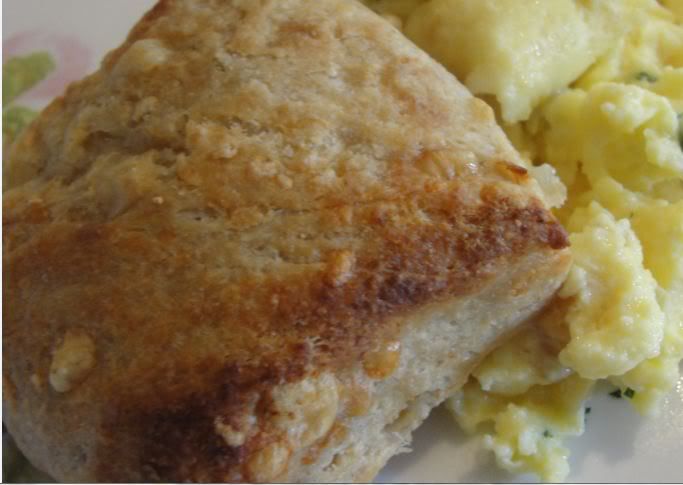 Ever since I took the GNOWFGLINS sourdough e-course, I have been giving my sourdough starter quite the workout!  I have mainly stuck to the recipes from the course but this past weekend I was inspired to branch out a bit and tweak the biscuit recipe a bit.  The Barefoot Contessa recently had a show where she made cheddar biscuits and herbed scrambled eggs.  So I had to see what cheddar sourdough biscuits would taste like.
I am excited to report that the biscuits turned out perfectly.  I used a nice sharp cheddar and the flavor paired wonderfully with the sourdough.  All 4 kids gobbled the biscuits up and asked for more.
The recipe does take a bit of advance prep as you need to let it sour for awhile.  Now that the weather is warmer, I am finding my sourdough batters and doughs only need to sour for about 4-6 hours, otherwise the starter works too well and makes the dough hard to handle.  If the weather is colder, it should be no problem to allow the dough to sour overnight.
Sourdough Cheddar Biscuits
6 tbs coconut oil or cold butter
2 1/2 cups whole wheat pastry flour (I use fresh ground soft wheat)
1/2 cup sourdough starter
3/4 cup milk (I use kefir)
3/4 tsp sea salt
1 cup sharp cheddar, grated
1 1/2 tsp baking powder
1/2 tsp baking soda
Cut the coconut oil into the flour until you have pea sized pieces.  I find it works well to keep my flour in the freezer.  You don't want the fat to melt.  Mix in the milk and starter just to moisten and hold everything together.  You don't want to overwork it and melt the fat.  Cover bowl and allow to sour at room temperature for at least 4-6 hours.  After the dough has soured, gently knead in the shredded cheddar, the salt, and the leavenings.  Roll out thickly and cut into squares.  In a 450 degree oven, bake for 8-10 minutes, or until golden brown.
We served these with herbed scrambled eggs made with fresh dill, parsley, and green onions from our garden.  Yum!
This post is participating in I'm Lovin' It at Tidy Mom and these link parties.